Why Rose1845's Hair Oil Is Worth It
This hair oil works for a whole week.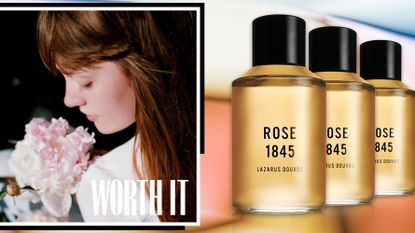 (Image credit: DESIGN BY MORGAN MCMULLEN)
Welcome back to Worth It, a bi-weekly breakdown of the absolute best new beauty product I've tried. Sure, splurging on makeup or skincare is a risk, but trust that this beauty editor will only recommend something I wholeheartedly believe is worth every penny. Because you deserve the best of the best. Keep reading to discover the one product you do not want to miss out on, and catch up on the latest Worth It breakdown, here.
The Promise
There's something very comforting about buying hair products from a brand whose founder is as well renown and entrenched in the beauty world as Lazarus Douvos. The celebrity stylist and hair legend knows what works and what doesn't, and his personal philosophy has led him to create one of the most luxurious and effective brands today, Rose 1845. Alongside perfumer Christophe Laudamiel, Douvos has created an inclusive line of hair products that suit all hair types, and smell delicious to boot.
With a signature shampoo, conditioner, perfume, and hair oil (my all-time favorite, more below), Douvos has curated all his products to not only fall in line with his immensely high standard of ingredients and manufacturing, but also to follow a storyline. Picture, if you will, two French lovers taking a bath. The aroma of the room is reminiscent of freshly picked roses, ideally plucked directly from a bush in Versailles. If you can see this clearly enough, you'll start to understand why all the products in the line are so easy to fall in love with. The oil was created to add hydration, protection, and manageability to each strand, and it does not disappoint. Formulated with keratin, ginger oil, and roses hand-harvested from Grasse, a few drops is enough to transform hair that's in desperate need of hydration.
Why I'm Obsessed
I have tried many hair oils in my life. As the owner of thick, brittle, and tragically dehydrated wavy hair, oils have become something I use a few times a week to keep my damage-induced flyaways in check. Typically, my measure of a decent oil answers "yes" to these questions: Does my hair feel hydrated? Does it make my style last longer? Is it effective enough to soothe years of damaging practices? The first time I tried this product, it hit all those marks and more. I use hair oils very often, both as a pre-blowout styling product, and also as a post-blowout boost of moisture.
My first time trying this hair oil, I was initially struck by the scent. Rose is a smell I enjoy, but mostly consider overrated in beauty products. However, the rose in this hair oil isn't sickly sweet, and actually smells like the real thing, not a chemical copy. The oil itself is thicker than most other hair oils I've tried, but still soaked into my strands without leaving it feeling greasy or weighed down. But the best part of this oil happened a few days after my blow-dry. I went to the mirror, ready to reapply some product to my frizzy ends and flyaways, only to see…no frizz whatsoever. Whatever magic potion Mr. Douvos worked into this product, it made it so I didn't have to re-up my style for an entire week. From now on, I'm going to take a page from our French lovers and let my hair drink up this concoction with a glass of Champagne in one hand, a bouquet of roses in the other, and gorgeous hair every day.

For more stories like this, including celebrity news, beauty and fashion advice, savvy political commentary, and fascinating features, sign up for the Marie Claire newsletter.
Celebrity news, beauty, fashion advice, and fascinating features, delivered straight to your inbox!
Tatjana Freund is a Beauty Commerce Writer, covering makeup, skincare, and haircare products and trends. She's a fan of vodka tonics and creepy Wikipedia pages.