How Long You Should Go Between Haircuts, According to Hairstylists
The long and short of it.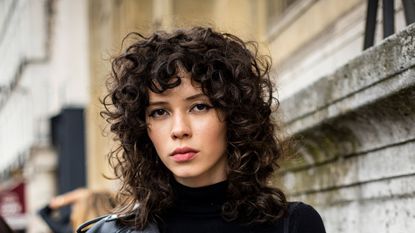 (Image credit: Claudio Lavenia)
I have donned many haircuts in my life, from buzzcuts to pixies to bobs to clavicle-length tresses. I'm a big fan of getting my hair cut, and if I could, I would go every other day. So when I would get up to leave the salon, I always ask, "When should I come in next?" The answers ranged from, "In two months" to "Don't come in until you literally can't stand it anymore and are dying for a trim." Needless to say, I usually leave the salon confused.
At some point in all our lives, I believe we've heard the magic number between haircuts should be six weeks. But in reality, the wait time is entirely dependent on what you're trying to achieve. Maintaining a pixie cut, for example, means getting trims more regularly than if you're trying to grow one out. Everything from style to the texture of the hair to your frequency of using hot tools effects how often you should cut your hair. In an effort to get some answers, stylists weighed in to finally answer that constant question: How long should I wait between haircuts?
Should I Wait a Specific Number of Weeks?
Not exactly. Rodger Azadganian, owner of 8 the Salon and founder of äz Craft Luxury Haircare, says a lot of it comes down to the quality of the original haircut. "If the shape is cut right and well, it should last 8-12 weeks," Azadganian says. "It depends on the individual and their personality as much as it does the quality of the cut." It also depends on the style, mentions Adam Federico, R+Co Director of Content. "Shorter hairstyles generally grow out a little bit faster so I would say eight weeks average to keep your shorter looks up."
Hair health also is a major factor. "Excessive heat damage through hot tools without proper thermal protection can definitely result in more frequent haircut visits to keep your tresses properly maintained and healthy," says Federico. If you're trying to grow your hair out and are frequently using hot tools, split ends could prevent the hair from growing properly. "The ends always need to be trimmed to alleviate split ends," says Federico. But, when in doubt, 12 weeks is a good standard. "12 weeks is the ideal amount of time if you are looking to grow your hair out but still keeps the ends healthy," says Mandee Tauber, Oribe Educator. If you're just looking to maintain your current hairstyle, 6-8 weeks is a good standby, says Azadganian.
Is My Hair Texture A Factor?
"Texture definitely plays a role in how often you should trim your hair," says Tauber. "Curly hair is naturally more dry because of its structure. The oil from the scalp doesn't travel down the strand, causing it to feel dry and brittle. For these types of locks it's important to maintain good scalp health to promote growth and also get trims every 8 weeks to keep ends split end free."
More frequent trims also helps keep the shape for curly girls. "Generally speaking, curly hair loses its shape faster than straight hair," says Azadganian. To help keep curly hair looking bouncy and gorgeous, trims every two months will keep it looking in tip-top shape.
Shop These Healthy Hair Products
Celebrity news, beauty, fashion advice, and fascinating features, delivered straight to your inbox!
Tatjana Freund is a Beauty Commerce Writer, covering makeup, skincare, and haircare products and trends. She's a fan of vodka tonics and creepy Wikipedia pages.