Editors handpick every product that we feature. We may earn commission from the links on this page.
70 Medium-Length Hairstyles to Take to Your Stylist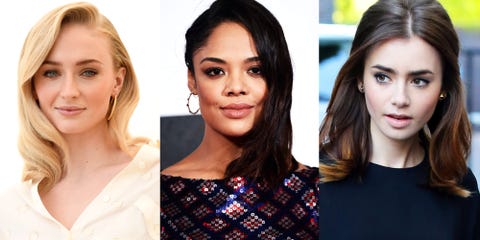 When your hair is too long to count as a pixie cut, yet too short to earn you a spot in the Guinness World Records book, you're in the ideal zone for trying out virtually every single hairstyle in existence. Congrats, mid-length folks—the (hair) world is your oyster. But it wasn't always this way: You were either team long or team super short when it came to the length of your locks. Thankfully, the world has taken a leap towards a compromise, allowing medium length hair to rule our Instagram feeds once again. Celebrities ranging from Kylie Jenner to Celine Dion are letting medium-length hair reign. Whether you're in the market for a look that's the ultimate homage to the '90s or want to channel retro Hollywood glamor, we have just the hairstyle for our medium-length hair queens. Never search through endless pins on Pinterest again for inspiration on how to spice up your hair routine. To help you get started on your new life of excellent hair days, check out 70 of our favorite celeb-inspired haircuts and styles.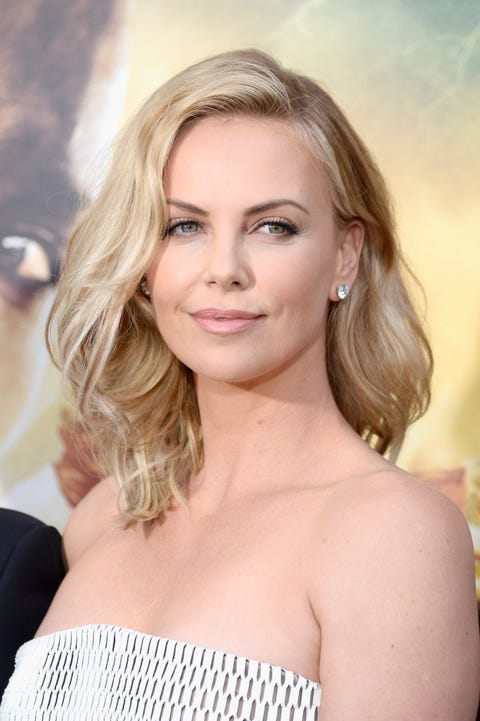 Frazer Harrison
Getty Images
Charlize Theron"s Deep Part with Side Bangs
Charlize Theron is the queen of hair transformations, so it's no surprise she pulls of this deep part with curled side bangs. Fine hair people this is the style for you since it appears your hair has more volume.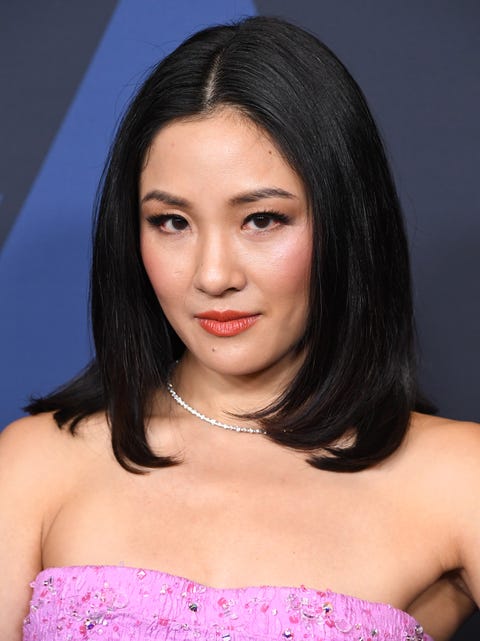 Steve Granitz
Getty Images
Constance Wu's Sleek Lob
The 90s called and they said Constance Wu rocked this curled-at-the-ends lob. This style perfectly frames multiple face shapes so we highly recommend giving it a go.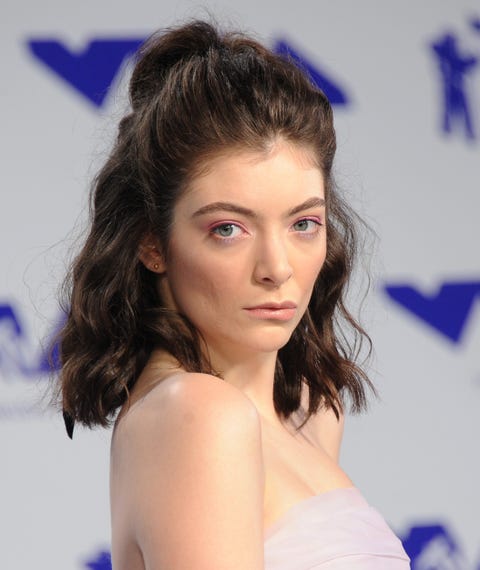 Gregg DeGuire
Getty Images
Lorde's Half-Up Do
Lorde's eyebrows are serious #goals, so this half-up 'do is perfect to accentuate her natural features. For a less-polished look, leave some strands out of the ponytail to hangout around your face.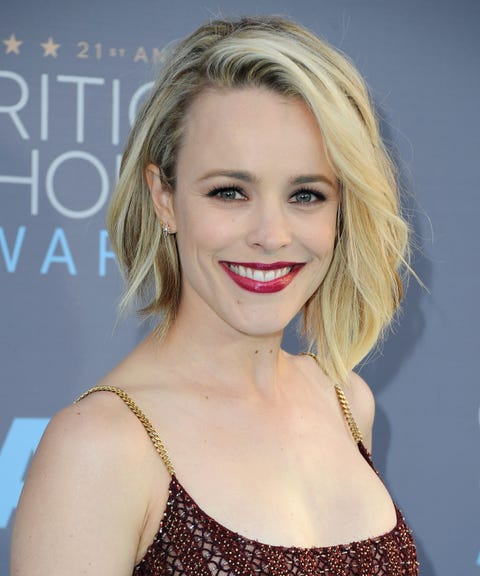 Rachel McAdams' Asymmetrical Lob
This shorter-in-the-back and longer-in-the-front hairstyle gives the normal lob a run for its money. Added bonus: it works for any face shape so there are really no rules.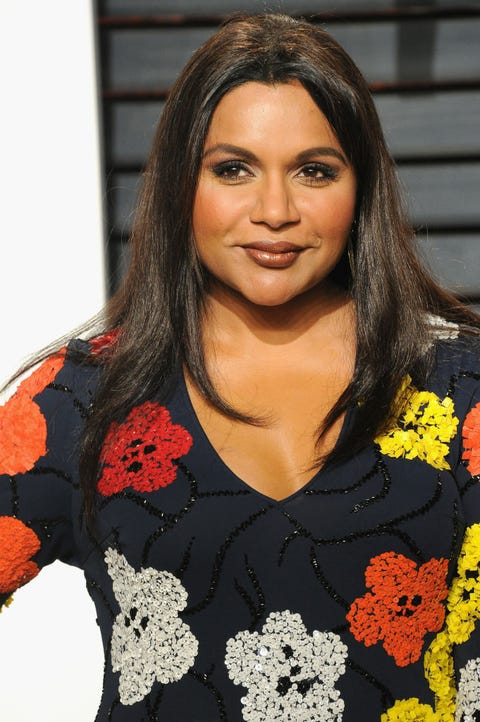 Mindy Kaling's Longated Straight Middle-Part
When your hair is just not at the "super long" length yet, having your medium-length hair go on a trip through the straighter will give it the length and sleek shine it needs.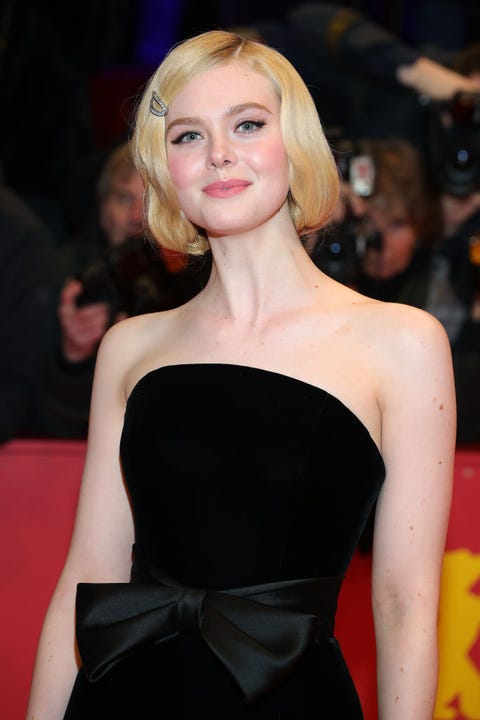 Andreas Rentz
Getty Images
Elle Fanning's Asscorized Lob
On those lazy days it seems like the last thing you want to do is style your hair. I get it. Therefore, adding a hair clip like Elle Fanning here makes all those ones you wore in middle school seem cool again.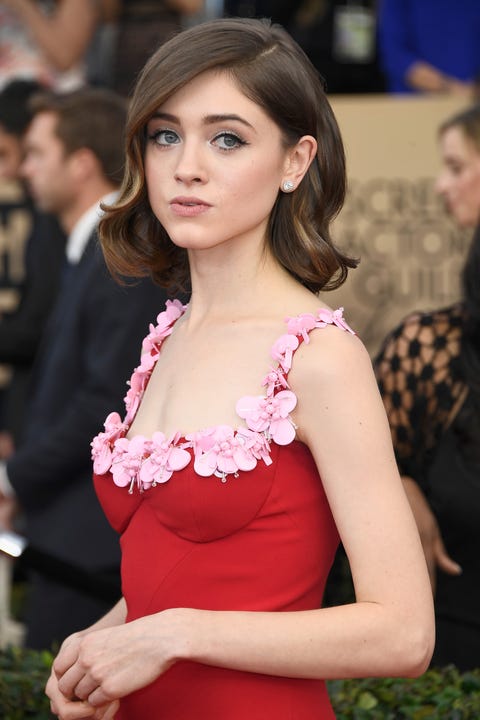 Frazer Harrison
Getty Images
Natalia Dyer Loos Curl Side Part
If only Nancy Wheeler had this lewk on Stranger Things! Like any good side part, it makes it seems like your hair has way more volume. What's great about this is the small curls give that volume a little extra boost.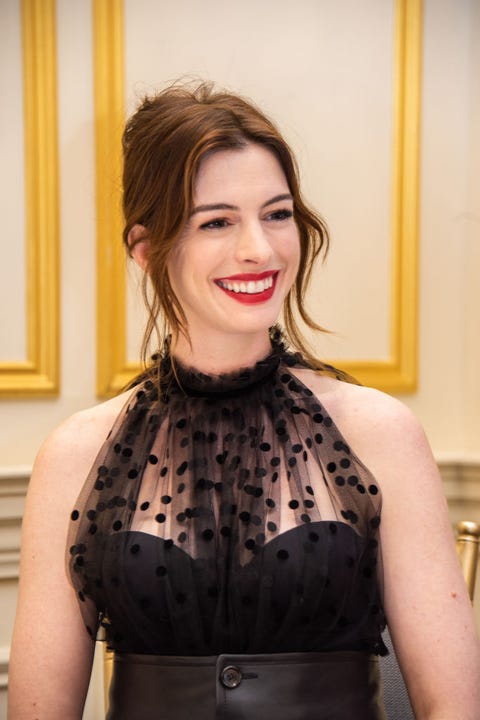 Vera Anderson
Getty Images
Anne Hathaway's Wispy Updo
On the days you don't want to deal with all your hair on your shoulders, try out this classy updo from Anne Hathaway. It's an effortless style that gives you a mysterious edge.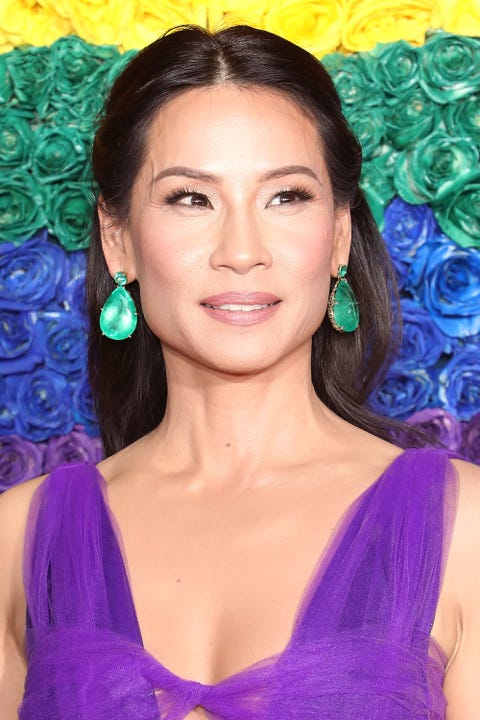 Lucy Liu's Princess Pulled Back Hairstyle
Sometimes your features have to be the star of the show, and this pulled back hairstyle makes it easy to accomplish. To spice it up a bit, we recommend a fun clip to pin it back with.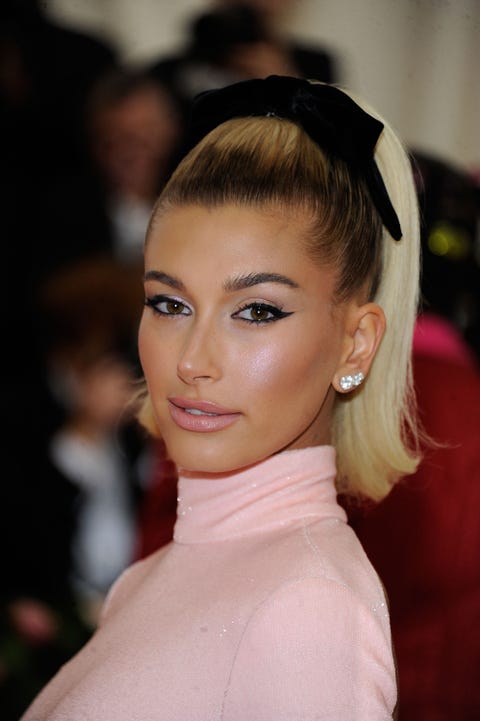 Rabbani and Solimene Photography
Getty Images
Hailey Baldwin's Bow-Filled High Ponytail
Bows are just one of the many accessorizes you can add to make your ponytail a little bit more glitzy this season. Some people might say schoolgirl, but that's just another name for fashion-forward.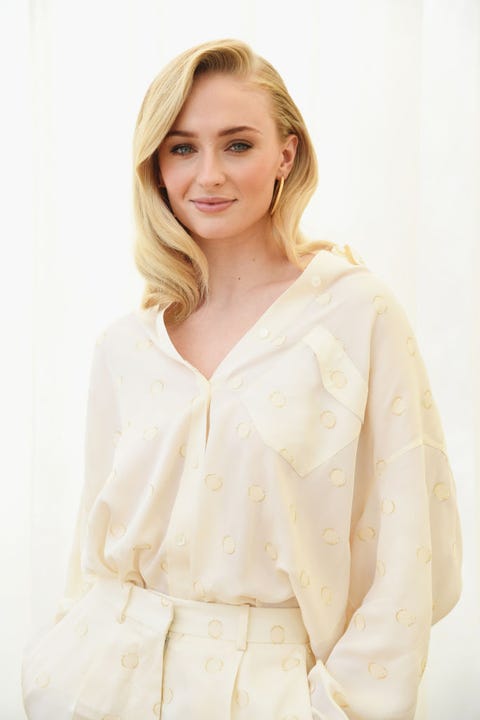 Sophie Turner's Tumble of Curls
When in doubt, throw your hair over your shoulder and give the ends a quick curl. The soft bends will create a pretty spiral that catches the light juuuuust right.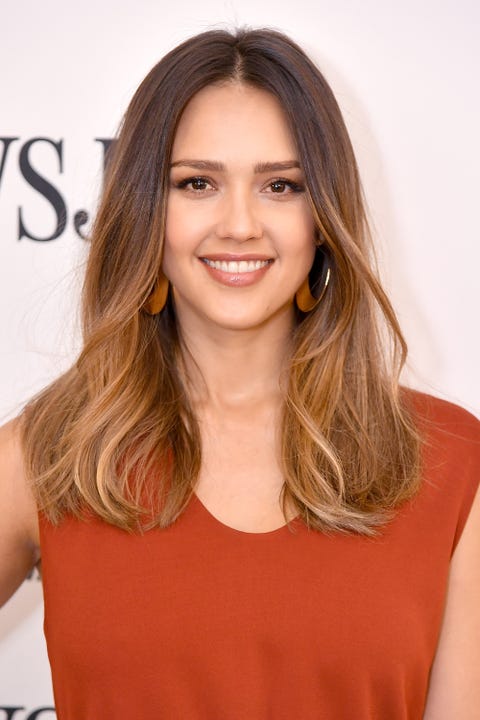 Michael Loccisano
Getty Images
Jessica Alba's Ombre Lob
An ombré fade is one of the easiest ways to add some character to a basic brunette lob, and Alba is making us all want to go out and get highlights.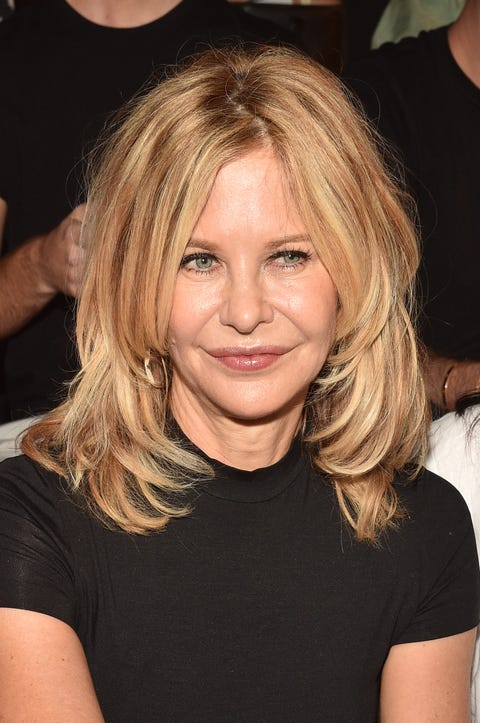 Stephane Cardinale - Corbis
Getty Images
Meg Ryan's Extreme Layers
Get the effect of longer hair by adding feathered layers. Note: Having your hair stylist use a razor is a great trick for getting piece-y ends.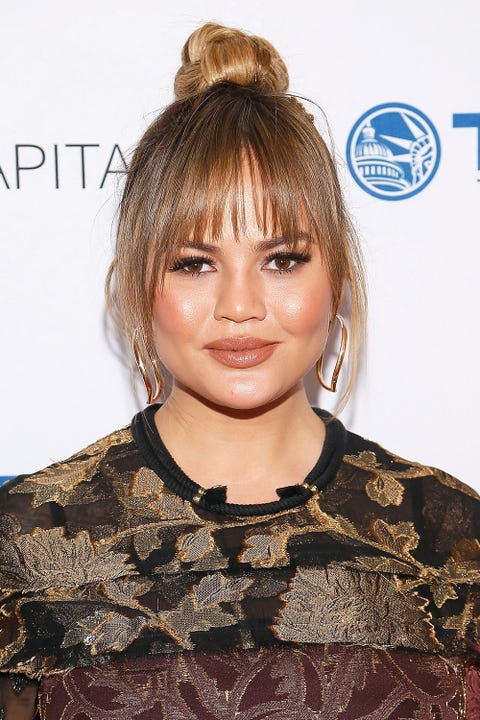 Chrissy Teigen's Feathered Bangs
Blunt, thick bangs can look (and feel) heavy when paired with a shoulder-length cut, but Teigen's piece-y bangs stay soft and fluttery, thanks to the graduated layers framing her face.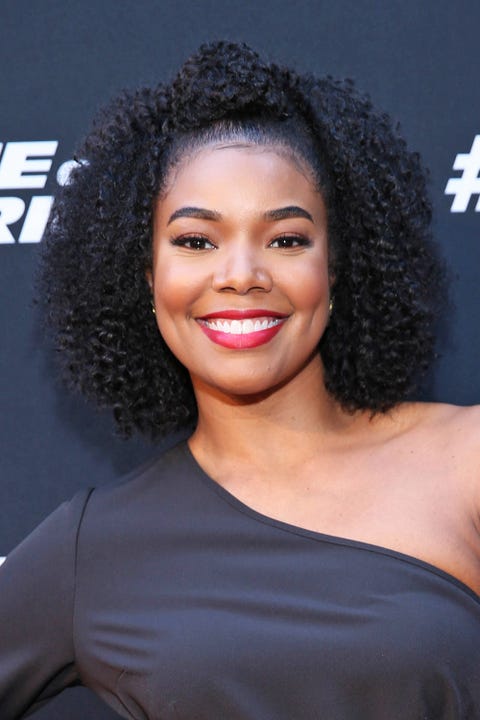 Gabrielle Union's Curly Topknot
Let us all bow down to Union's perfectly perfect curls, which are amped up by a slicked-back topknot and waved edges, which adds some structure to this fuller style.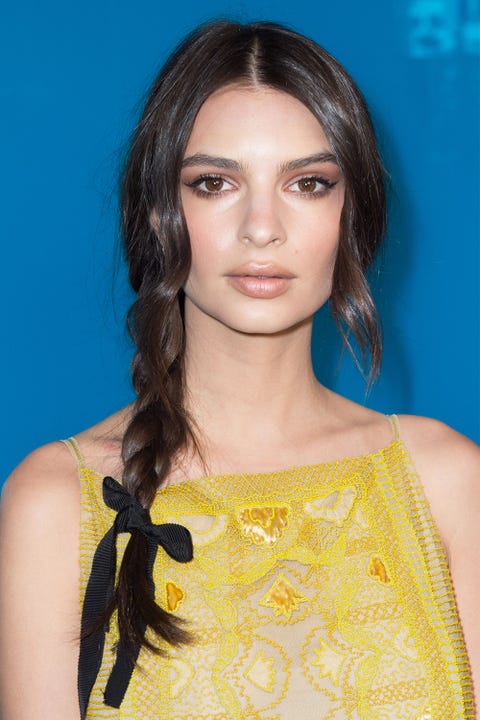 Emily Ratajkowski's Soft Side Braid
Even if your hair isn't as long as Ratajkowski's, you can fake the length by tying off your over-the-shoulder braid with a long black ribbon, which gives the illusion of Rapunzel-level hair. To keep the look from feeling schoolgirl, gently tug and pull the loose layers around your face and wrap them around a curling wand for texture.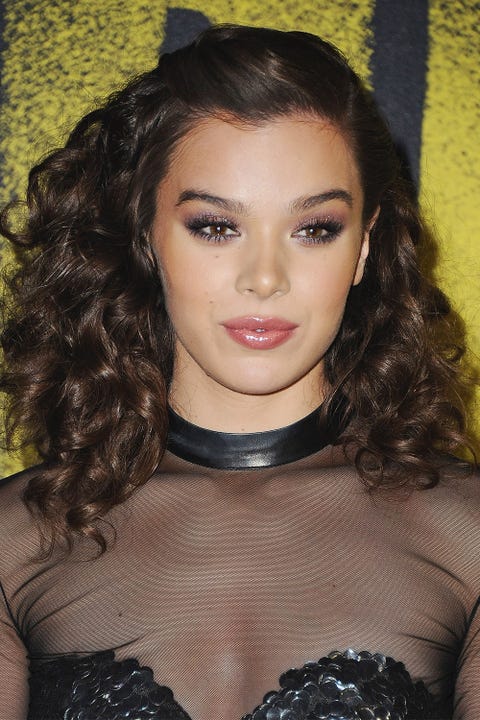 Hailee Steinfeld 's Clipped-Back Curls
Pretty much the ultimate party look, Steinfeld's big, voluminous curls are the result of wrapping two-inch sections around a one-and-a-half-inch curling iron, and then gently raking through them with your fingers. For a modern touch (big curls = '80s hair, fast), side part your hair and clip back a section of curls with a smattering of bobby pins.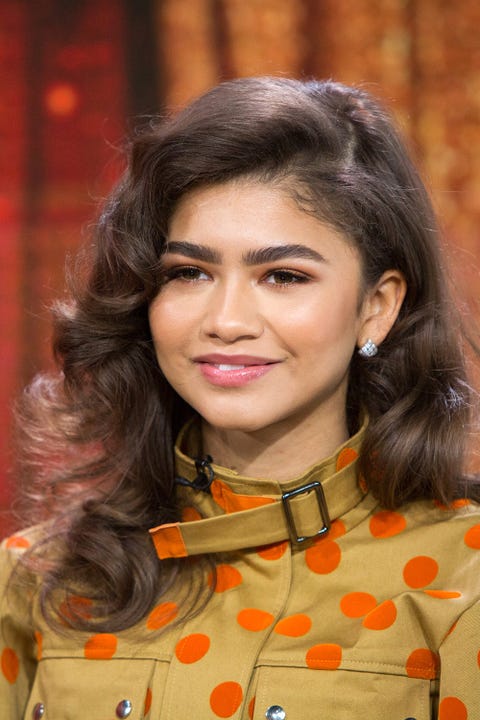 Zendaya's Brushed-Out Waves
Soft, fluffy, and voluminous, Zendaya's waves look like she just rolled out of bed in the '50s, and we mean that in the most envious of ways. For the most authentic finish, blow-out your hair and, while it's still warm, wrap two-inch pieces of hair around jumbo velcro rollers for 30 minutes. Spritz with hairspray, unravel, and then brush through your curls with a boar-bristle brush.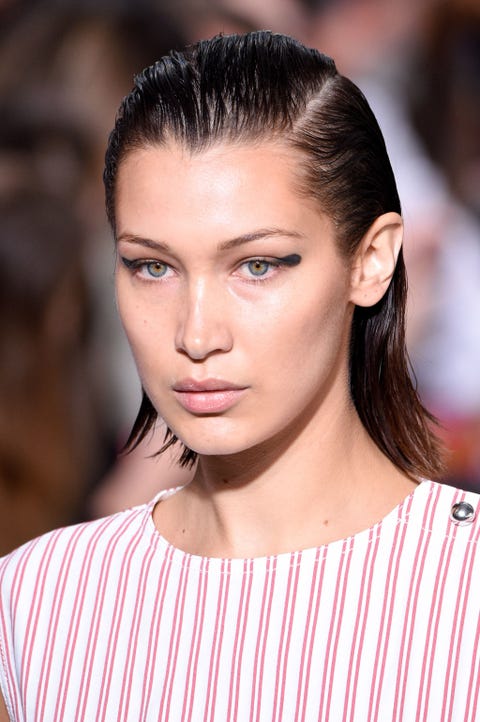 Bella Hadid's Slicked-Back Look
Wet-look hair has been the "it" style of this summer's events, but Bella took it to the next level by brushing both sides of her hair straight back before curving it around the base of her head. To get the glossy texture, rake a dollop of pomade through your damp hair with your fingers, then let dry.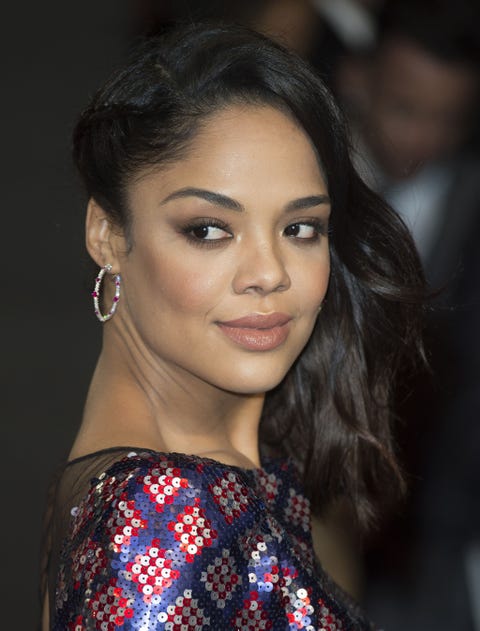 Tessa Thompson's Side-Swept Waves
This simple hairstyle requires just a few bobby pins: Tuck and pin your hair back behind one ear to add an undercut element, then go to town with some over-the-shoulder poses to capture the full cascading effect.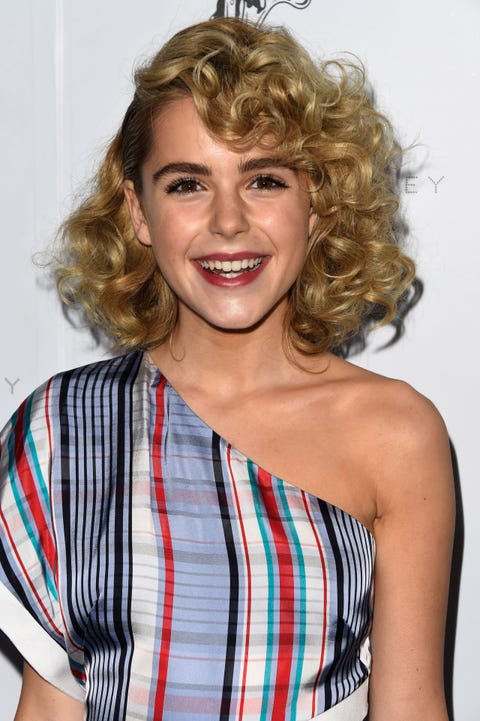 Kiernan Shipka's '80s Curls
Though actress Kiernan Shipka is known for her straight hair—and insanely good brows—her modern take on a big '80s perm (note the swooping side part) is incredibly inspo-worthy. Just make sure you schedule this style on a day when rain's out of the forecast, lest you want to end up with a halo of frizz.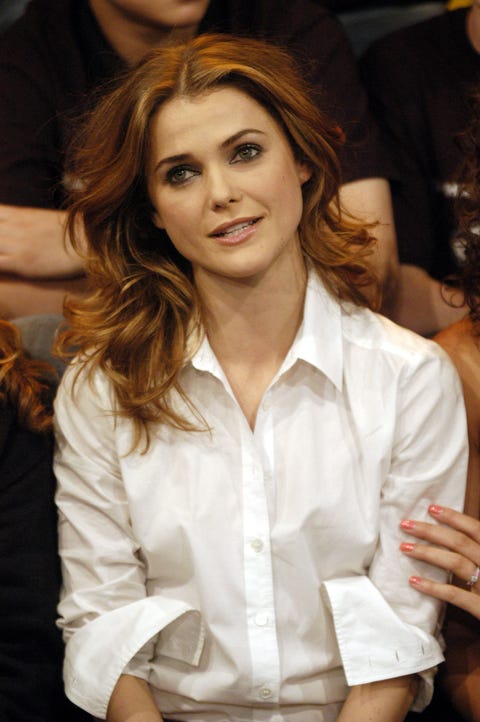 Keri Russell's Bouncy Waves
Keri Russell has maintained some of the best hair on TV since her Felicity days, but it's her bouncy waves that have us wondering what gravity-defying feat is happening here. Her hair stylist Brian Magallones has said he relies on volumizing spray for the added bounce. For the waves themselves, he curls them in two-inch sections and pins them to her scalp while they cool for some added staying power.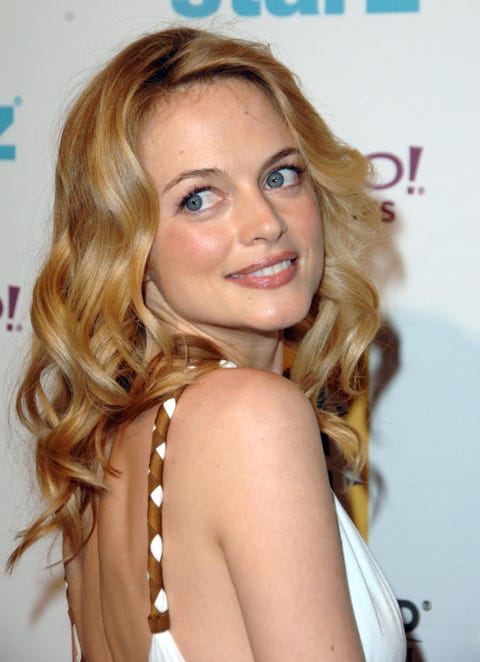 Heather Graham's Perfect Barrel Curls
Soft barrel curls that toe the middle line between ringlets and loose S-waves are the epitome of #hairgoals. Just make sure not to rake through these curls before they're absolutely cooled, or you'll pull them out.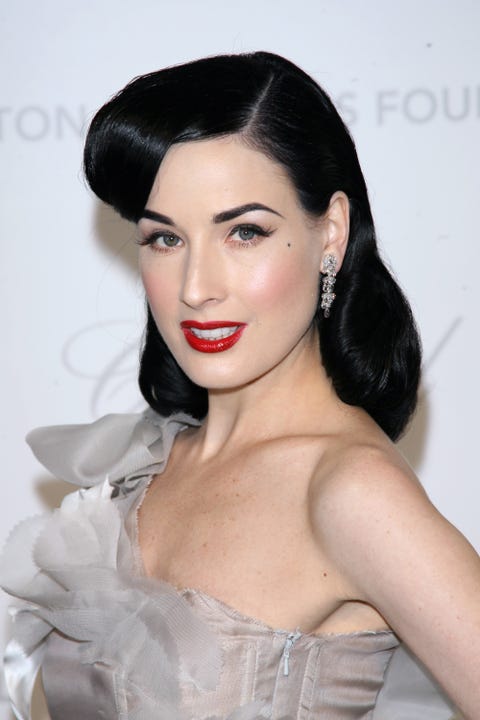 Dita von Teese's Satiny Retro Vibe
Dita von Teese has the pin-up look down. Her secrets to that shiny, satiny, wavy finish? Hair masks, barrel rollers, setting spray, and a really excellent cut, sans layers.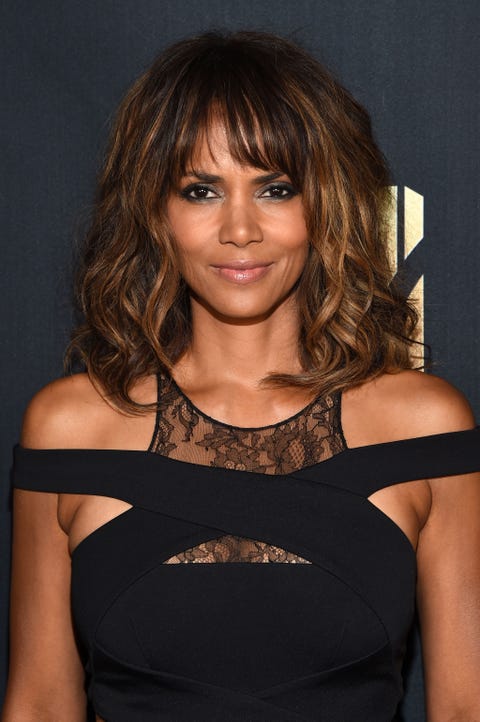 Halle Berry's Caramel Highlights
Eye-skimming bangs, a smattering of caramel highlights, and subtle waves? Halle Berry has perfected the formula to flattering, never-boring hair.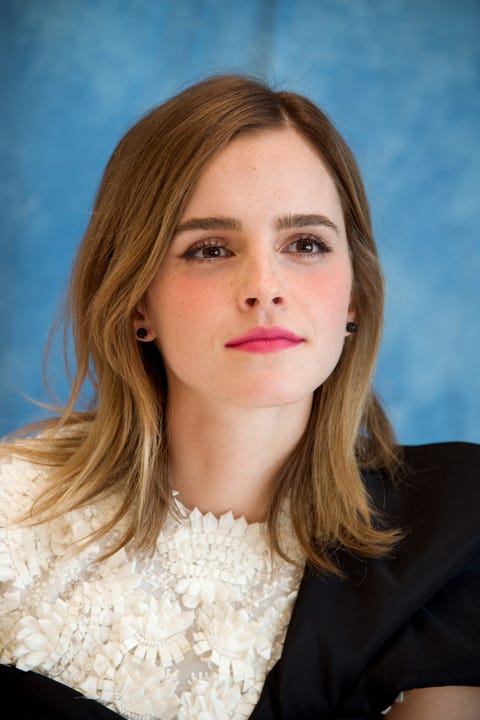 Emma Watson's Beachy Highlights
If you're currently studying this photo saying, "What Hermione magic was done here?" then we're with you. But it's less magic and more really expert coloring: The cornflower highlights at the ends of her hair lend a mystical sun-dipped glow to her waves.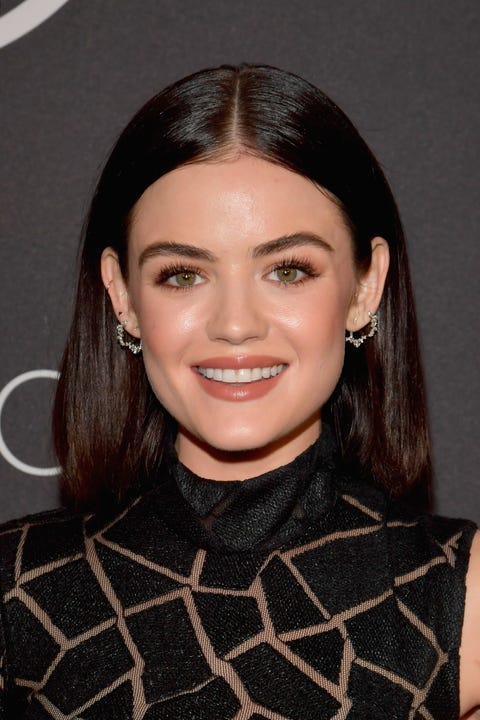 Lucy Hale's Sleek Center Part
When you're feeling lazy, run a flat-iron through your hair a few times, mist on a shine spray, and tuck your hair behind your ears. A few hidden bobby pins will keep it all in place for a smooth look.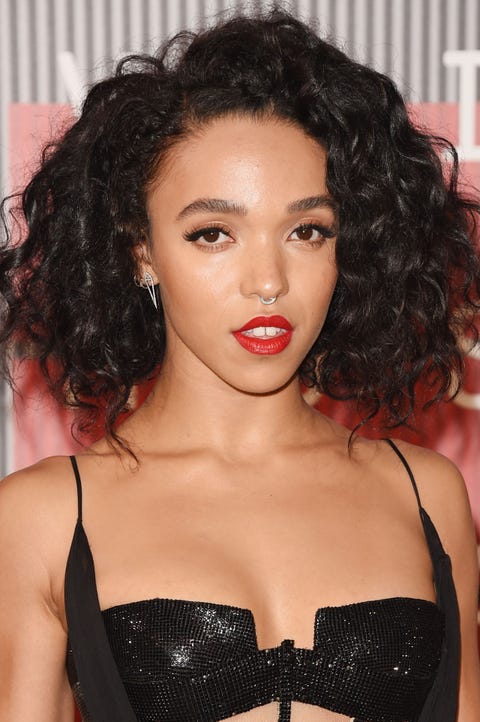 FKA Twigs' Curly Lob
Super-tight curls make for the ultimate level of texture in this red-carpet style. Part your hair on the side for even more added volume.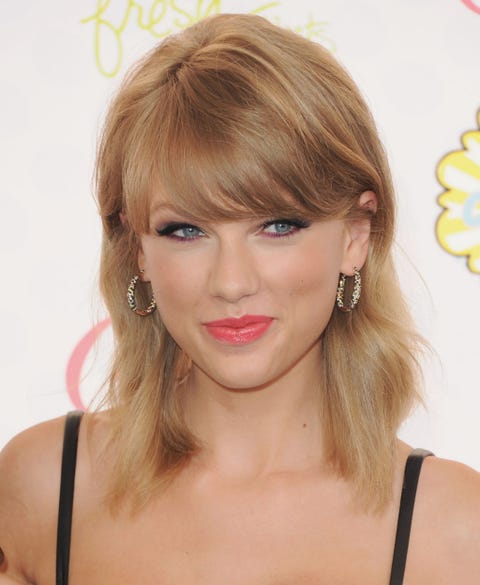 Taylor Swift's Feathery Lob
If you're rocking a lob, nix the satiny, straight-ironed look for a more natural, "I woke up like this" texture. Consider trying out eye-skimming bangs on your next cut to add even more dimension.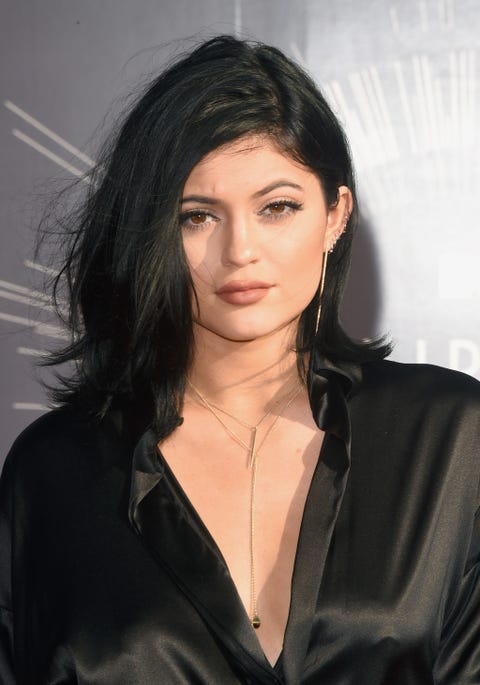 Kylie Jenner's Textured Side Part
In which Kylie Jenner channels a '90s supermodel with this naturally windswept look. FWIW, the deep side part makes all the difference.
This content is created and maintained by a third party, and imported onto this page to help users provide their email addresses. You may be able to find more information about this and similar content at piano.io