96 Bob Hairstyles That'll Convince You to Cut Your Hair
All the hairspo for your next big chop.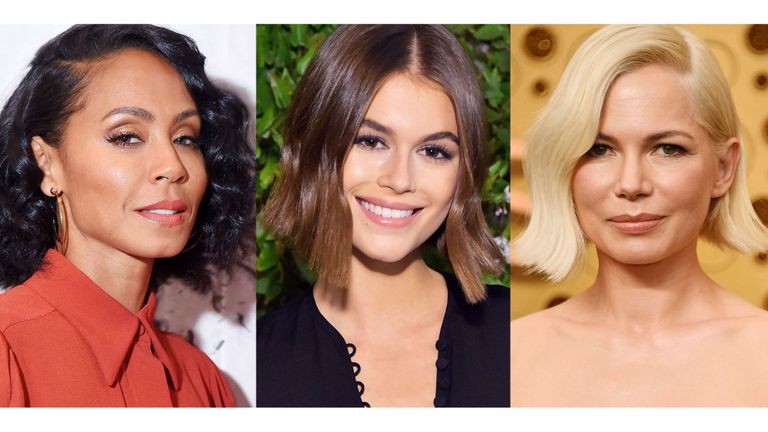 (Image credit: Getty)
We get it: The idea of chopping off almost all of your hair can be terrifying. But don't let the bob smell your fear, because it's just here to help. Not only is a bob super chic, it's also a low-maintenance and versatile style that will be sure to elevate your look. One other thing to note about the classic cut: It's a universally flattering style, no matter your face shape. Whether you're looking to get a quick trim into a lob or contemplating a full-on hair reboot with a big chop, we've rounded up the best interpretations of the classic bob in various lengths, colors, and textures to get you inspired. Don't believe us? We've got a few—okay, 96 to be exact—celeb-inspired examples to dispel every short-hair worry. From a bold bleach blonde blunt cut bob to a look that works for girls with braids, there's a cut suitable for every style and comfort level. Get ready to find your perfect cut. Ahead, the best celebrity bob hairstyles to pin to your mood board and inspire your next haircut. (And if you're more interested in a long bob, a.k.a. a lob, we have a mood board for that too!)
1/96
Amandla Stenberg
Amandla rocks the braided bob that hit right at her clavicles. To mimic this face-shaping style, braids should curve inwards towards the face for a show-stopping look.
2/96
Taylor Swift
For wavy to curly hair, Taylor Swift's bob with bangs will be right up your alley. Her 'do is choppy and works well for hair with some texture. The side-swept bangs keeps the look fresh and fun.
3/96
Demi Lovato
Demi Lovato's wavy bob can be achieved using a curling iron to create texture. After the curls are created, brush through them for a wavier feel.
4/96
Viola Davis
Viola's curly bob can be achieved either with a curling iron, or even by sleeping with braids. Braid your hair the night before, then unravel them for a beautifully textured bob.
5/96
Dua Lipa
Dua Lipa's two-toned bob made waves–literally. With an intense center part and shoulder-scraping lengths, Dua's look is enviable. This look can be mimicked with a curling wand and some texture spray.
6/96
Barbie Ferreira
For a glamorous look, this sleek bob that Barbie Ferreira rocks is easy to achieve. Slicking down the hair with gel, tuck the ends behind the ears for a look that's super high fashion.
7/96
Jennifer Hudson
With a flat iron, you can copy Jennifer Hudson's sleek bob. Couple it with a side part to truly get the look down.
8/96
Saoirse Ronan
For some extra drama, this wet look worn by Saoirse Ronan looks good on everyone. Right before wash day, come some gel from roots to ends for an easy yet high-end look.
9/96
Rashida Jones
Rashida's jawline-length bob is trés chic. Using a flat iron, curve the bottom edge of the hair inwards. French, piecey bangs help complete the look.
10/96
Maisie Williams
To achieve Maisie's too-cool-for-school style, some texture spray and a ton of attitude are all you need. This look is somewhere between a shaggy bob and a modern mullet, and we adore it.
11/96
Selena Gomez
For hair with volume, Selena's bob works for casual or glam looks. To replicate it, it's important flip the bottoms of the hair inwards towards the chin with a flat iron.
12/96
Kat Graham
Kat Graham plays up her dark chocolate bob by adding subtle fringe bangs that fall right above her brows. To replicate this look, add a few bends with a medium barrel curling iron for an effortless vibe.
13/96
Cate Blanchett
If a no-fuss short style suits your lifestyle, try Cate Blanchett's a-line bob, which falls right below the ear. It's a low-maintenance classic cut that's perfect for the spring and summer months.
14/96
Kaia Gerber
Although Gerber's underwent several hair transformations within the past year, this might be our favorite. Her face-framing asymmetrical bob is the perfect compromise between her current a-line bob and a shoulder-grazing lob, if you can't pick one.
15/96
Camila Coelho
Breathe life into a classic blunt bob with a few tousled bends using your flat-iron. And play up your look even more with a fashionable hair accessory like Coehlo.
16/96
Lucy Hale
Let your roots grow out like Hale's blonde bob. Just tuck your hair behind your ears for a polished look and spritz some hairspray on for added shine.
17/96
Lucy Boynton
Doesn't Boynton's bleach blonde bob make you want to go to a beach? Those waves, though! For effortless volume, separate your hair into sections and add a few bends throughout until you get your hair this wispy.
18/96
Sarah Paulson
The uniformity of Paulson's sleek, salt and pepper blonde bob is what makes it look so timeless. You can do the same by slightly curling your ends under with a hair straightener and tucking one side behind the ear.
19/96
Yvonne Orji
Orji rocks a bone-straight, blunt bob like it was made for her. Just look at how this chin-grazing style gorgeously accentuates her jawline.
20/96
Olivia Wilde
Wilde's side-swept bob has an effortless, bed-head vibe we can get hind. A few waves and an easy hair tuck will do the trick.
21/96
Olivia Culpo
That one time Culpo swapped her shoulder-length lob for a naturally tousled jaw-length bob had us in awe.
22/96
Jada Pinkett-Smith
Pinkett-Smith has proved time and time again that she can pull off any look, including this curly 'do. It'll take some patience, but a small curling wand will help you achieve a similar style.
23/96
Demi Lovato
Try a piece-y bob, keeping it long in the front and shorter towards the back for extra dimension. For a tousled look similar to Lovato's, curl your hair away from your face using a medium-sized barrel curling iron.
24/96
Jennifer Lawrence
JLaw is known for experimenting with pixie cuts and lengthy extensions, but this face-framing blonde bob goes down as one of our favorites the actress has ever worn.
25/96
Michelle Williams
Williams stuns with this wavy blonde bob featuring flipped ends and a deep side part. Sweep one side behind the ear and add a few soft waves to achieve this sleekness.
26/96
Kerry Washington
Washington keeps it classic with a side part dark brown bob hitting right below the chin. To add a bit of volume to your curled under bob, blow dry your hair with a rounded brush.
27/96
Keira Knightley
Knightley's dirty blonde hair with dark roots is a vibe. Add tousled waves and you have yourself a lewk.
28/96
Zendaya
Zendaya has hair wins for days, but this rounded bob is one of my favorites. The takeaway: layered bangs that fall seamlessly into your hair frame your face beautifully.
29/96
Hailey Bieber
Soft bends and a vivid color will do your short style so much good. Bieber experimented with pink, but there's something about this sun-kissed shade that checks every box.
30/96
Kelly Rowland
Style your bob with a sophisticated hat like Rowland if you really want to look like the coolest person in the room.
31/96
Emma Roberts
When Roberts wore this cool-girl style to Refinery 29's "29 Rooms" event I immediately saved it to my moodboard. A sleek slick-back and a modern bouffant = hair gold.
32/96
Charlize Theron
My jaw is still on the ground from the moment Theron showed up to the 91st Academy Awards with a sleek brunette bob looking like a whole new woman. This a-line cut and sultry hue is what you call a grown woman style.
33/96
Jenna Dewan
Yes, I-just-left-the-beach waves on bobs work well together. All you need is a good sea salt spray, like Ouai's Wave Spray ($26), to give this style longevity. Take Dewan's effortlessly tousled texture as an example.
34/96
Tessa Thompson
Thompson's wet texture has a glossy shine that's practically blinding. The S-wave swoop in the the front gives this style a timeless, old Hollywood vibe.
35/96
Dua Lipa
A simple hair flip and ear tuck is what takes Lipa's bob from basic to fashun. It's an easy way to keep your face front and center without losing the life of your hair.
36/96
Yara Shahidi
Let's set the record straight: bobs aren't only for straight hair. 1) Curly bobs are absolutely gorgeous. 2) Curly bobs with curly bangs are next-level, which makes this such a standout style for Shahidi.
37/96
Jourdan Dunn
Breathe life into your bob with volume. If you have naturally thin hair, don't be afraid to add a few extensions for fullness. A deep side-part like Dunn's will give your style more structure and shape.
38/96
Chrissy Teigen
2018 was Teigen's year of the bob, and I'm still living for this off-duty style spiked with caramel highlights for an effortless appeal.
39/96
Viola Davis
Glamourizing your bob with romantic curls is always a good idea. Feathered curls, like Davis's, will fall in all the right places.
40/96
Cara Delevingne
Although it's impossible to keep up with Delevingne's ever-changing hair, her platinum bob was one for the books. Just in case you needed further proof that bold colors and bobs go together.
41/96
Mila Kunis
Add dimension to a wavy bob with piece-y, face-framing bangs like Kunis. And no, your bangs don't have to all be one length. Fringe bangs will give your style more texture and personality.
42/96
Bella Hadid
Keep it classic like Hadid with a center part and choppy ends. To replicate this reflective finish, you can't skimp out on shine. For this lustrous look, lather R&Co's Two Way Mirror Smoothing Oil ($32) from root-to-tip.
43/96
Amanda Brugel
A sleek, bunt bob can easily feel stiff, but Brugel keeps the movement intact by cutting long, layered bangs that skim her eyebrows.
44/96
Bebe Rexha
For everyone who tries to assert that bobs are high-maintenance, we present to you Bebe Rexha, whose choppy cut is a textured and voluminous masterpiece.
45/96
Elizabeth Debicki
Debicki's sleek, deep-parted bob proves you can have your Old Hollywood waves without the length. Curl just the ends up and under, then lightly smooth down the edges with hairspray and a clean toothbrush for a polished finish.
46/96
Kacy Hill
"I can't pull off a bob with curly hair!" you say. "Bangs look bad with curly hair!" you say again. Welp, please gaze upon Hill's truly perfect triangular bob and baby bangs, which break all the dumb hair "rules" in the best of ways.
47/96
Nina Dobrev
S-waves with ultra-short hair can feel juvenile on a sweetheart face like Dobrev's, but a thick layer of piece-y, feathered bangs adds a definitive edge.
48/96
Sibley Scoles
Finally, a hairstyle that would make your geometry teacher proud: Scoles' blunt, pin-straight bob is all angles and lines, which equals 180 degrees of cool.
49/96
Tao Okamoto
If you want to fake a bob with slightly longer hair, like Okamoto's doing here, loosely curl the ends, spritz them with hairspray, then roll and pin sections of curls to the nape of your neck.
50/96
Taraji P. Henson
In the immortal words of Chance the Rapper, "Taraji, you a fox." The beachy waves and and caramel highlights are everything.
51/96
Christina Ricci
A platinum-blonde shade is not for the faint of heart (especially if you have naturally black hair like Ricci does). But when your breakage gets bad, ask your stylist for some feathered bangs to mask the damage.
52/96
Vanessa Hudgens
Hudgens looks every bit the fairy tale princess with a soft, wavy blowout and a white, ribboned dress.
53/96
Katie Holmes
The classic bob: pretty, easy to pull off, and easily enhanced by your hair tucked behind your ears. Pin back your hair with bobby pins if you want to keep layers securely in place.
54/96
Marissa
Marissa embodies cool-girl chic, courtesy of this blunt cut and ashy blonde color.
55/96
Naomi Campbell
The supermodel way to add character to a bob? Keep it cropped super short and add some angular bangs.
56/96
Marion Cotillard
If you have finer, naturally straight hair, the best way to add volume is to lop off some length (the bob is much lower-maintenance for this hair type than the lob).
57/96
Jennifer Lopez
Got somewhere fancy to go and not enough hair to throw into a chignon or updo? Give your hair thick, retro-glam curls and lightly pin them together in the back for a makeshift bob.
58/96
Lucy Hale
Keep your hair sleek, straight, and all one length for an elegant bob like Hale's.
59/96
Alesha Dixon
If you're a natural brunette, take on a striking style by opting for a platinum hue (the shorter length will make it easier to maintain the lighter tones, and there'll likely be less breakage involved).
60/96
Christina Hendricks
Hendricks knows how to nail a dramatic moment, and the Old Hollywood curls aren't the end of this vintage style. Top off your bob with a chic little pillbox hat like hers in the colder months.
61/96
Nina Dobrev
How to Modernize Your Bob 101: Try an angled cut with blunt bangs and sloping layers around the face (peep the longer, triangular sides on Dobrev's cut).
62/96
Milla Jovovich
To add even more volume to a wavy bob, choose a deep part, blast your hair at the roots, and round brush the sections closest to your face.
63/96
Karrueche Tran
A blunt cut looks even more striking in creamy platinum hues and beachy waves.
64/96
65/96
Jessica Chastain
Wrap your strands around a curling iron to experiment with Old Hollywood waves.
66/96
Katy Perry
Perry does her best Cleopatra impression with a rounded bob and blunt, brow-skimming bangs.
67/96
Ashley Benson
Highlights and perfectly teased curls make Benson look practically like royalty.
68/96
Lily Collins
We're loving the sleek and slicked-back style seen on Lily Collins here.
69/96
Karlie Kloss
Kloss looks the picture of a '20s flapper with short curled ends and and side-swept bangs.
70/96
Ciara
Textured strands and dark roots could give you Ciara's rocker-chic bob.
71/96
Rose Byrne
This English rose keeps it interesting with cropped bangs and curled-under edges (blowout your hair with a round brush to achieve the look).
72/96
Alexa Chung
Chung keeps her bob from looking dowdy with a blunt cut and an ombre gradient.
73/96
Beyoncé
Bey's chin-length chop was fleeting, but will forever be on our list of must-try haircuts.
74/96
January Jones
Take your bob from day to night by sliding a curling iron from the roots to the ends and experimenting with a curving part.
75/96
Kate Bosworth
Switching up the part on your bob can give it this cool asymmetrical look, especially if you ask your stylist for longer layers in the front and shorter ones in the back.
76/96
Emilia Clarke
#Throwback to when the Mother of Dragons surprised us all with a shoulder-length bob.
77/96
Kerry Washington
Here, Washington plays with wavy texture that's uncomplicated and a little less "Olivia" than we're used to.
78/96
Sienna Miller
The British blonde creates a faux bob by pulling her slightly longer locks into a low bun and allowing her bangs to frame her face. Chic.
79/96
Keira Knightley
A longer cut in the front that tapers in the back will keep your rounded bob looking fresh—and not overly matronly.
80/96
Kristen Wiig
Our favorite funny girl goes punk with a pale pink wash in her signature short cut.
81/96
Michelle Williams
Williams is perpetually platinum, but plays with length—pixie, lob, or bob. Here, sea salt texture helps keep her fine hair from falling too flat.
82/96
Mindy Kaling
While promoting her book, Why Not Me, Kaling showed off a chin-length coif—and thanked her stylist for the "dreamy cut."
83/96
Kristen Stewart
Stewart's side-swept bob, paired with her signature smoky eye, avoids looking overly precious or perfect.
84/96
Rachel McAdams
McAdams uses texture and a little bit of heat to achieve the subtle flick in her hair.
85/96
Rosamund Pike
Pike's asymmetrical bob is ever-changing. Wavy one day, stick-straight the next. She proves there is nothing boring about this timeless cut.
86/96
Dianna Agron
Agron goes the bedhead route with piece-y bangs for a youthful night-out look.
87/96
Jennifer Lopez
Lopez goes short, but still keeps it glamorous as ever with chin-length curls. Pin one side back for a little intrigue.
88/96
Margot Robbie
Robbie's punkish slicked-back bob is a take on the "wet hair" look we can fully get on-board with. For days when you just can't deal with shorter layers in your face, straighten the sides and slick the top back.
89/96
Rihanna
Rihanna brings the '90s back with retro round frames, a choker, a flipped-out bob, and bobby-pin hair art.
90/96
Dakota Johnson
While it's still hard to think of Johnson as anything but Ana, her bouncy bob is very of-the-moment.
91/96
Anne Hathaway
Hathaway's bob is endlessly customizable—round-brushed and tucked behind her ear today, wavy or curly the next.
92/96
Kirsten Dunst
Dunst's angular features are even more accentuated by this chin-length, face-framing cut.
93/96
Natalie Portman
One of our favorite #tbt Natalie Portman looks: a flapper-style bob with piece-y, DIY bangs.
94/96
Selena Gomez
Even though she's now known for her long, straight hair, Selena Gomez once wore this shoulder-length bob with graduated side-swept bangs. And she looked adorable.
95/96
Jaime King
The perfect style for a wedding or special occasion: pull your hair back with an ornate headband and curl your hair in rollers to perfect Jaime King's bouncy ringlets.
96/96
Paris Hilton
Here, Hilton goes the Betty Draper route with a chin-length bob that's curled all the way up to the bangs.