The Queen's Gambit Has the Best Beauty Looks You'll See on TV This Year
The hair and makeup designer shares secrets from the set.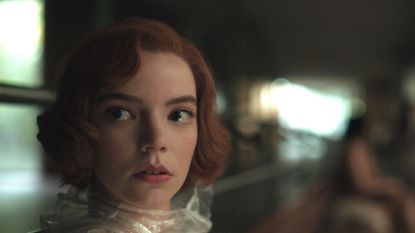 (Image credit: COURTESY OF NETFLIX)
Based on the novel by Walter Tevis, Netflix's new limited series The Queen's Gambit tells the story of Beth Harmon (Anya Taylor-Joy), a chess genius, and her addictions: pills, success, and the game she loves. The production—captivating, deep, and dark—is a master class in historical storytelling, and beauty is at the top of its syllabus. Daniel Parker, the show's hair and makeup designer, shares how he brought to life the iconic beauty trends of the '50s and '60s on set.

The younger characters on the show provide a peek into the past.
Those cropped bangs worn by Young Beth (played by Isla Johnston) might seem abrasive for a child, but they are accurate for the time period. "These bangs were not meant to be flattering. It was meant to be practical within the orphanage: You come in here, we cut your hair off, easy to keep, everybody gets this cut," says Parker. "I found some old photographs of these little kids with this cut, and the look verged on being severe to completely charming. I wanted that mix of severity and charm for all the younger girls on the show."
One of the fellow orphans, Jolene (played by Moses Ingram), had a more personalized look. According to Parker, he styled Ingram's natural hair for her scenes as young Jolene, and used wigs for Jolene's adult years.
"Trying to get historical references on Black hair is very, very difficult in Europe, so when I came to New York, I went into the bowels of this big library and said, 'This is what I'm looking for.' They were really helpful, and I found all these amazing references on Black culture and beauty in the '50s and '60s for Jolene's look."
Lipstick offers insight into Beth's maturity.
Parker used lip color to signify Beth's age changes and to signal shifting relationships and behavior. "The lips, along with the eyelashes, can temper what the character's doing, or how the character's behaving. All the colors were specifically planned for the individual scenes and the individual ages," says Parker. He also reserved one lip color to reflect the bond between Beth and her adopted mother, Alma Wheatley (played by Marielle Heller.) "Towards the end, Beth's shades become similar to her second mother's as an ode to her. It all helps to tell the story, translate the character without [the viewer] knowing it."
One of the show's most iconic beauty looks was meant to be sloppy.
Beth's mental state is consistently reflected in her appearance, and, in this case, her eyeliner is an indicator of the pill-fueled chaos within. During one of Beth's most tumultuous benders, Parker explains, she attempts to channel a pop singer's aesthetic, but fails miserably.
"Beth gets incredibly drunk while dancing to "I'm Your Venus" by Shocking Blue, and then she does this rather outrageous eyeliner to look like [lead singer] Mariska Veres. So the next day she decides that she's going to do this makeup again, and does it just incredibly badly," laughs Parker. "It's really difficult for makeup artists to do makeup that's meant to look bad. It goes against the grain." Coincidentally, floating liner has made a major comeback this year, so we're here for Beth's attempt.
Natalie Wood was one of Parker's biggest muses.
Amongst the historical inspiration Parker used to construct Beth's persona, Wood was the guiding light, particularly when it came to the character's hair. Wigs were used on set, styled overnight with rollers to maintain the waves that were popular in the '60s, and one of them was even nicknamed for the late actress.
The final episode's makeup is a turning point.
"There's nothing typical about Beth, but here, we're talking that real classic 1950s and '60s makeup with the eye liner, the lipstick, and the hair," he says. (The team's nickname for this wig? "Fucking Drop Dead Gorgeous," says Parker.) The look is mature, more assured, and the most femme in the series. It emphasizes her domineering presence in a room full of men. It's an exercise in defiance, and more than ever, this feminine energy isn't underestimated, but respected. She's feared by opponents, admired by fans, and revered by her peers.
"The hair was beautifully satined, and the makeup was very, very sexy and red. Everything was done to look simply that: drop dead gorgeous."
Get Beth's Drop Dead Gorgeous look:
RELATED STORIES
Marie Claire email subscribers get intel on fashion and beauty trends, hot-off-the-press celebrity news, and more. Sign up here.
Taylore Glynn is the Beauty and Health Editor at Marie Claire, covering skincare, makeup, fragrance, wellness, and more. If you need her, she's probably roasting a chicken, flying solo at the movies, or drinking a bad Negroni at JFK.