Beauty Inside & Out: Aimee Song
The self-care rituals and recipe that bring the Song of Style founder comfort and joy in 2020.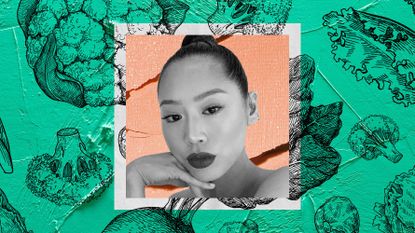 (Image credit: Aimee Song/Hanna Varady)
In the ultimate quest for inner beauty and outer glow, Marie Claire asks our favorite trailblazers to share intel on finding balance in their busy lives. Read it all here, in Beauty Inside & Out.
---
For Song of Style founder Aimee Song, self-care is a 24-7 proposition, especially this year. "Being in quarantine, I finally started having a morning ritual: I journal every day for a couple of minutes and try to think of three things I'm grateful for," says Song. "Then I read a page out of a book (currently: The Daily Stoic) while sipping a giant glass of water with lemon followed by coffee or celery juice depending on the day." Lockdown has forced Song to slow down—from her work and social commitments as well her nighttime routines. "I still work a lot but now I don't feel smothered. Not seeing as many people has actually helped my mental state." Here, the L.A.-based fashion and interiors blogger lets us in on her feel-good essentials.
Inner Beauty
Palo Santo or Sage:
"I love to burn palo santo or sage. And I don't smoke weed but my boyfriend occasionally uses some kind of CBD pen and when he does, he blows it into my mouth which has been funny and also weirdly relaxing."

Alkamind Black Seed Oil Supplements:
"For supplements, I take fish oil, turmeric, Alkamind black seed oil (an anti-inflammatory black cumin seed oil), and vitamin C. Sometimes I'll also do a multi vitamin that has both zinc, magnesium, vitamin D."
Massage Tools:
"I love using gua sha or Refa tools. And my friend Nadia Josse has incredible skin and swears by dry brushing so I've been doing it too. I shower at night and use a body brush before I hop in. Apparently, it's good for blood circulation and lymphatic drainage. Taking time to do my skincare after my shower and wearing my nice silk pajamas from Asceno helps me find balance and get ready for bed. I also have several candles lit around my house at night."

Tech-Free Evenings:
"[Right before] the elections I was scrolling through Twitter and reading the news which was unfortunately resulting in very crazy dreams. When I'm super good, I am not on the phone at all after 9 p.m. I read a book and chat with my boyfriend about the highs and lows of the day."
Outer Glow
Sunday Riley Good Genes:
"This product has improved my skin texture."
Laura Mercier Tinted Moisturizer:
"It has SPF and gives you slight coverage while making your skin look glowy."
Biossance Squalane + Vitamin C Rose Oil:
"This is the last step of my skincare routine. Not only is it so therapeutic when I'm massaging it onto my face, it's so good for my dry, sensitive, eczema-prone skin."
Ouai Scalp and Body Scrub:
"I love using this in the shower for a deep head-to-toe exfoliation."
Recipe for Success: Korean Bone Broth
Prep the Meat
Prepare 2 to 3 pounds of oxtails by soaking them in cold water for at least an hour to draw out the blood. Drain.
Cook the Broth
Add the oxtails to a large stockpot of cold water and bring it to boil over high heat. Boil on medium for about five minutes. Drain, rinse the oxtails, then return to the stockpot and fill with enough water to cover the oxtails. Boil on high, then turn the stove down to medium and maintain a boil for five to six hours, adding more hot water as needed to keep the oxtails covered. The goal is to boil the broth for a very long time to get the blood out completely. By the time the broth is ready, it's white instead of clear brown like most western stocks. Remove from heat and cool once the broth turns a milky white color. Skim the fat off the top and serve. Season with salt and pepper to taste and enjoy on its own or with scallions, rice, or noodles.
Related Story