Gucci Westman Won't Let Rosacea Ruin Her Glow
How the makeup artist, mom, and clean living trailblazer keeps her skin in check from the inside and out.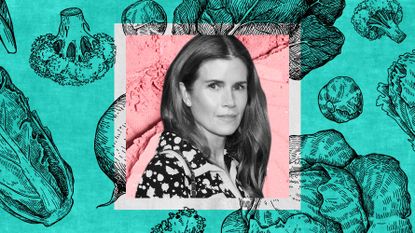 (Image credit: Getty Images/ Hanna Varady)
In the ultimate quest for inner beauty and outer glow, Marie Claire asks our favorite trailblazers to share intel on finding balance in their busy lives. Read it all here, in Beauty Inside & Out.

Makeup artist Gucci Westman is never not radiant, despite her struggle with chronic rosacea. A picture of healthy living, the mother of three and founder of Westman Atelier has delicately mastered the inner-outer beauty equation: She's a lifelong vegetarian who practices yoga, rides horses, and follows a thoughtfully vetted regimen of clean but effective skincare and makeup. Here, she shares her feel-great buys and one of her favorite energizing recipes.
Inner Beauty
Seed Daily Synbiotic:
"Probiotics can help fight inflammation, so I love adding these capsules to my morning smoothie along with Clean Daily Shake powder, wild blueberries, homemade almond milk, hemp seeds, cinnamon, and adaptogens. This fuels me for whatever I need to tackle in a day."
Cire Trudon Candle in Manon:
"This is the perfect calming scent of lavender and sweet orange. It helps me get into my happy place."
8Greens Effervescent Tablets:
"These little tablets make getting all of your essential nutrients super easy—plus they taste great and are gluten free and vegan. Just pop one in a glass of water and you're good to go."
Outer Glow
Aurelia Revitalise & Glow Serum:
"My skin is loving this super-lightweight, probiotic-rich serum. It instantly balances and takes redness down."
Westman Atelier Super Loaded Tinted Highlighter in Peau de Pêche:
"It gives you warmth, glow, and definition in just a few sweeps. I love applying it over the cheeks and across the eyelids."
Westman Atelier Vital Skin Foundation Stick:
"My rosacea has really flared up in the last couple years. This is packed with ingredients [like squalane and camellia-seed oil] that soothe and calm your skin throughout the day. It's great as a concealer and foundation."
Recipe for Success: Westman's Vegetable Lentil Bowl
Prep Dressing Ahead
In a small bowl, combine 1 cup olive oil, ¼ cup rice wine vinegar, ¼ cup sesame oil, ¼ cup ponzu sauce, and 2 tbsp. Bragg Liquid Aminos (a protein concentrate made from soybeans). Add 2 tbsp. fresh ginger root, minced, 1 small jalapeño, minced, and 2 cloves of garlic, minced. Let ginger marinate for a few hours (or overnight), then whisk all into a dressing.
Make the Bowl
Melt 2 tbsp. ghee in a sauté pan over medium heat. Add 2 shallots, chopped, and cook, stirring occasionally until lightly brown and tender, about two minutes. Add 2 cloves of garlic, thinly sliced, 2 celery stalks, chopped, and 2 large carrots, chopped. Cook, stirring occasionally, about four to five minutes. Next, add the sautéed vegetables to 2 cups petite black lentils, cooked. Drizzle the ginger dressing over the lentil veggie bowl and top with ½ cup flat-leaf parsley. Serve with sliced avocado, pickled red onions, and feta cheese (all optional).

This story appears in the Fall 2020 issue of Marie Claire.