24 Hours With Facialist Joanna Czech
The celebrity skin guru talks skin and shower rituals, LED therapy, and Zoom hacks.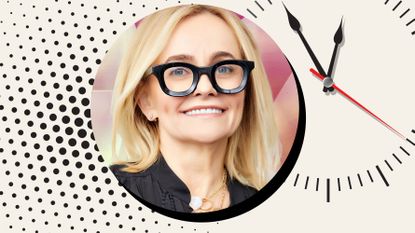 (Image credit: Hanna Varady)
Welcome to Beauty Around the Clock, Marie Claire's weekly peek into the daily lives of some of the most game-changing women in their industries. Ever wonder how they get it all done in a day? Here's your answer.
Over her decades-long career, Joanna Czech, the celebrity esthetician and skin guru to Christy Turlington Burns, Lily Aldridge, Jennifer Aniston, and more than one Kardashian has become known as the requisite pre-awards show pit stop. Her signature facial approach—combining technologies like LED, cryotherapy, ultrasound, and micro-currents with her tried-and-true massage technique—addresses everything from puffiness to sagging and hyper-pigmentation and leaves you with a baby-like, lit-from-within glow. In other words: red carpet-ready. Here, the veteran skin expert shares how she keeps herself just as relaxed and radiant as her clientele.
Rise and Shine
I'm up at 8 a.m. and the first thing I do is brush my teeth and work out with my trainer over Zoom. We mainly do circuit training with a little dance thrown in.
Morning Maintenance
For body, I use my Dry Massage Brush allover before taking a quick shower. Then I cleanse by rinsing my face in the shower with just water. I follow with Environ Vita Peptide Toner. And I like to mask when I have time. My three favorites are 111Skin Sub-Zero De-Puffing Energizing Masks and Eye Masks, and 111Skin Y Theorum Bio-Cellulose Masks. I then apply Dior Capture Totale Super Potent Serum and MBR Smooth Eye Cream mixed with a couple of drops of Protective Nourishment's Eye Glow Serum. I moisturize with Dior's Capture Totale Cream before applying Biologique Recherche Fluide VIP O2 or Le Grand Serum as a finishing serum and Chuda Lip Balm.
Hair Help
I have no styling abilities whatsoever, I usually air dry it and stick it up.
Signature Look
No makeup, healthy skin, lip balm and my signature Thierry Lasry Rhude glasses.
Power Start
Nespresso, berries, and homemade banana and egg pancakes.
Zoom Hack
I wear a touch of makeup so I don't look dead. I mix Clé de Peau's Radiant Multi-Repair Oil with a few drops of Clé de Peau Radiant Fluid Foundation. I contour with Iconic London Contour, add Diorshow Mascara, and wear Tom Ford Nude Vanilla lipstick with Dior Lip Gloss over it.
Signature Scent
Fischer No. 23 is my new favorite. I prefer unisex scents that are not flowery. I often add a touch of patchouli oil to any fragrance.
Worth It
Celluma LED Face and Body Panel. Red Light LED is so important to keep skin healthy and youthful.
Cheap-But-Chic
My Organic Body Wash Pads. These help cleanse and micro-exfoliate the body.