Bretman Rock Reveals His Beauty Routine For Camera-Ready Skin
The social media star breaks down his skincare regimen in the latest episode of Masked and Answered.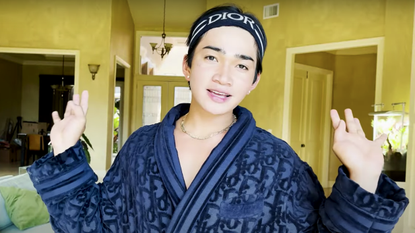 (Image credit: Marie Claire)
Bretman Rock (opens in new tab)—fashion icon, beauty guru, and YouTube (opens in new tab) sensation—is coming to the big(ger) screen. With his new reality show on MTV, Following: Bretman Rock, Rock will be giving his fans (we're talking 15.4 million Instagram followers and 8.2 million YouTube subscribers) an inside glimpse into his life as he navigates business and family, all while dealing with a global pandemic. In the latest episode of Marie Claire's "Masked and Answered," the 22-year-old social media star walked us through his favorite products and shared his secrets to looking good on camera.
To achieve supple, baby-soft skin, Rock reaches for the Frank Body Anti-Drama Face Mask (opens in new tab). "I love this face mask because it's super gentle and it really doesn't break me out," says Rock. Though he's not acne-prone, the occasional pimple tends to scar. To combat any discoloration, Rock uses the Starface Hydro-Stars pimple patches (opens in new tab). After using the FENTY Skin Fat Water Toner Serum (opens in new tab)–which Rock says "changed [his] life"–he always used SPF. "You need SPF wherever you are in the world," says Rock. His personal favorite? The CeraVe Ulta-Light Moisturizing Lotion with SPF 30 (opens in new tab).
Other must-haves from Rock's skincare collection include Vaseline Petroleum Jelly (opens in new tab) and CeraVe Healing Ointment (opens in new tab), which he dabs on the high points of his face as a highlighter. "This is perfect for no-makeup makeup looks where you just want to look glowy," says Rock. Another one of his go-to skincare products that doubles as a makeup product is the Buxom Power-Full Plump Lip Balm (opens in new tab), which enhances the natural color of his lips. But the key to Rock's flawless on-screen skin doesn't just come in product-form. To look his best for his upcoming MTV show, sleep and water were the biggest keys. "I made sure I got 8 hours of sleep every day," says Rock. "If I'm not getting sleep I will literally break out." And when he feel like his most beautiful self? "I'm a Leo, I'm always cute."
Shop Bretman Rock's Beauty Favorites
Watch Rock's video above, and don't forget to subscribe to Marie Claire's YouTube channel (opens in new tab) to catch up on the latest episodes of Masked and Answered and share your favorite mask in the comments.
Tatjana Freund is a Beauty Commerce Writer, covering makeup, skincare, and haircare products and trends. She's a fan of vodka tonics and creepy Wikipedia pages.