Beauty Inside and Out: Michelle Phan
The entrepreneur and YouTube star believes in the power of skincare as self-care.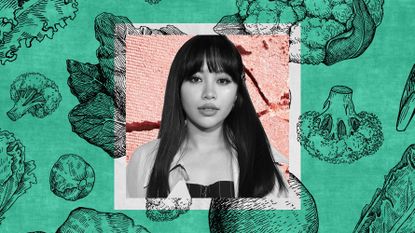 (Image credit: Michael Kovac/Morgan McMullen)
In the ultimate quest for inner beauty and outer glow, Marie Claire asks our favorite trailblazers to share intel on finding balance in their busy lives. Read it all here, in Beauty Inside & Out.
At 33, Vietnamese-American makeup artist and Em Cosmetics founder Michelle Phan is already a beauty industry vet, having launched her pioneering YouTube channel back in 2006, when she was just 19. What keeps her in the game, with an eternally-positive outlook is her commitment to self-care: "The most 'relatable' self-care that I do every single day is skincare. That's something I've always believed in since a young age," says Phan, who just launched her first skin product, Face Cuddle Moisture Balm. "Even the thought of just touching your face and loving your face, there's something really intentional about that process." Ahead, Phan talks skin rituals, her love of soothing binaural beats, and a comforting take on chicken noodle soup.
Inner Beauty
Phi Sciences Mega Hydrate
"Sometimes I drink water throughout the day but still feel thirsty or dehydrated. This supplement helps my body produce more water molecules; it takes hydrogen and mixes with the oxygen in your body to create water. It's kind of similar to hyaluronic acid for your skin but in your body. It's one of the few supplements that [I've used where] I actually saw a huge difference."
Global Healing Center Oxy-Powder
"This detox supplement is so gentle—it's something I cannot live without. It uses oxygen to push your bowel movements, but is more natural and gentle than a chemical laxative. I feel detoxed and can just mix it into my morning juice routine."
Cire Trudon Candles
"Candles have an incredible way of transporting you. Cire Trudon is the oldest candlemaker in France; they made candles for Marie Antoinette. Another candle I love is Burning Rose by Byredo. I think it's also Taylor Swift's favorite!"
Deluxe Moon App
"This is one of my favorite apps. I like to see what phase the moon is in if I'm feeling weird or off. Or, if I want to do an intentional manifestation prayer or meditation, it helps me plan for a full moon. I also love The Pattern and get all my friends on the app. Their numerology and astrology feels pretty accurate."
Sensory Deprivation
"It's a little weird but I listen to binaural beats. I lay in bed with my headphones and zone out for 20 to 30 minutes. Afterwards I feel really lightheaded and good. It's a similar feeling to sensory deprivation tanks. Pre-COVID, I went to Just Float in LA once a month. You feel everything shutting off and less tense—it's the best nap you'll ever have in your life."
Outer Glow
EM Cosmetics Lip Cushion Nourishing Balm
"This not only makes me feel beautiful but it makes me feel
good
. I feel like my lips are truly nourished and cared for."
SkinCeuticals Eye Cream
"This is my favorite. I never end my morning or night routine without it."
Laneige Cream Skin Toner & Moisturizer
"It's so good good on my face."
Fanola Nutricare Restructuring Mask
"It's just incredible, one of my favorite hair care products."
Recipe for Success: Michelle Phan's Chicken Congee
Make the Chicken Congee
1. Place 6 bone-in chicken thighs with skin (or any cuts of your choice) in a pot of water and bring to boil. Or, to make this dish vegetarian, use 2-3 cups of mushrooms or other vegetables. After 20 minutes, pull out the chicken, remove the skin, and chop it up into small pieces and set aside.
2. Add about 2 cups of chicken stock to the water you boiled the chicken in then throw in 2 cups of long grain rice. Let that slowly simmer into a porridge—until it's the consistency of a wet risotto (about one hour). Add the chicken back in.

3. Serve in individuals bowls and season with a little bit of fish sauce (optional—I like it because I'm Vietnamese and it adds that umami flavor). You can also add garlic chili sauce and a dash of maggi soy sauce on top. It's the best thing, it's so simple and delicious.
RELATED STORIES
Marie Claire email subscribers get intel on fashion and beauty trends, hot-off-the-press celebrity news, and more. Sign up here.