Rajee Narinesingh Is the Eternal Optimist
Here, a day in the life of the trans activist, actress, and author.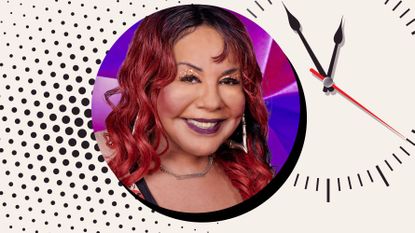 (Image credit: Konstantin Goldenberg)
Marie Claire Newsletter
Celebrity news, beauty, fashion advice, and fascinating features, delivered straight to your inbox!
Thank you for signing up to Marie Claire. You will receive a verification email shortly.
There was a problem. Please refresh the page and try again.
Welcome to Beauty Around the Clock, Marie Claire's weekly peek into the daily lives of some of the most game-changing women in their industries. Ever wonder how they get it all done in a day? Here's your answer.
Fans of E!'s Botched may know Rajee Narinesingh from their favorite episodes, but the activist, actress, and author has much more to say. While she earned attention from her televised transformation after receiving disfiguring black market injections passed off as medical grade silicone, she used her trying ordeal to champion the trans community—something she's been a pillar of for decades. Here, she shares her self-care rituals, makeup routine, and why holding onto beauty during a pandemic is so vital.
Rise and Shine
"Depending on my schedule, I wake up between 5 and 7 a.m. and stop in the kitchen to put on water for coffee. I start off with one cup, and drink it while I do my morning routine."
Power Start
"I have my breakfast and watch Good Morning America while I do my makeup. I love crispy turkey bacon, a bagel or toast with a little cream cheese on it, a piece of pineapple, and a very cold bottle of water."
A.M. Indulgence
"I soak in a hot bath every morning. I actually call it a 'bower,' because it's a mix between a bath and a shower. I start soaking in a bath and I lather myself with soap from head to toe and use a pumice stone on my feet. Then I rinse off under the shower and do my skincare: I scrub my skin with a face wash, use an astringent, and lastly, I put on moisturizer.
Hair Story
"I wash and condition my hair every morning. Once it air dries, I spray it with Bonfi Natural Oil Spray comb it out, and place little clear bonding glue at the top of my head to bond a hairpiece, hair unit, or wig to blend with my natural hair."
Makeup Routine
"First, I use an orange cover-up stick to camouflage my dark circles; they're hereditary. My mom has them a little, and my South Asian-descended father definitely had them. I am proud of my multiracial background and the way I look, but unless I cover the circles, everyone thinks I'm tired. After that, I mix two foundation colors together apply them to get the complexion that suits me, and set that with Wet n' Wild pressed powder. I usually use L.A. Colors blush, eyeshadow in earthy brown shades, and black mascara which I always color in my eyebrows with. Sometimes I rock a false lash, sometimes I don't, and I'll do a little contouring on my nose. My lipstick is usually Wet n Wild in Hot Red or Burnt Cherry. And with that, my face is ready for the world. Here in South Florida, it's usually so humid, so I'm constantly joking that unless I stay in air conditioning my face is going to be a big puddle of make-up on the ground."
Shop Rajee's Makeup Routine
Beauty Philosophy
"This time last year, I was scheduled to make a number of appearances, including hosting two LGBTQ Pride Festivals. But with lockdown, everything was canceled. My appearance has always been important to me when it comes to my events and me being out in public, but since COVID-19 started, I've realized just how much my beauty regimen is important to me on a personal level. I find myself continuing to do my daily routine, even if I'm not leaving my home and seeing anyone. I've really realized how this lifts my spirits and makes me feel good!"
Work Ethic
"Back in November of 2011, the story of my black-market botched injections went viral, and overnight I was thrust into the world of media. Since then, I have been featured on 35 television shows worldwide and done three seasons of reality TV. One of the big blessings that has come from that is that I've been able to do my activism on a global level. I've always had a humanitarian spirit about me; from high school, I was volunteering at the Red Cross and the United Way. But I have been an activist for the LGBTQ community for about 23 years now. Here in South Florida, I have worked with Arianna Center and TransInclusive and I am an official Outreach Advocate for a wonderful organization called TransSocial, which is by trans people for trans people. I also co-host two online shows, Trans Gurus and My Southern Exposure."
Signature Scent
"I absolutely love this perfumed cream called Pierre La Touche; I'm always getting compliments on my scent. I was at the market recently, and one of the employees came out from the back, walked over to me, and said she could tell it was me all the way in the back!"
Self-Care Routine
"I like doing a bit of light yoga. For me, my self-care is mainly focused on my spirituality. Throughout the day, I may stop what I am doing for a few minutes to pray or meditate! I also use motivational videos from spiritual gurus like Louise Hay, Deepak Chopra, and Rev. Michael Bernard Beckwith. I also tune in online for my spiritual center's Sunday service."
Cheap-But-Chic
"Baby oil! It moisturizes my skin beautifully; I put it all over my body from the neck down every day. I guess I am a big baby at heart!"
Beauty Icon
"In the past, stars like Lena Horne, Raquel Welch, Sophia Loren, and Dorothy Dandridge were mine. But recently, some that come to my mind are Halle Berry, Priyanka Chopra Jonas, Lupita Nyong'o, Angelina Jolie, Rihanna, and Demi Lovato."
Backup Career
"A movie star or spiritual guru!"
Going Out Playlist
"I have such a diverse taste in music. It really depends on my mood. I love Bruno Mars, Selena, Chaka Khan, Shakira, Prince Royce, and Hindi prayer music."
Bedtime Ritual
"Usually it's quick because I'm exhausted. I wash my face, moisturize, then brush and floss my teeth. The last thing I do before I fall asleep is a little embarrassing, but for some reason, it relaxes me: I like to watch filament [AKA pore] extraction videos on YouTube. In my twenties, I use to have filaments in my nose area, but now I have very little to none. It's so satisfying and relaxing to watch."
RELATED STORY
Celebrity news, beauty, fashion advice, and fascinating features, delivered straight to your inbox!
Taylore Glynn is the Beauty and Health Editor at Marie Claire, covering skincare, makeup, fragrance, wellness, and more. If you need her, she's probably roasting a chicken, flying solo at the movies, or drinking a bad Negroni at JFK.