Charlotte Cho Has Thoughts on Postpartum Self-Care
The K-Beauty authority and new mom on sleep, miracle mists, and winged liner that doesn't budge.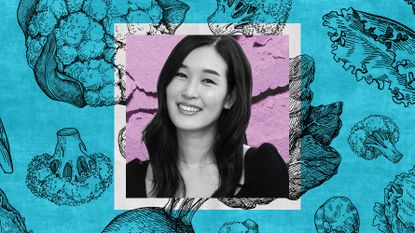 (Image credit: Hearst Owned)
Marie Claire Newsletter
Celebrity news, beauty, fashion advice, and fascinating features, delivered straight to your inbox!
Thank you for signing up to Marie Claire. You will receive a verification email shortly.
There was a problem. Please refresh the page and try again.
In the ultimate quest for inner beauty and outer glow, Marie Claire asks our favorite trailblazers to share intel on finding balance in their busy lives. Read it all here, in Beauty Inside & Out.
Since becoming a mother last November, K-Beauty authority, bestselling author, and Soko Glam founder Charlotte Cho has given a lot of thought to the meaning of self-care. "My postpartum journey was more challenging than I expected, especially the first three months," she says. "While I've always enjoyed my skincare ritual, now I truly see it as a moment of self-care—a chance to renew myself by setting my intentions in the morning, a moment to reset and reflect in the evening." Other "me time" activities Cho partakes in once her daughter is asleep: catching up on K-dramas and putting the final touches on her second book, The Little Book of Jeong (out in July). "One of the most important Korean cultural concepts, jeong is a deep and meaningful connection that can be felt between people, places, and things," says Cho of the impetus for the book. "Through my personal stories, I will share how jeong has changed my life and career for the better." Ahead, a few more choice self-care strategies and tools, including her simple recipe for Korean BBQ at home.
Inner Beauty
Sound Machine
I discovered sound machines as an effective tool for [my daughter] Kennedy's nap time. I researched how white noise really helps you sleep deeper, so I've adopted this tool in my nighttime routine to ensure a better, more restful sleep.
Boricha (Korean Barley Tea)
Instead of sparkling water, coffee, or caffeinated teas, I look forward to the taste of roasted barley tea. It's a staple in many homes as the main source of drinking water, and has a host of health benefits, including helping with digestion. It's so easy to boil a handful of kernels in a kettle, and you can drink it either hot or cold by storing a pitcher of it in the fridge.
Daily Devotionals (God's Wisdom for Navigating Life)
Quiet time for reflection and great daily reading for the soul. This book has great advice for my role as a parent, spouse, manager, and friend, tied to The Book of Proverbs that helps me meditate and challenge myself spiritually.
Digital Sunset
This is not a product or an app, but simply setting a goal of reducing my time on my phone, by keeping it away from me once the sun goes down—hence the phrase "digital sunset."
Outer Glow
Em Cosmetics Illustrative Eyeliner
It's the perfect brush tip, making it easy to apply a defined, dark winged line that never smudges. It takes me two seconds for each eye, and it makes me feel 100-percent more confident.
Neogen Real Ferment Micro Mist
My skin feels supple, moist, and refreshed when I spritz this essence on my face and neck throughout the day. It's a 90-percent fermented yeast formula, which deeply hydrates my skin and helps with cellular turnover.
Baccarat Rouge 540 Eau de Parfum
Pre-pandemic, this was my go-to scent. I always got compliments on how alluring and memorable the scent was. I can't wait for more post-pandemic activities that involve more perfumes and fragrances!
Then I Met You The Giving Essence
The essence is the heart of my skin care routine. I just place a few drops of this silky essence into the palm of my hand, and pat it intentionally and deeply into my skin. It's one of my favorite steps because it has the skin brightening benefits of a serum and deep hydration of an essence.
Recipe for Success: Charlotte Cho's Korean BBQ
Easy Korean BBQ at Home
1. At your dining table, set out your portable tabletop hotplate, uncooked meat—non-marinated cuts of thinly sliced sirloin or brisket, Samgyeonsal (pork belly slices), or Kalbi (short ribs)—and side dishes. Traditional sides include kimchi, garlic, soybean paste, green onions, and rice. Add leafy greens such as lettuce or perilla leaves to use as wraps.
2. Grill the meat to your liking. If the pieces are too large, use scissors to cut them up into smaller pieces.

3. Once cooked, wrap the meat up in the leafy greens. Dress with any additional toppings you like from the sides. Feel free to wrap one up for the person dining with you as a gesture of jeong.

4. Serve with soju (Korean rice liquor). Drink it neat from shot glasses. Or add a squeeze of fresh lemon into your shot glass to flavor it. Eat, drink, repeat!
This story has been updated.
Celebrity news, beauty, fashion advice, and fascinating features, delivered straight to your inbox!