Beauty Inside & Out: Trinity Mouzon Wofford
The founder of Golde, the trendiest superfoods blends biz on Instagram, shares how she de-stresses and gets her glow on.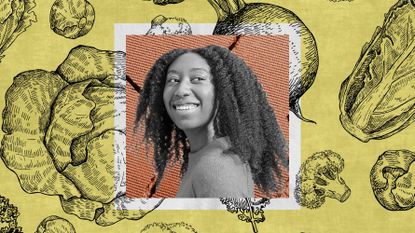 (Image credit: Courtesy)
Marie Claire Newsletter
Celebrity news, beauty, fashion advice, and fascinating features, delivered straight to your inbox!
Thank you for signing up to Marie Claire. You will receive a verification email shortly.
There was a problem. Please refresh the page and try again.
In the ultimate quest for inner beauty and outer glow, Marie Claire asks our favorite trailblazers to share intel on finding balance in their busy lives. Read it all here, in Beauty Inside & Out.
Trinity Mouzon Wofford wants to rid wellness of the "unachievable" and "expensive" labels that often accompany it. For her, it's a personal passion: Mouzon Wofford's mother has an autoimmune disease; when her mom switched to a holistically-minded doctor, she saw great improvement in her health, that is, until her mother could no longer afford the doctor. "That really forced me to pause and consider what it was I wanted to do in wellness and how accessibility played into it," says Mouzon Wofford. So, in 2017, she teamed up with her high school sweetheart to launch Golde, a wellness brand delivering superfood-fueled blends and beauty buys (think turmeric lattes and papaya face masks). She launched with one product and now boasts a collection of blends, kits, supplements, and more. Now, you can find Golde goodies all over Instagram and, if you're lucky, snag them on their website (the products frequently sell out due to high demand). Below, the cofounder and CEO shares how she gets centered, her skincare routine, and her recipe for healthy—yes, healthy—'shroom brownies.
Inner Beauty
Gardening:
I am a huge advocate of work-life balance. Part of the reason why I started my own business is because I really love to work hard and I love what I do, but I believe in taking time away
from it as well. My biggest self-care things are not necessarily the classics, like a bubble bath, but more so getting outside and taking a moment to be in nature. This past year, like everyone else on the planet, I've gotten obsessively into gardening.
Golde Shroom Shield:
I make what we call a 'shroom latte with this superfood blend, which is basically a creamy cocoa that's got functional mushrooms added to it as well. It's really great for stress and building your immune system. And I find that really just helps keep me chill.
Candles:
I am very blessed to be in a family of candlemakers. My in-laws own a company Kobo Candles. They hand pour every candle in a factory that's not too far from where we live in upstate New York. They have this one collection that's called the "seeds collection," and all of the fragrances are classic summer scents, like sunflower or ripe tomato. It's so lovely. I really love to burn that one in the house.
Acupuncture:
I'm big on acupuncture. I haven't gone in ages because of the [Covid-19] shutdown, but I'm really looking forward to getting back into it. It helps so much with tension in my neck and shoulders.
Stretching:
I do any form of stretching, whenever possible. Sometimes, I'll do a yoga video, but usually I'll just do a stretch. I literally contort myself into shapes that feel good.
Outer Glow
Circumference Daily Regenerative Gel Cleanser:
I like to keep my skincare pretty natural. I have a few different brands that I really love, and pretty much all of them are small businesses because I want to be able to support folks on their own entrepreneurial journeys. I have been loving this regenerative face wash from Circumference. It's a classic, gentle gel cleanser, but there's something so luxurious about it. They are really into upcycling ingredients and creating very thoughtful formulas. You can just feel that when you try the product. I've been using it twice a day, every day.
Palermo Hydrating Facial Toner:
For the second step of my skincare routine, I will usually do a little spritz with a face toner from this Brooklyn-based brand called Palermo. It's got a really nice geranium oil type of scent. The founder, Jess [Morelli], is really into essential oils and uses high quality ingredients. I trust her products.
Face Oil:
Finally, I'll just throw on a face oil. I have a bunch, but the one that I've been hitting the most lately is more of a balm from this Japanese brand called Chidoriya. It has Camellia oil in it. I really love it when I'm not looking to go too greasy, which is important for summer.

Briogeo Avocado and Quinoa Co-Wash:
I have been using this for years and I adore it. I'll use it about once a week on my hair; I put my hair into sections in the shower and use my fingers to detangle my curls. I find that that this wash has a really nice balance of being very, very hydrating, but also having good slip for detangling.
Yesfolk Body Butter:
Yesfolk, a small, family-owned business in upstate New York, makes my favorite kombucha. But they also have this simple, fragrance-free body butter. I ended up putting that on my hair at some point and found it was the absolute best moisturizer.
If I'm braiding my hair, I'll use a dab of this.
Recipe for Success: Super Shroom Healthy Brownies
Make the Brownies:

Preheat oven to 350 degrees. Line an 8x8 inch baking pan with parchment paper or oil the pan. Next, in a large bowl, whisk together 1/2 cup hot melted ghee and 1 1/2 cup coconut sugar. Then, whisk in 1/3 cup non-dairy milk and 3 tsp. vanilla extract. In a separate bowl, combine the dry ingredients: 1 cup buckwheat flour, 1/2 cup cocoa powder, 3/4 tsp. baking powder, 1/3 cup Shroom Shield, and 1/4 tsp. salt. Mix the dry ingredients into the bowl with the ghee and coconut sugar mixture until well combined. Fold in 1 cup chopped walnuts. Spread the batter evenly into the baking pan, and bake for 25–30 minutes, or until a fork comes out relatively clean. Let cool for about 10 minutes and enjoy!
RELATED STORIES
Celebrity news, beauty, fashion advice, and fascinating features, delivered straight to your inbox!
Megan DiTrolio is the editor of features and special projects at Marie Claire, where she oversees all career coverage and writes and edits stories on women's issues, politics, cultural trends, and more. In addition to editing feature stories, she programs Marie Claire's annual Power Trip conference and Marie Claire's Getting Down To Business Instagram Live franchise.