Jen Batchelor Pencils in Self-Care on Her Calendar
Guided meditation, chanting, and tongue-scraping are all part of the feel-good program for the Kin Euphorics co-founder.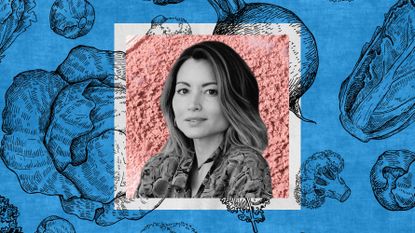 (Image credit: Kin Euphorics/Morgan McMullen)
In the ultimate quest for inner beauty and outer glow, Marie Claire asks our favorite trailblazers to share intel on finding balance in their busy lives. Read it all here, in Beauty Inside & Out.
As an entrepreneur and new mom, Jen Batchelor has discovered that if she doesn't pencil in something called "self-care" on her schedule, it just doesn't happen. "Rather than try to muster up the willpower to work this in daily, I simply focus on integration," says the 36-year-old co-founder of buzzy alcohol-free drinks brand Kin Euphorics. These wellness moments? Small daily tasks in all forms, from listening to guided meditations and Liminal Beats during breastfeeding sessions and chanting Kirtan in the shower, to doodling during conference calls—something that has actually helped Batchelor focus and stop answering Slacks during meetings. Ahead, her current roster of feel-good favorites and a spring detox recipe.
Inner Beauty
Thorne Research Vitamins:
My non-negotiable supplements are vitamins D3 and C, especially during seasonal transitions. We don't get nearly enough sun on a day-to-day basis, which is critical to our immunity. Vitamin C is particularly useful in repairing skin. Anything from Thorne brand is good.
By Rosie Jane Perfumes:
My new fragrance favorites are from By Rosie Jane. They're clean and non-abrasive. They were the only fragrances I could wear without getting nauseous during my pregnancy. I mix Leila Lou with Lake.
Tongue Scraper:
I don't go anywhere or start a day without my tongue scraper. This is a key part of my morning routine inspired by the Ayurvedic practice of maintaining a good balance of healthy digestive flora and wiping away the less desirable anaerobic bacteria that surfaces after a night of detoxing in our sleep. It's amazing for digestion.
Brain Boosters:
For me, brain care is the thing that makes me feel most beautiful. Lately that means a turmeric supplement, Brahmi and Bacopa [supplements] by LifeSpa, Matter by Elysium [pills], and [drinking] Kin!

Hydration and Sleep:
Practicing good hydration and sleep hygiene is the key to balance. There are no better recovery and nourishment tools when it comes to the mind, skin, and body; they are the foundation for every great wellness regimen. After a good face and jaw massage with oil, I'll steam the day off my face, add a little light moisturizer and chill my eyes. Right before bed, I do a loving foot massage with aromatic oils, even if it's only two minutes on each foot before my head hits the pillow.
Outer Glow
Essential Oils:
Depending on the season, I choose an essential oil to mix into an oil-based moisturizer/carrier such as ghee or coconut oil. For spring it's jaramantsi and lotus flower with a little orange to brighten it up. This goes all over my body but especially my face, neck, and belly.
Dr Goldfaden's Doctor's Scrub:
I love this scrub for my face and neck, after applying oil and steaming. I use it three times a week to help shed my winter skin and brighten up melasma spots from my pregnancy. I seal in the goodness with this oil from Miranda Kerr's Kora Organics Noni Oil.

Hatch Strength & Shine Hair Oil:
For my hair, I run this oil on my ends. Or when I have enough time, I put the oil right into my scalp and treat myself to a head massage in the shower. A little vinegar lifts it out if I'm worried about extra weight or oiliness.
Recipe for Success: Jen Batchelor's Bespoke Birch Nightcap
Combine and Enjoy!
1. Pour Kin Euphorics Dream Light over ice in a chilled glass. To taste, add birch extract and ginger beer.
2. Garnish with lavender bitters—with the carbonation it's perfect over ice. Sip at your leisure.
RELATED STORIES
Celebrity news, beauty, fashion advice, and fascinating features, delivered straight to your inbox!