Aix Marks the Spot
Glorious scents abound in charming cities like Grasse and Aix-en-Provence, but fragrance-making isn't as easy as it smells.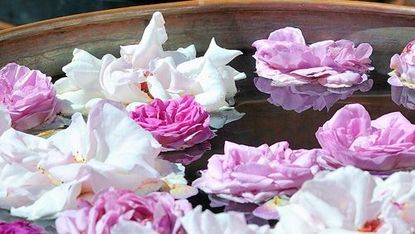 (Image credit: Jeffrey Westbrook/Studio D)
Marie Claire Newsletter
Celebrity news, beauty, fashion advice, and fascinating features, delivered straight to your inbox!
Thank you for signing up to Marie Claire. You will receive a verification email shortly.
There was a problem. Please refresh the page and try again.
Most of us associate the south of France primarily with mainlining rosé and copious amounts of fromage. And within my first few hours in Provence, crisscrossing between the bustling towns of Marseille and Aix to the medieval hillside village of Cliousclat, I'm more than happy to report that the tradition is alive and well. (Just ask my waistline!) But there's an even more seductive, deeper passion that pervades the ancient-plane-tree- and poppy-lined roads that wind through the region: the olfactory charms of Provence. Here, endless lavender fields and fragrant orange blossom paths tease the nose at every turn; it's a place where perfume is a way of life.
I'm in good hands. My host, Olivier Baussan, is the founder of the region's most beloved and revered beauty brand, L'Occitane, purveyor of scents directly inspired by the region. Its catalog includes citrus, lavender, and verbena eau de toilettes — and my favorite, the truly decadent Rose 4 Reines Eau de Toilette, a heady mix inspired by the four legendarily beautiful daughters of the Count of Forcalquier. More recent additions include a stunning collection of colognes inspired by the area's ubiquitous fountains, and an entire line devoted to the delicate pivoine, or peony, locally sourced from the world-famous Rivière nursery near Lyon.
Drawing from the vast array of local raw materials, I get a chance to test my own scent-making skills at the European University of Flavours and Scents, an institute set in a cinematic-looking 13th-century convent in Forcalquier (naturally). My fragrance seminar begins with a brief demonstration of the distillation process — those poor flowers are boiled alive! — and a lecture on the history of perfume's Provençal origins. (Serious perfumers make pilgrimages to nearby Grasse.) Much like in a high school chemistry class, we students each have an individual lab station. But instead of croaked frogs, they're stocked with bottles of distilled water and alcohol and a (chic) tackle box brimming with vials of essential oils. The mad scientist in me wants to immediately start dumping the vials into the beaker, but I manage to refrain.
In fact, I discover that assembling a fragrance is very much a lesson in restraint. Consider how precious each oil is: It takes 5 tons of roses to produce about 2 pounds of essential oil. Handled like liquid gold, each individual drop must be painstakingly weighed and recorded in order for the blend to be reproduced. In fact, the greatest perfumers spend decades perfecting their craft, and it generally takes at least a year to complete a marketable scent. One of the reasons is purely technical: After the volatile essential-oil blend is mixed with stabilizing alcohol and water, then capped, it takes a month for the smell to "mature" and realize its full scent potential. Knowing this, one can only imagine how slowly the trial-and-error process between multiple renditions can progress. The other hindrance is of a more intellectual nature: Perfumery is an art — it simply takes time, non?
Finally, I get to work on my own mixture. Since I'm perhaps more creative than meticulous, my individual drops of oil are more why not? than planned and precise. And due to time constraints — I have about 20 minutes to create the scent of a lifetime (as opposed to the aforementioned 365 days, ahem) — panic sets in. The pressure! Still, after my professor's thumbs-up, I'm proud of my cocktail of neroli, jasmine, rose, patchouli, and sandalwood. It's simple, classic, and reminiscent of the luscious smells I've encountered during my stay in Provence.
A month later, I must admit my brew smells a bit more "old lady" than "breath of fresh air," which, much to my husband's chagrin, doesn't seem to stop me from spritzing it all over the place. But when I need a more authentic Provence fix, I have my L'Occitane scents to fall back on — the fresh peony; the rich, stately rose. In the end, once my passport has been safely tucked away at home again, it's understandable why perfumers across history have desired and attempted to bottle the essence of the gorgeous region. Luckily for the rest of us, there are more qualified experts than I to take care of that.
Celebrity news, beauty, fashion advice, and fascinating features, delivered straight to your inbox!
Erin Flaherty is a beauty journalist and consultant who has contributed to numerous publications including the Wall Street Journal and Domino, among many others. She is a board member of the Women's Global Empowerment Fund and especially passionate about worldwide beauty anthropology and women's issues. She lives in Woodstock, NY with her husband and dog.