The Holiday Beauty Game Plan
Here's how to get your hair, skin, and body primed for party season, with 30 days or just 24 hours to go.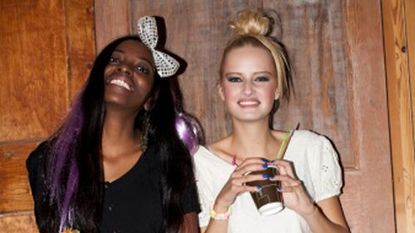 (Image credit: Cultura/DUEL)
COUNTDOWN: ONE MONTH
FACE: Don't let the season's stress wreak havoc on your skin. For a clear, smooth complexion, see your dermatologist now. "Botox [average price: $328] takes up to two weeks to kick in, and this gives your doctor time to adjust the dosage, if necessary," explains New York City dermatologist and psychiatrist Dr. Amy Wechsler. To improve texture, shrink pores, and lighten dark spots, Wechsler recommends the Clear + Brilliant laser ($250 and up per treatment); acne sufferers should try Isolaz ($200 and up per treatment). "Schedule one appointment a month before the event and another two weeks before," she says.
HAIR: "If you want your hair to grow longer, get a trim a month before," advises Bumble and Bumble hairstylist Zoe Wiepert. "Split ends can travel up the strand and stunt growth." New thickening products such as Pantene AgeDefy Advanced Thickening Treatment plump strands with caffeine, niacinamide, and panthenol over time, so the earlier you start a regimen, the better.
BODY: "You can safely lose four to eight pounds in a month if you exercise five to eight hours a week," says fitness expert Will Torres, owner of Willspace in New York City. Load up on lean protein and vegetables for the fastest results.
COUNTDOWN: TWO WEEKS
FACE: Get a brow shaping and schedule a chemical peel or facial with extractions. "For the most beautiful, radiant skin, you want to deep clean at least 10 days before an event to reduce residual redness or irritation," says celebrity facialist Tammy Fender. At home, she recommends exfoliating every two to three days and working yoga classes into your routine (seriously!). "Headstands bring so much blood circulation to the skin, and relaxing facial muscles will help minimize fine lines."
HAIR: Touch up your highlights now. "Hair color needs about a week to settle," warns Wiepert. "Red is the quickest to fade, so wait until a week before the event to make sure it's bright and vibrant." Keep in mind it's best to avoid two chemical treatments on the same day, especially for African-American hair, which tends to be more brittle. "Always relax hair first, then color later," says Wiepert.
BODY: To reduce bloat, celebrity nutritionist Kimberly Snyder recommends drinking hot water with vitamin-C-rich lemon first thing in the morning and adding raw apple cider vinegar (a natural digestive aid) to salads. "Vitamin C will improve liver function and digestion," Snyder says. Torres stresses strangth training to further boost the burn. "When you do cardio activity, metabolism is spiked for three to four hours after you stop. When you do strength training, it's spiked to 12 to 15 hours," he explains. With two weeks to go, Torres recommends exercising for three days and resting one day for a total of six workouts a week. Four times a week, workouts should include 30 minutes of strength training (using eight- to 12-pound arm weights and 15- to 20-pound leg weights) and 30 minutes of cardio. The other days can be just cardio. "Women can only put on a half pound to 1 pound of muscle per month, so this much weight won't bulk you up," he assures.
COUNTDOWN: 24 HOURS
FACE: Combat surprise breakouts with a de-swelling ice pack. A dermatologist can inject a steroid shot to shrink zits in a day, but at home, Wechsler recommends dabbing on 1 percent hydrocortisone with a Q-tip: "Push on the pimple like you're trying to inject it. If the head's ready to pop, take a Q-tip and apply gentle, even pressure on each side." If your complexion is already clear, just exfoliate gently and plump up skin with a hydrating mask, followed by a nongreasy moisturizer. Celebrity makeup artist Molly Stern suggests relaxing with eye-mask patches (Chanel and SK-II are her favorites) or wet chamomile tea bags. "Skin around the eyes can look tired and crepey. Cold chamomile is a great anti-inflammatory that helps calm puffy eyes," she explains.
HAIR: Treat hair to a moisturizing mask the night before for shine without weight. Dry shampoo or salt spray on the roots will give hair body, whether you're wearing it up or down. Wiepert also suggests clip-in hair extensions in colored ombré swatches that match your natural hair hue at the root then blend to rich colors like royal blue, velvet purple, or cinnamon at the ends. "Don't try to be symmetrical with the clip-ins," she instructs. "If you part your hair, do two pieces on the heavier side and one on the other."
BODY: The night before the big bash, Snyder suggests drinking cranberry kombucha after dinner along with a detox tea made with hot water, lemon, cayenne pepper, and ginger before bed. "Cranberry helps clean out the kidneys. Ginger is warming, and cayenne pepper revs up metabolism while helping to break up the toxins and mucus in the body," she says. For a final spike to your metabolism, try to fit in a 10-minute strengthening session before your party prep. "Do core exercises like planks or squats with arm exercises," Torres says. "Your body will be tighter and more toned for two to three hours after the workout, so your clothes will fit better."
MAKEUP: To give your face a festive glow, Stern suggests using bright blushes and highlighters to bring out features. "Use it in a C-shape around the outer corner of the eyes and on the cheekbones, on the tip of the nose, and right above the indentation of the chin," she suggests. Adding sparkle or a shock of unexpected color on the inner corner of the lids opens up the eyes — a red-carpet trick Stern learned from client Kate Beckinsale. For an extra special touch, Stern suggests strategic body highlighting, such as on the clavicle if you're wearing a strapless dress. Just make sure you choose a smudge-proof, long-wear formula — it could be a long night.