What's On: Emma Watson
The face of Lancôme's new spring makeup collection talks about moody cabdrivers, egg tortillas, and her Internet relationship with the Queen of England.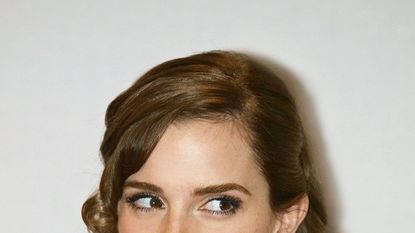 (Image credit: Max Nash/AFP/Getty Images)
What's on Your...
LIQUOR SHELF OR BAR: Mojito ingredients.
PERENNIAL TO-DO LIST: Learn to speak French fluently. I keep not doing it. I have an unopened Rosetta Stone pack that's been in my house for three months now.
LAST CREDIT CARD BILL: 1. Ingredients for chocolate chip banana bread, which I'm obsessed with. I think I've made it five times in the past three weeks. Warm chocolate chip banana bread with milk is the best thing ever. 2. A Phillip Lim sweater. 3. English flu remedy Lemsip — I just had a cold.
NETFLIX QUEUE: Bicycle Thieves. I've been meaning to see it for a while. I just watched The Woodmans, which is about photographer Francesca Woodman. She's one of my favorites.
IDEAL-DINNER-PARTY GUEST LIST: Shakespeare.
FEET: Cheap socks. I always buy socks at the supermarket or when I'm at the pharmacy.
SH*T LIST: How expensive minibar drinks are — it's ridiculous! And moody cabdrivers really upset me.
IPHONE APP LIST: 1. 8mm Vintage Camera — you can make a film that looks like a '60s black-and-white movie. 2. AroundMe — I use it all the time. 3. Convertbot — I can convert everything [currency, mass, time] from American to English things. 4. Cat Effects — you take a photograph, and it has pictures of little cats that you can put around your photo.
COFFEE TABLE: Tim Walker and Francesca Woodman photo books.
PLAYLIST: The Lumineers album and the Pitch Perfect soundtrack, which put me in a good mood. I just downloaded "Superstition" by Stevie Wonder, "Your Love Gets Sweeter" by Finley Quaye, "Me and Jane Doe" by Charlotte Gainsbourg, and "Skyfall" by Adele.
CHARITY LIST: Camfed — it's an international charity that provides scholarships to young women in different regions of Africa — and the Make-A-Wish Foundation.
BUCKET LIST: Going to Le Cordon Bleu for a year would be super badass. I don't like using recipes — I like to cook things I just know how to cook. I figure if I went and really learned, I would be the kind of person who could open the fridge and be like, "I know what I will make with this one piece of celery and this random piece of butter and this pasta."
PINTEREST BOARD: I absolutely love arts and crafts. I just made salt dough, and I used cookie cutters to make decorations.
WORKOUT PLAN: Recently it's been going for walks, which is pretty hopeless.
ALL-TIME-FAVORITE- BOOKS LIST: Just Kids by Patti Smith.
SCREEN SAVER: A photo of Patti Smith.
THE WALLS OF YOUR FAVORITE ROOM IN YOUR HOUSE: I painted my whole living room with blackboard paint, and people who come to the house leave me silly messages and random doodles. My mom thought I was mad when I did it, but it does actually look cool.
VANITY CABINET SHELVES: Lancôme lip balm. It's really moisturizing and easy to wear.
CAR STEREO: Sirius XM.
TWITTER FEED: Elizabeth Windsor @Queen_UK. It's a spoof. She makes comments like "Gin-O'clock" — as in it's time to have a gin and tonic. I also follow Rebel Wilson @RebelWilson and Ellen DeGeneres @TheEllenShow.
GO-TO MENU: Mexican food. I make a really amazing egg tortilla in the morning. It's my special thing. I make guacamole, salsa, and scrambled eggs, and then I cook the tortilla. It's pretty simple, really, but yummy.
YOUR TOP 5 LIST: 1. Eyebrow threading. 2. Head towels — the specific ones you can buy to wrap around your head. I own three of those. 3. Amazon.com. 4. Vitamin C with rose hips. 5. Omega-3 supplements.
INSTAGRAM: Animals.
NIGHTSTAND: Norwegian Wood by Haruki Murakami. I've mainly been learning my lines for Noah before I go to bed, so that really slows down my reading.
FUTURE ITINERARY: Zambia for a charity trip with Camfed.
FANTASY ITINERARY: No itinerary!