Prix D'excellence Beauty Awards
This year marks the 28th installment of our best-beauty-products-in-the-world awards. Each prize is meticulously selected by our United Nations–like jury of international journalists and rewards both innovation and that intangible "wow" factor. This year, we're thrilled to honor a classic antiaging serum based on sleep research (recently updated with the latest technology); a protective fluid to make bare skin look "perfect"; the ideal rich, smooth-as-velvet lip color; an amazing new collection from the ultimate fashion house turned beauty giant; and much more. The winners (including the international Special Jury Prize and three American awards) faced some serious competition to make it to these pages, but now they're all yours. Photographs by Christian Kettiger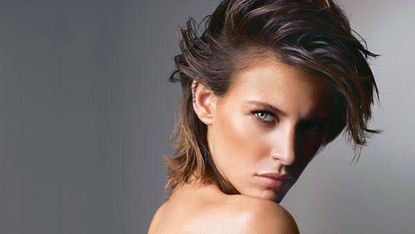 (Image credit: Christian Kettiger)
Marie Claire Newsletter
Celebrity news, beauty, fashion advice, and fascinating features, delivered straight to your inbox!
Thank you for signing up to Marie Claire. You will receive a verification email shortly.
There was a problem. Please refresh the page and try again.
Special Jury Prize
CHANEL Les Beiges, Les Tempsessentiels, Le Volume
THE JURY'S CHOICE: Paying homage to women of all skin tones, Chanel's Les Beiges powder (available in seven shades, to suit every face on the planet) lends the radiance of a naturally glowing complexion in a nourishing formula to protect the skin. Kudos to Les Temps Essentiels as well, three treatments that help skin regain its natural rhythm: Le Jour to energize in the daytime, La Nuit to repair skin at night, and Le Weekend to rejuvenate during downtime. Finally, we adore Le Volume mascara, which thickens lashes without that fake look.
THE JURY SPEAKS "The epitome of chic! Powder that looks invisible but gives cheeks a weekend glow; skincare that adapts to our crazy schedules; mascara that makes our eyelashes look like Vanessa Paradis' … Chanel knows how to combine glamour and efficacy better than anyone." "Chanel delicately bronzes us year-round and infuses the skin with nutrients. 2014—the year of Chanel?" "The idea of rejuvenating skincare with Les Temps Essentiels feels completely of-the-moment."
BEHIND THE SCENES OF THE PRIZE
The global gold standard in beauty, Marie Claire's Prix d'Excellence honors winners that have been handpicked by a jury of 26 fashion and beauty journalists from eight countries. Only new launches from the previous year are considered, and the judges decide their 10 votes based on innovation, effectiveness, texture, and design. In addition, each country may award up to three prizes that are judged by a jury of local journalists. A supervisor validates all results, and rules for the winners are filed with SCP Louvion-Plumel.
ESTÉE LAUDER Advanced Night Repair Synchronized Recovery Complex II
THE JURY'S CHOICE: Estée Lauder completely revamped its cultfavorite serum to purify skin and allow it to regenerate overnight. This famous antiaging formula helps detox skin tissue to boost cellular repair during all that pillow time. Bonus: This lightweight serum works for all skin types. THE JURY SPEAKS "This is the most cutting-edge serum for skin renewal available right now." "This serum lets me wake up every morning looking more beautiful and rested. And that's exactly what I want." "It has a lightweight texture but is super-effective at erasing the effects of time. I'm so addicted that I apply it every morning and evening to maximize the benefit to my skin." "Estée Lauder excels in the serum category." "The champion of serums."
LANCÔME Dreamtone
THE JURY'S CHOICE: Simultaneously healing and beautifying, this product helps reveal a more beautiful, natural-looking skin tone. With a new dark-spot-fighting complex (which has been adapted to three different face shades), this tinted serum deposits a velvety veil that immediately illuminates and evens out the complexion until spots fade naturally. Talk about multitasking!
THE JURY SPEAKS: "I no longer have to wear foundation. My skin looks natural and fresh." "An amazing formula that takes into account three types of skin tones to correct unevenness and ensure a 'complexion of your dreams.'" "In the first week, women reported an improvement in the uniformity and clarity of their skin. After one to two months, they were no longer afraid to go out without makeup." "After three months of testing, the brightening results speak for themselves, but the immediate comfort and effect on the skin is important, too. In short, this product is flawless." "This treatment creates a silver-screen-ready complexion from the first application."
GIORGIO ARMANI Lip Maestro
THE JURY'S CHOICE: This lipstick combines a matte finish with hydration and long-lasting texture. Shimmer spheres in this lacquer illuminate the pigments in it, like a backlight. The 12 gorgeous shades are beyond fabulous (of course) and suitable for all skin tones.
THE JURY SPEAKS: "This has the elegance of a matte finish with the impact of highly pigmented color and is very pleasant on the lips." "Revolutionary." "Elegant and bright, but also comfortable and longlasting. I can't live without it." "I keep reapplying this for its impeccably soft texture." "Matte but not dull, shiny without being off-putting." "A lipstick created by the makeup artist Linda Cantello that's fit for fashion runways."
SISLEY Botanical D-Tox
THE JURY'S CHOICE: Suitable for all ages and seasons, this treatment gives exhausted skin a well-needed break, allowing it to detox, purify, oxygenate, and reenergize overnight.
THE JURY SPEAKS: "This is my tired-skin fix. I can see it clarify and plump up my complexion." "It's rare to find a treatment for signs of fatigue that really works." "This refreshes my complexion in just a few days and smells delicious—like the countryside." "The time is right to launch the first treatment that eliminates all excess toxins, sallow complexions, and blemishes. A true vacation for the skin—it's like two weekends away!" "This nighttime cure is genius! I wake up with a clearer complexion day after day. ...These detoxifying plants visibly revitalize the skin." "For urban dwellers suffocated by stress and pollution, this is the best weapon. In four weeks, this overnight cure rids the cells of all toxins to reveal fresh, flawless skin."
LANCASTER Sun Sport Invisible Mist
THE JURY'S CHOICE: With its Wet Skin Application technology, this sunscreen sprays SPF 15, 30, or 50 protection onto damp skin without requiring any toweling off first. It shields against UVA, UVB, and infrared rays and contains a tan accelerator for sun-free bronzing benefits. This new advance in sun protection is unmatched in its simplicity.
THE JURY SPEAKS: "Very practical, enjoyable, and invisible; no one should live without it any longer, especially when playing sports or spending the day at the beach." "There's no need to wait anymore to reapply, because it blends perfectly with wet skin." "Since the '80s, the iconic beach-beauty image has been of a woman emerging from the water, with droplets clinging to her wet skin. Now, thanks to Lancaster, professional sun safety and glamour are reunited." "This cutting-edge spray, which expels water on the skin's surface, also has an added bonus: Lancaster's legendary tanning activator, Tan Activator Complex." "Revolutionary and sexy: fast, easy, and efficacious, with a tantalizing effect on wet skin. The formula is dispensed by spray (and can be spread farther by hand)." "It was love at first sight for Invisible Mist SPF 30, the top choice of all my girlfriends on the beach, their children, and their men."
U.S. Winners
Credits (clockwise from top):
L'Oréal Paris Revitalift Miracle Blur Instant Skin Smoother, $25, smooths away wrinkles, erases pores, and firms skin, all in one swipe, for a real-life airbrushed effect.
SK-II Ess ential Po wer Cream, $205, contains the now-legendary firming Pitera extract in an extra-creamy soufflé that plumps skin and hydrates like nobody's business.
Oribe Soft Dry Conditioner Spray, $35, is like conditioner to go. It refreshes and protects hair from environmental stress. Plus, it hydrates second-day strands and fights frizz superhero-style.
Celebrity news, beauty, fashion advice, and fascinating features, delivered straight to your inbox!