The 16 Best Deep Conditioners for Bleached Hair in 2023
Also known as: How to restore your platinum hair to its former glory.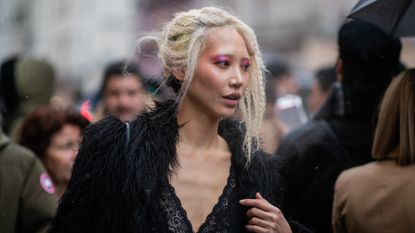 (Image credit: Getty)
The long journey of "going blonde" has been trekked by many—Billie Eilish, Katy Perry, and J.Lo, to name just a few. Maybe you've been inspired to bleach your hair at home with a boxed dye (though, trust us—you're better off going to the salon), or maybe you've spent countless hours in the salon chair to achieve the golden hue of your dreams. No matter how you got there, being blonde is fun—even if you're just trying to go light enough for a bold color. The upkeep and aftercare of an intense bleaching session can be tedious, but it's necessary. It starts with finding the best shampoo and conditioner for you (and even considering a purple shampoo to avoid brassiness), but the care and keeping of bleached hair also beyond that: When combatting the drying effects of chemical bleaching, a good deep conditioning treatment, like a hair mask, is vital.
Therefore, we tapped the talents of Matrix brand ambassador Rachel Bodt along with XMONDO founder and CEO Brad Mondo (opens in new tab) for their best tips and product recommendations for keeping bleached hair soft and conditioned.
Do I need to use a deep conditioner on bleached hair?
Yes, you need to use a deep conditioner on bleached hair, Mondo tells us—especially if you want to have the best hair possible. "Deep conditioners have a high concentration of extremely beneficial ingredients that promote the healthiest hair possible," he says. "They're an easy way to get a quick pick me up and noticeably softer, easier to manage hair in minutes."
Bodt seconds that, adding that deep conditioners infuse hair with protein and moisture.
How do you deep condition bleached hair?
Mondo recommends deep conditioning every wash if your hair needs the extra TLC, using it in place of a regular conditioner. If you're looking for a more penetrating mask application, Mondo says, "I recommend putting a plastic bag over your hair and then wrapping a towel on top of that. This will keep your head as hot as possible which will help expand the hair fibers and get the hair mask to work on a deeper level." Deep conditioners work best on damp hair and should sit on the head for anywhere from 10 minutes to overnight, depending on the conditioner.
However, over-conditioning is possible, especially if you have fine hair, and leaving in the conditioner can lead to excessive protein and moisture in strands. Bodt says, "If you have fine hair or are worried about losing volume, be mindful as it can weigh your hair down when it comes to styling." To avoid this, be sure to read your deep conditioner's instructions carefully, and if you notice your hair feeling weighed down and greasy, cut back a bit until you find the most balanced conditioning routine for you.
How else can you repair bleached hair?
If your hair is damaged beyond repair, try products that stimulate growth, like hair growth shampoos and hair growth oils.
"Emphasize on maintaining a good balance of protein and moisture, because too much moisture can make your hair heavy or too much protein can leave your hair brittle," Bodt advises. "You also want to add something to repair the bonds that have broken during lightning services."
Using products like the Matrix Total Results Unbreak My Blonde (opens in new tab) will infuse hair with citric acid that helps strengthen and soften hair. Mondo, who has seen his fair share of bleach fails, recommends:
Staying away from hot tools;
Deep conditioning at least every other wash;
Sleeping with a silk pillowcase;
Getting a haircut to remove excess damage on bleached hair.
The Best Deep Conditioners for Bleached Hair
Meet the Experts