The 10 Best Flat Irons for Natural Hair in 2023
All the style, none of the damage.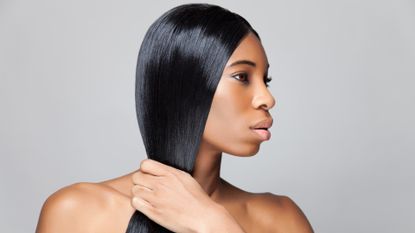 (Image credit: Getty/AND-ONE)
Marie Claire Newsletter
Celebrity news, beauty, fashion advice, and fascinating features, delivered straight to your inbox!
Thank you for signing up to Marie Claire. You will receive a verification email shortly.
There was a problem. Please refresh the page and try again.
Any haircare aficionado will readily tell you that keeping your hair healthy, strong, and hydrated takes a lot more than simply using your favorite shampoo and conditioner. It requires time, attention, scalp care, and, sometimes, a whole lot of leave-in conditioner—especially if you're the proud owner of curls or coils. Indeed, natural hair is often more delicate and requires more moisture than straight or wavy hair, and therefore requires nourishing shampoos designed for natural hair, plus leave-ins and styling products that both support the wearer's style of choice and enhance hydration. It's therefore no surprise that when shopping for a flat iron for natural hair, it's also essential to think carefully about this hair type's needs.
So, what makes some flat irons more suitable for natural hair than others? I spoke to Kim Kimble, celebrity hairstylist and founder of her eponymous haircare brand, to better understand what to look for in a flat iron, what to avoid, how to flat iron hair without causing damage, and, of course, which flat irons are best for straightening natural hair.
What to Look For in a Flat Iron for Natural Hair
There are a variety of flat irons on the market, many of which have unique features that are suited for certain hair types, curl patterns, and style goals. Kimble says, "When looking for a flat iron for natural hair, it's important that you make sure you find a straightener that's equipped with all the features to suit your hair needs and avoid any damage." More specifically, she advises, "Your flat iron should have high-performance plates, customization options, consistent heat, and functional design."
And just as it's important to know what to look for, it's also important—perhaps even more so—to know what to avoid. If you have natural hair, Kimble says, "In order to prevent heat damage as much as possible, it's best to stay away from flat irons that have high maximum temps. Just because you can, doesn't mean you should be using too high of heat. Try to stay away from high temperature—never go above 425 to 430 degrees."
Heat damage can cause breakage, frizz, and dryness, and can hinder hair growth in the long term. So, although it's tempting to crank up the heat when you're styling your hair in a rush, keep in mind that heat damage will cost you more time, money, and aggravation in the long run.
Safely Flat Ironing Natural Hair
Heat damage, of course, is always a possibility when using flat irons and other heat tools on your hair. For that reason, it's important to be mindful when using these tools that you're doing so in a way that's safe and healthy.
"You should always prep natural hair first by using a heat protectant," says Kimble. In particular, she recommends her brand's popular heat protectant spray. Using such a spray, she explains, "ensures your hair is coated before applying heat."
It's also best not to rush your styling process. More specifically, make sure you resist the temptation to straighten hair right after washing it. "You should never flat iron wet natural hair," Kimble agrees. "Make sure your strands are completely dry." Otherwise, you could cause lasting damage to your hair—something that's not worth the extra few minutes you saved by skipping blow-drying.
"Lastly," says Kimble, "I wouldn't recommend straightening your natural hair more than twice a month—especially if your hair is color-treated or damaged." While there's nothing wrong with using heat tools occasionally, remember that repeated application of heat to your hair is never good for its long-term health, no matter what pains you take to style carefully.
And once you've finished flat ironing your hair? To maintain your style, Kimble suggests, "The best way to maintain their style after using the flat iron is to protect the hair at night while sleeping. This can be done by using a silk or satin pillowcase, a silk/satin scarf, or a bonnet." I, for one, am a huge fan of bonnets and hair wraps, which are handy even when I'm wearing my hair au naturale.
The Best Flat Irons for Natural Hair
Best Cooling Flat Iron for Natural Hair
Kim Kimble Quad Plated Cooling Flat Iron
This quad plated flat iron features four individually heated plates, which result in quicker, more effective results so that you can minimize the amount of time your strands are exposed to heat. Plus, it includes cooling gaps between each plate, which both set the style and mitigate damage. The temperature is digitally controlled and reaches up to 450 degrees Fahrenheit, and the tool promises to both heat and cool within seconds. Kim Kimble recommends it specifically for long-lasting styles.
Pros: affordable; expert-approved; cooling; digitally adjustable temperature
Cons: temperature is able to reach higher than is recommended for natural hair
Best Quick-Heating Flat Iron for Natural Hair
Kim Kimble Infrared Professional 2" Ceramic Tourmaline Flat Iron Hair Straightener
Kimble also recommends this infrared flat iron from her haircare line, particularly for those who have damaged and/or color treated hair. Because this option uses infrared technology, it produces negative ions that help enhance shine and eradicate frizz for a smooth, controlled finish. It reaches up to 430 degrees Fahrenheit, but users can digitally control the temperature themselves—with astonishingly quick heat up and cool down times to boot. Finally, this flat iron makes straightening even the hardest-to-reach areas of your mane easier with its 360 degree swivel cord that won't get tangled up while you're hard at work.
Pros: long swivel cord; expert-approved; heats quickly; digitally adjustable temperature
Cons: none found
Customer Review: "It heat up quickly with different heat settings that fit your hair density. I found that has a long cord, which is a plus, and auto shut off. I have used it couple times and was pleased with the results for my 4C hair." -Walmart
Best Cordless Flat Iron for Natural Hair
Dyson Corrale Hair Straightener
This state-of-the-art straightener from Dyson is made with flexible plates that are designed to shape themselves around the user's hair in order to lessen damage and mitigate the need for high heat. Because the plates, which are made from manganese copper alloy, adjust to one's hair, they also gather more hair with each pass, which speeds up the styling process. Its temperature ranges from 330 degrees to 410 degrees, and it can even be used for up to 30 minutes without its cord.
Pros: cordless capability; flexible plates decrease damage; works quickly
Cons: short cordless battery life
Customer Review: "I absolutely love this hair straightener! It has a good, solid weight to it which shows it's made with sturdy materials and will last. It's great that you can use this tool wirelessly or with a cord. It takes about an hour to charge and the charge holds for at least 30 minutes. My hair was so silky after one pass. What differentiates the Corrale from other straighteners is that it goes up to 410° and does not leave a harsh burn smell on the hair." -Sephora
Best Single-Temperature Flat Iron for Natural Hair
Moroccanoil Perfectly Polished Titanium Flat Iron
This flat iron receives consistently high reviews from verified customers with natural hair. It's designed to work effectively on all hair types and curl patterns and to deliver heat evenly across its titanium plates, which are extra long and four inches wide. The size of these plates means that you can straighten more of your hair at once, saving valuable time during your morning routine. Plus, reviewers say that it kept their hair shiny, free of frizz, and smooth for hours on end.
Pros: heats quickly; hair doesn't catch on plates; decreases frizz;
Cons: heat reaches 450 degrees, which is hotter than recommended for natural hair; temperature is not adjustable
Customer Review: "This straightener is the best I've ever owned! The straightener is so fast at heating up. I love that there is a finger grip at the top of the straightener and it does not burn your fingers either! The cord is thick which I find perfect because it does not tangle up easily. Most importantly, the straightener does not pull your hair! It feels like nothing when I straighten my hair yet it turns out perfect, even without product! Plus you get a cute bag for your straightener when you are on the go!" -Sephora
Best Flat Iron for Silk Presses
Hot Tools Pro Artist Black Gold 1" Micro Shine Flat Iron
Professional hair stylist and PATTERN Beauty brand ambassador Mideyah Parker recommends this flat iron for natural hair styles, such as silk presses, that require flat irons. She says that this flat iron "gets hotter faster, and is powerful enough to create extra smooth hair styles." Plus, she tells us that the tool's pro-porcelain ceramic iron technology "distributes even heat across the plates and generates far infrared heat, a more efficient heating method which is gentler on the hair."
Pros: expert-approved; heats quickly; cruelty-free; adjustable temperature; long, 9-foot swivel cord; ergonomic handle
Cons: maximum temperature is higher than what is recommended for natural hair
Customer Review: "Gets hot easy and makes hair smooth! I love it. Best straightener I've used." -Ulta
Best Fast-Cooling Flat Iron for Natural Hair
Paul Mitchell Neuro Smooth 1.25" Titanium Flat Iron
This flat iron heats up to 450 degrees, but it's also equipped with a digital display temperature control so that you can ensure it never gets too hot. Plus, for your safety, it has a customizable automatic shut-off function of up to 120 minutes. It's made with all hair lengths, types, and curl patterns in mind, with 1.25 inch titanium plates that heat evenly in order to minimize damage and get the job done faster. In addition to heating in under a minute, it also cools down quickly, so you can worry less when you're rushing out of the house.
Pros: heats and cools quickly; heats evenly; cruelty-free; auto shut-off function; adjustable temperature; digital display
Cons: maximum temperature is higher than what is recommended for natural hair; some users say it snagged their hair
Customer Review: "My hair is thick and frizzy and this sleeks it smooth in half the time." -Ulta
Best Personalized Flat Iron for Natural Hair
T3 Smooth ID 1" Digital Ceramic Flat Iron with Smart Heat Setting Personalization
This award-winning flat iron promises to personalize the amount of heat that it uses on hair in order to provide users with the fastest, most effective, most damage-free experience possible. It boasts nine heat settings and a smart-touch interface made with curly and natural hair in mind, and is suitable for all hair textures, lengths, and thickness levels. It also slips easily through hair without snagging, and has been proven through testing to increase smoothness, minimize frizz, and keep hair looking and feeling healthy.
Pros: award-winning; tested; made with curls in mind; personalized, adjustable heat; high-tech
Cons: more complicated than most flat irons
Customer Review: "I absolutely love this straightener!! It's so sleek and modern. I really like the various features so that I know I'm not damaging my hair with too much heat. As I have bleached hair, this is super helpful. I also love the refresh button! Overall, I really like it and although at first I was overwhelmed by all the buttons, I quickly got the hang of it!" -Sephora
Best Flat Iron for Natural Hair with a Lock Switch
BaBylissPRO Nano Titanium Prima Styling Iron
This titanium option from BaBylissPRO is made from floating titanium plates and features a dual ceramic heating system that reaches up to 465 degrees Fahrenheit. It promises to heat quickly and evenly, delivering heat using an effective ion technology that can render hair straight or create gentle, beachy waves with ease. It's also made for all types and textures, promising to be equally effective no matter how stubborn your curls and coils are. Reviewers add that it helps minimize frizz and that it has a handy lock switch that helps ease the effort involved in creating a perfectly straight 'do.
Pros: multiple settings; effective on all hair types and textures; has a lock switch
Cons: maximum temperature is higher than what is recommended for natural hair; some users say it snags hair
Customer Review: "This will give you a silk press finish in no time!! I love it! Its heavy but performs effortlessly without hand aches from squeezing. I barley have to do anything. It has a lock switch! I have long, think, curly, strong, coarse biracial hair and this iron straightens it in pass.
Best Flat Iron for Creating Waves for Natural Hair
Drybar The Tress Press Straightening Iron 1.25 Inch
Drybar is a brand beloved by many for its flawless blowouts, and now you can bring salon-quality style into the comfort of your home. This iron has the power to either straighten or to produce gentle waves and curls, and features titanium plates that are ideal for smoothing frizz-prone hair. As a result, users find themselves with shiny, healthy hair. Plus, the flat iron can be digitally controlled so that you can set the best temperature for your hair, and it's color-safe, too.
Pros: digitally adjustable temperature; multiple functions; smoothing; enhances shine; designed for hair health
Cons: some users felt it didn't work quickly enough
Customer Review: "Easy to use and leaves hair feeling soft and silky and gives hair a very straight healthy shiny appearance!" -Sephora
Best Inexpensive Flat Iron for Natural Hair
CHI Original 1'' Ceramic Hairstyling Iron
This flat iron comes at a reasonable price, yet still delivers premium results. It reduces both frizz and static—the banes of every hair aficionado's existence—and creates a shiny, silky hairdo that looks nourished rather than dehydrated. This luxe finish is due to the tool's negative ion technology, which maximizes shine. Finally, although the heat is not adjustable on this model, it has a maximum temperature of 392 degrees Fahrenheit, so you can rest assured that your hair won't get fried after repeated use.
Pros: cruelty-free; prevents static and frizz; temperature is healthy for natural hair; shine-enhancing
Cons: temperature is not adjustable
Customer Review: "I have had this flat iron for over 20 years. I absolutely love it...I would highly recommend it: no frizz, and its heat is tempered so there is no way you can burn your hair. You can also curl your hair with it as well." -Ulta
Meet the Experts
Kimberly Kimble, better known as Kim Kimble, is a celebrity hairstylist, beauty expert, and business owner who has styled the likes of Shakira, Rihanna, Halle Berry, Beyoncé, Zendaya, and others. She also owns her own beauty brand, Kim Kimble, which provides high-quality haircare, extensions, and more—with a focus on keeping natural hair healthy and well-styled. Originally from Chicago, she is now based in Los Angeles.
Mideyah Parker is a celebrity hairstylist who graduated from the Aveda Institute in Tallahassee, Florida. She has styled celebrities like Danielle Brooks, Dascha Polanco, Laila Odom, and more, and has worked with brands such as Tory Burch, Prada, Versace, Marc Jacobs, and others. She is currently based in New York City.
Celebrity news, beauty, fashion advice, and fascinating features, delivered straight to your inbox!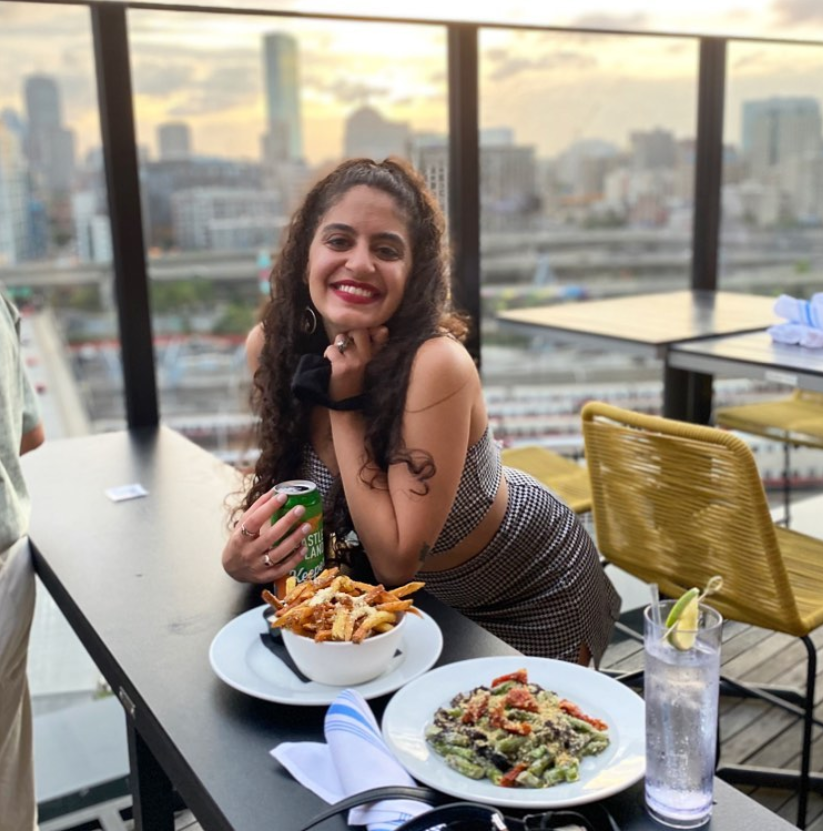 Gabrielle Ulubay is an E-Commerce Writer at Marie Claire and writes about all things beauty, sexual wellness, and fashion. She's also written about sex, gender, and politics for publications like The New York Times, Bustle, and HuffPost Personal since 2018. She has worked extensively in the e-commerce and sales spaces since 2020, including two years at Drizly, where she developed an expertise in finding the best, highest quality goods and experiences money can buy. As a film school graduate, she loves all things media and can be found making art when she's not busy writing.