The 17 Best Lip Plumpers of 2023
Take it from me, someone with a teeny, tiny pout.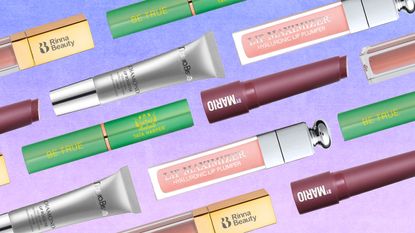 (Image credit: Future)
In my opinion, lip plumpers get a bad rap. Rewind a decade or so and some of the volume-boosting products would tingle a bit too much. Like, they kind of, sort of hurt. But thanks to a few ingredient substitutions (goodbye mint, hello hyaluronic acid), elegant, new formulas have resulted in a new wave of the best lip plumpers—and it's time they landed on your radar. These lip plumpers tickle as opposed to tingle, provide high shine more times than not, and improve lip volume from the inside out thanks to nourishing and hydrating ingredients.
Of course, injections or a lip flip are the way to go for a permanently plumper pout. That said, if you're not ready to commit (hi, yes, me) or are on a mission to avoid needles at all costs (also me), a lip plumper can deliver amazing, temporary results. Take it from me, someone with extremely thin lips who's tried just about every plumper under the sun for a bigger pout. After boiling down the pros and cons of the many, many masks, lipsticks, lip balms, and serums in existence, I'm sharing the best of the best lip plumpers for your shopping pleasure. Ahead, you'll find our tried-and-true favorites and shopping tips, plus the science behind lip plumpers, courtesy of cosmetic chemist Ginger King, because they don't work by magic.
How Do Lip Plumpers Work?
For someone like me with very thin lips, plumpers are mini miracles in a tube, but I was curious how they actually work. To get the lowdown, I turned to cosmetic chemist Ginger King. She explains, "They work by irritating the lips with ingredients from pepper or ginger or nicotinate to induce the blood flow, thus looking plumper immediately." This extra blood flow is why you may experience redder lips with some plumpers, by the way.
Additionally, King adds that some plumpers use hyaluronic spheres and peptides that trap moisture. These products will lead to more moisturized lips, and in effect, plumping them.
Are Lip Plumpers Safe?
Even if you use lip plumpers every single day (guilty as charged), rest assured they are completely safe to use, says King, since they only provide a temporary effect. However, that's not to say they may not come with side effects. "Prolonged use may dry out lips though because lips are sensitive and by repeatedly irritating the lips for the plumped looks, intense hydration is needed," King warns. While a slight tingle sensation is normal in lip plumpers, stop using the product if you experience a rash or intense burning as you may be allergic.
What to Look For in a Lip Plumper
When on the hunt for a great lip plumper, it's essential you consider the ingredients. All plumpers have different formulas, but King suggests looking for plumpers that prioritize natural ingredients. "Any lip product has the propensity to be ingested so of course the more natural formula can be better," she says. Think of natural ingredients like pepper (capsicum), ginger, and peppermint, but keep in mind these work by irritating the lips and will cause a tingling sensation.
If you're not a fan of the tingling, other plumpers use moisturizing ingredients like hyaluronic acid, collagen, peptides, and natural oils such as avocado, olive, and argan. All in all, everyone's lips are different and may have different reactions to ingredients. Feel free to experiment with different plumping formulas to find one that suits your preferences.
The Best Lip Plumpers
Meet the Expert
Samantha Holender is the Beauty Editor at Marie Claire, where she reports on the best new launches, dives into the science behind skincare, and keeps up with the latest trends in the beauty space. She has previously written for Us Weekly, Popsugar, Makeup.com, Skincare.com, and Philadelphia Wedding. Follow her on Instagram @samholender.