The 17 Best Lip Plumpers of 2023
Take it from me, someone with a teeny, tiny pout.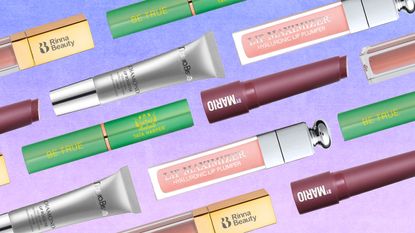 (Image credit: Future)
In my opinion, lip plumpers get a bad rap. Rewind a decade or so and some of the volume-boosting products would tingle a bit too much. Like, they kind of, sort of hurt. But thanks to a few ingredient substitutions (goodbye mint, hello hyaluronic acid), elegant, new formulas have resulted in a new wave of the best lip plumpers—and it's time they landed on your radar. These lip plumpers tickle as opposed to tingle, provide high shine more times than not, and improve lip volume from the inside out thanks to nourishing and hydrating ingredients.
Of course, injections or a lip flip are the way to go for a permanently plumper pout. That said, if you're not ready to commit (hi, yes, me) or are on a mission to avoid needles at all costs (also me), a lip plumper can deliver amazing, temporary results. Take it from me, someone with extremely thin lips who's tried just about every plumper under the sun for a bigger pout. After boiling down the pros and cons of the many, many masks, lipsticks, lip balms, and serums in existence, I'm sharing the best of the best lip plumpers for your shopping pleasure. Ahead, you'll find our tried-and-true favorites and shopping tips, plus the science behind lip plumpers, courtesy of cosmetic chemist Ginger King, because they don't work by magic.
How Do Lip Plumpers Work?
For someone like me with very thin lips, plumpers are mini miracles in a tube, but I was curious how they actually work. To get the lowdown, I turned to cosmetic chemist Ginger King. She explains, "They work by irritating the lips with ingredients from pepper or ginger or nicotinate to induce the blood flow, thus looking plumper immediately." This extra blood flow is why you may experience redder lips with some plumpers, by the way.
Additionally, King adds that some plumpers use hyaluronic spheres and peptides that trap moisture. These products will lead to more moisturized lips, and in effect, plumping them.
Are Lip Plumpers Safe?
Even if you use lip plumpers every single day (guilty as charged), rest assured they are completely safe to use, says King, since they only provide a temporary effect. However, that's not to say they may not come with side effects. "Prolonged use may dry out lips though because lips are sensitive and by repeatedly irritating the lips for the plumped looks, intense hydration is needed," King warns. While a slight tingle sensation is normal in lip plumpers, stop using the product if you experience a rash or intense burning as you may be allergic.
What to Look For in a Lip Plumper
When on the hunt for a great lip plumper, it's essential you consider the ingredients. All plumpers have different formulas, but King suggests looking for plumpers that prioritize natural ingredients. "Any lip product has the propensity to be ingested so of course the more natural formula can be better," she says. Think of natural ingredients like pepper (capsicum), ginger, and peppermint, but keep in mind these work by irritating the lips and will cause a tingling sensation.
If you're not a fan of the tingling, other plumpers use moisturizing ingredients like hyaluronic acid, collagen, peptides, and natural oils such as avocado, olive, and argan. All in all, everyone's lips are different and may have different reactions to ingredients. Feel free to experiment with different plumping formulas to find one that suits your preferences.
The Best Lip Plumpers
Best Overall Lip Plumper
Dr. Lara Devgan Scientific Beauty Platinum Lip Plump
This plumper does it all: It gives a great shine, provides protection from the sun's harmful rays (thank you, SPF 30), and keeps your lips soft and smooth directly after application and over time. You're going to feel it working its magic for the first few minutes, but the tickle will subside fairly quickly. This formula can turn the skin around your lips red, so make sure you dab just a small amount in the center of your pout.
Pros: Moisturizing formula; Provides sun protection; Plumps lips over time with consistent use.
Cons: Over $30; Can irritate skin around lips.
Best Anti-Aging Lip Plumper
Tata Harper Be Adored Tinted Anti-Aging Lip Treatment
Losing volume in your lips is an unavoidable effect of aging. But, thanks to too-good-to-be-true products like this Tata Harper option, your pout can remain *extra* plump, despite collagen loss. But don't just take it from us; users are just as obsessed. In fact, it's raked up more than 400 five-star reviews, with one person writing, "Simply the best lip conditioner ever! It's lightweight, smooth, and hydrating. Oh and the smell….SO GOOD!!!"
Pros: Moisturizing formula; Minimizes the look of fine lines; Long-wearing.
Cons: Over $30.
Best Smoothing Lip Plumper
Revision Skincare YouthFull Lip Replenisher
Have fine lines on your lips? First off: it's normal and they're bound to appear. But, with repeated use of Revision's plumper, we have a pretty good feeling your pout will be on its way to looking smoother. The long-lasting treatment has a pretty lengthy list of good-for-your-lips ingredients (including hydrating hyaluronic acid, peptides, and shea butter) that come together to plump the area, restore a rosy tint, and keep moisture at a high.
Pros: Moisturizing formula; Minimizes the look of fine lines; Long-wearing; Plumps lips over time with consistent use.
Cons: Over $30.
Best Drugstore Lip Plumper
Don't underestimate affordable options. Maybelline's nourishing formula is easily one of the best lip plumpers out there—and with such an affordable price point, it's tempting to stock up on all 20 (!!!) shades. Perhaps the best part about this plumper is its chunky wand—swiping on the gloss feels like a dream. Reviewers say this gloss applies smoothly and gives off that cool, "wet" look without any stickiness. For $10, why not pick up a color or two?
Pros: Under $20; Comes in 20 shades; Moisturizing formula; Applies smoothly.
Cons: Not long-wearing.
Best Budget Lip Plumper
Sephora Collection Outrageous Plump Intense Hydrating Lip Gloss
Do not sleep on this lip plumper from Sephora's in-house collection! I am utterly obsessed with this gloss and it's probably the one I reach for the most often. Sure, it tingles a bit but the amount of plumping it provides is next-level. The Inferno shade (my favorite) provides a shimmery light wash of pink color and it tastes slightly of peppermint. The best part, though, is that this gloss hydrates as much as it plumps and the effect lingers long after the gloss soaks in.
Pros: Under $20; Moisturizing formula; Long-wearing.
Cons: Medium amount of tingling.
Best Tinted Lip Plumper
Tarte Maracuja Juicy Lip Plumping Gloss
For the majority of my life, I've stayed far away from tinted lip products in an attempt not to draw any attention to my small lips. Then I tried Tarte's cult-favorite Maracuja Juicy Lip Plumping Gloss and now I can confidently step out with color. This all-in-one gloss intensely hydrates with hyaluronic acid and over 10 superfruits while delivering a shiny wash of color. I'm obsessed with how smooth this creamy balm applies and with how it makes my lips look so juicy, for a lack of better term.
Pros: Moisturizing formula; Applies smoothly; No tingling; Comes in eight shades; Vegan; Dermatoligst-tested.
Cons: Packaging could be improved.
Best Lip Plumper for Max Results
Too Faced Lip Injection Maximum Plump Extra Strength Lip Plumper
Listen, I know the tingling sensation in this lip gloss is a little intense, but when you have as small of lips as mine (plus a fear of lip injections), you have to go to extreme lengths to get noticeable results. And this one delivers on its name. After a swipe and a few minutes, your lips look like you just got back from under the needle. Your lips won't be begging for moisture either, as this gloss has some major moisturizing powers too.
Pros: Moisturizing formula; Comes in five shades; Plumps lips over time with consistent use.
Cons: Over $30; Tingling sensation may be too intense for some.
Best Moisturizing Lip Plumper
Grande Cosmetics GRANDELips Hydrating Lip Plumper Gloss
Another lip plumper I am constantly reaching for is from Grande Cosmetics. While some products lean on the goopier side and provide a mirror-like quality, this one gives more of a silky, lightweight sheen. That in mind, it's still seriously hydrating. With hyaluronic acid and the brand's proprietary plumping agent, your lips will feel soft, smooth, and bigger—sans any stinging. I'm a big fan of the packaging too—one click on this plumper's pen is all you need to coat your lips.
Pros: Moisturizing formula; Little to no tingling sensation; Great packaging; Comes in six shades; Plumps lips over time with consistent use; Refreshing, minty fragrance.
Cons: Some reviewers note there's little product for the price.
Best Splurgeworthy Lip Plumper
Natura Bissé Diamond Lip Booster
I know, I know, $80 is a lot for a lip product. But trust me, you'll feel like you're living a luxe life every time you swipe on this high-shine plumper. With a mix of hydrating oils and nourishing vitamins, this super-powered formula prevents dryness from creeping up, improves the lip barrier, and reduces the appearance of wrinkles. Fair warning though: you're going to feel this one working—it tingles.
Pros: Moisturizing formula; Reduces the look of fine lines; Prevents dryness.
Cons: Over $50.