The 14 Best Beauty Launches of October 2023, According to Marie Claire Editors
Your new routine awaits.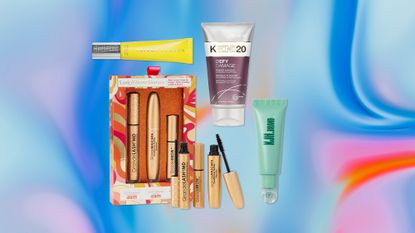 (Image credit: Future )
A new month means new beauty products. Despite the constant cycle of new hair, makeup, and skincare products, October launches bring an extra level of excitement. With a chill coming into the air and winds picking up, it's time for a complete skincare makeover (heavier creams and added hydration will come to forefront) and a makeup transition (say hello to deeper fall shades). You'll probably want to give your hair an extra boost of moisture while you're at it.
The good news: The best brands in the business know the drill, and have served up Fall-approved products on a silver platter. Naturally, the Marie Claire editors have tested and tried nearly every new drop in order to discover which items deserve a spot in your beauty stash. To get the full breakdown on what products our editors are loving, scroll ahead.
Hyper Shine High Lite Kit
"I am the first to admit that I am makeup artist Katie Jane Hughs' number one fan girl. She manages to get skin so incredibly glowy, glassy, and reflective, I can't help but stare in admiration. When she decided to launch her namesake makeup brand with one hero sku, it was quite possibly the highlight (pun intended) of my life. There is a range of creamy pot highlighters (Lite Gold is my go-to) and an accompanying Hyper Shine Serum. When you combine the two, you're left with the glassiest, glossiest shine. It somehow stays on the skin all day and catches light at every turn. It's my new holy grail." — Samantha Holender, Beauty Editor
The Body Peel Resurfacing Serum
When fall and winter roll around, I dedicate just as much time to my skincare routine for my body as I do for my face. My skin (especially the backs of my arms and legs) gets incredibly dry and even bumpy, so exfoliation is just as important as moisturizing—especially since thick lotions cause an uncomfortable build-up of dead skin cells. After falling in love with Nécessaire's deodorant, I was eager to try their new body peel, which uses a combination of Salicylic, Lactic, and Glycolic acids to target KP, ingrown hair, strawberry skin, and discoloration. Unlike other exfoliants—physical and chemical— The Body Peel is gentle enough to use a few times a week without causing irritation. I've only been using it for two weeks now, and my skin is already softer and less clogged." — Lucia Tonelli, Social Media Editor
"Vulva oil washes aren't typically on my radar. Thankfully, dryness down there isn't a problem for me, and water-based cleansers typically get the job done for me. But this one, formulated with 100 percent plant based oils, is one that I'll reach for time and time again. It smells like a breezy tropical destination, and now I can gently cleanse without destroying my vulva's natural microbiome. A total win-win." — Deena Campbell, Beauty Director
"I'm not one to stray too far from my preferred vanilla perfumes, so when I saw this was a different take on vanilla I had to try it. Apple Love is a fruity floral perfume, but nothing close to what your grandmother might wear. Notes of apple and plum blossom are paired with sugar cane and vanilla, resulting in a deliciously sweet scent. Don't get it wrong though-it's not overbearing like you may come across in other gourmand scents. Instead, it strikes the perfect balance between floral and sweet." — Brooke Knappenberger, Associate E-Commerce Editor
"The name of this fragrance says it all—it smells like you've just stepped out of a squeaky-clean shower. Light and slightly floral without a hint of powderiness, it contains notes of neroli orange blossom for a you-but-better-type of scent. Plus, it lasts all day and clings to your clothes so that your entire wardrobe smells light and fresh." — Julia Marzovilla, E-Commerce Editor
Kitten | Extra Short | Round - Tab Press-On
"I've always been a gel manicure girl–I simply can't deal with the chipping and short life span of regular polish. Despite press-ons having a huge moment for the greater part of the last year, I refused to give them a chance. Then, Sarah Gibson Tuttle, the founder of Olive & June, talked me into giving her brand new press-ons a shot. I'll be honest: My love for the press-ons shocked me. But, between the stunning color (and nail art) options, the comfortable fit, easy application, and shocking long-wear (I got a full six days out of one set), I was hooked. You can officially consider me a press-on nail convert." — Samantha Holender, Beauty Editor
Cellular Hydration Barrier Repair Serum
My skin is having a bit of a rough month. I'm chalking it up to the changing weather and dryness, but it is need of a little repair. Enter this Murad serum that promises to do just that. It works to mend your damaged skin barrier and reduces redness and irritation in the process. My skin feels comforted and soothed from the first use—it's been a real dream come true." — Julia Marzovilla, E-Commerce Editor
Pout Preserve Hydrating Peptide Lip Treatment
"The original Pout Preserve treatment made its rounds on TikTok, but I think the holiday version is even more worthy of the hype. It's got the same ultra-hydrating formula but gives the juiciest sheer wash of berry red color. As someone who typically stays far away from bold lip shades, this color is the perfect in-between for fall and winter. I want to apply it all day just to It also has the yummiest lingonberry flavor!" — Brooke Knappenberger, Associate E-Commerce Editor
Maely's Mini Icons Limited Edition Holiday Kit
"I can't believe it, but the holiday season is (dare I say it) already here. Unless you plan on saving your shopping for the last-minute shuffle, it's time to start stocking up on gifts for the loved ones in your life. Enter: Maely's Mini Icons Limited-Edition Holiday Kit. It's a travel-friendly assortment of the brand's best sellers that promise to smooth and firm skin along the stomach, thighs, butt, and arms. (If you don't believe me, check out the before and after photos). It comes in an adorable case that perfectly fits in your carry on for all your jet-setting holiday adventures." — Samantha Holender, Beauty Editor
Lash and Brow Serum Fantasy Set
"To try Grande Cosmetics is to love Grande Cosmetics. Of course, the brand is known for the ever iconic GrandeLash, but don't underestimate their other eye offerings. The mascara and brow growth serum deliver just as dramatic results. (Trust me, I've now tried them all.) For the holiday season, the brand is offering the trio in one bundle at a phenomenal price. For just $69, you'll get a full sized, bedazzled GrandeLash (this retails for $68 alone, FYI), a full size Volumizing Mascara and GrandeBrow. I promise, this is the deal of the century." — Samantha Holender, Beauty Editor
"Lightweight and long-wearing are typically contradictory terms in the foundation world. Yet somehow Trinny London managed to find the balance with her latest formula. This matte foundation controls oil and grease without dulling skin's radiance. It's finger-friendly and relatively hydrating thanks to ingredients like ceramides and niacinamide. It blurs over fine lines (I notice this particularly around my mouth) and doesn't separate throughout the day. It genuinely delivers all day wear." — Samantha Holender, Beauty Editor
Defy Damage KBOND20 Power Masque
"As much as I hate to say it, my hair has its fair share of damage. There's heat damage, color damage, traction damage. Despite the breakage that comes with the territory of balayage and hot tools, I really, truly do my best to keep my hair in a healthy state. Cut to: Joico's latest launch. This reparative hair mask strengthens each hair strand and makes the cuticle more resistant to damage. I've been using it once a week for the past month and swear my hair feels healthier, looks shinier, and can withstand more styling than ever before." — Samantha Holender, Beauty Editor
The Beautyverse Palette - Xmas 2023
"To know me is to know my love for Charlotte Tilbury. I have my 10 favorite products that are pretty set in stone, however the brand's latest limited-edition launch is quickly changing my ranking. This nine-pan palette combines a gorgeous range of matte and shimmer shades. I have genuinely used every single pan in this palette. The shimmers are metallic and long-wearing—I don't even see a crease after eight hours of wear; the mattes are ideal for layering and blending. Plus, the packaging itself is stunning. I'll be gifting this to everyone I know this holiday season (and hoarding an extra few for myself)." — Samantha Holender, Beauty Editor
"The Blue Lagoon is one of my favorite destinations—it's ultra relaxing and I feel incredibly pampered the moment I step foot into the paradise. This new eye cream, is quite similar. It's made of bakuchiol, niacinamide, ectoin, and ceramides which is perfect for restoring my overworked eyes. One swipe and I'm in heaven. " —Deena Campbell, Beauty Director
Marie Claire email subscribers get intel on fashion and beauty trends, hot-off-the-press celebrity news, and more. Sign up here.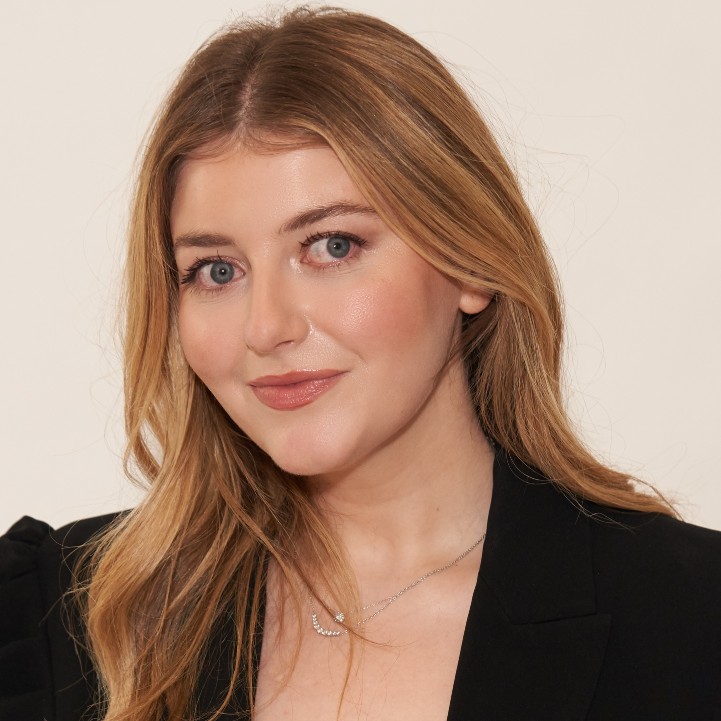 Samantha Holender is the Beauty Editor at Marie Claire, where she reports on the best new launches, dives into the science behind skincare, and keeps up with the latest trends in the beauty space. She has previously written for Us Weekly, Popsugar, Makeup.com, Skincare.com, and Philadelphia Wedding. Follow her on Instagram @samholender.