The FDA Is Proposing a Formaldehyde Ban for Chemical Hair Straighteners
The ban is targeted for next spring.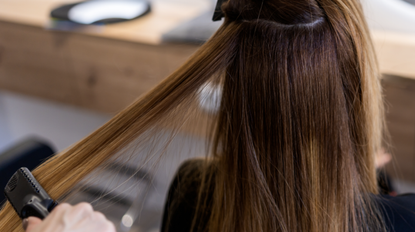 (Image credit: Getty)
As research on the harmful effects of formaldehyde abounds, the FDA is taking serious strides to ban products like hair relaxers and keratin treatments that contain or release the chemical. "[Formaldehyde is] carcinogenic," shares cosmetic chemist Ginger King, noting that—because straightening treatments most often take place in salons—it can be hard to catch products that contain the ingredient. Cosmetic chemist Alexandra Arriaga warns to also look out for formalin or methylene glycol on your at-home label, as they are other, less suspecting, names for formaldehyde.
The proposed ban, targeted for April 2024, would change the landscape of chemical hair straightening and smoothing by making many go-to products and services unavailable, in the at-home and professional categories. However, according to Benjamin Knight Fuchs R. Ph. Beauty Chemist and creator of Truth Treatment Systems, the ban won't eliminate straightening technology. "There are non-formaldehyde-containing product options, and hair care professionals and consumers can still correct curls without having to interface with potentially dangerous chemicals," he exclusively tells us. "Some of these alternatives utilize Argan Oil, plant extracts, and tannin oil, while others use glyoxylic acid (or its derivatives) to straighten hair, or a procedure called "Japanese Straightening" (aka thermal reconditioning) uses an amino-acid-based solution to achieve the same effect."
Doubts about the safety of formaldehyde in chemical straighteners made headlines in December 2022, after one study showed that women who regularly use formaldehyde-containing products more than double their risk of endometrial cancer, aka cancer of the uterus. It's important to note that straightening and softening treatments are most commonly marketed to and utilized by Black women. Although uterine cancer rates have been climbing across the board in recent years, they've increased most for women of color: Asian and Hispanic women included.
That in mind, uterine cancer is very rare. "The overall risk of uterine cancer is quite low so it's important to remember that," Crystal Aguh, MD, hair expert and associate professor of dermatology at Johns Hopkins School of Medicine previously said in a tweet. "For now, if you want to change your routine, there's no downside to decreasing your frequency of hair straightening to every 12 weeks or more, as that may lessen your risk."
Meanwhile, other research has shown a connection between hair straighteners and breast and ovarian cancer. As the CDC explains, "exposure to formaldehyde can irritate the skin, throat, lungs, and eyes" while "repeated exposure to formaldehyde can possibly lead to cancer."
The potential ban is a long time coming. In 2016, the FDA began drafting rules for the update, but eventually paused the initiative. "The FDA has known for decades now that these products are dangerous,'' Melanie Benesh, vice president for government affairs at advocacy organization Environmental Working Group, told The New York Times earlier this week. "There is no reason for them not to have acted sooner."
Marie Claire email subscribers get intel on fashion and beauty trends, hot-off-the-press celebrity news, and more. Sign up here.