Eye Creams for Dark Circles That Really Work, According to Beauty Editors
"I barely even need to use concealer anymore."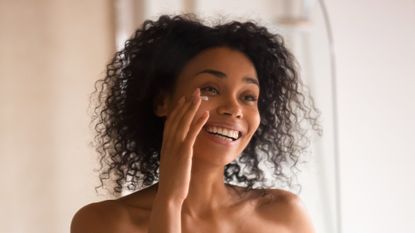 (Image credit: fizkes)
Sure, eight hours of sleep, a balanced, nutritious diet, and a completely stress-free life is what we need. But life is not necessarily set up that way—and our poor eyes suffer from lack of all of the above. And one of the most tell-tale signs that you've been living a little too hard? The purple half moons that sit below your eyes. If you wake up with dark, shadowy circles under your eyes, it could mean a few different things. "Under-eye circles may be caused by a variety of different factors, and identifying your specific type of factor will determine the best way to treat it," NYC-based dermatologist Joshua Zeichner MD explains.
For some the situation is environmental, but for others, the issue lies under the skin. For example, shadows could mean there's a barrier between the smoothness of your under eye and cheek area, according to Zeichner. "This causes a shadow that you perceive as darkness," he explains. "If this is your issue, you may be a candidate for injectables from your dermatologist. Or, look for over-the-counter creams that contain ingredients like hyaluronic acid, which helps with hydration and plumps under-eye skin."
Zeichner points out that dark circles can also come from pigmentation problems. "In some cases, because of age, inflammation, and sun exposure, you may have true pigment deposited under the eye leading to darkness. If this is the case, look for vitamin C-containing creams, which interfere with abnormal pigment production and can help brighten pigmentation." Another key to preventing sun damage: sunscreen, but you already know that. But when it comes to a quick fix for the undereye blues, a simple eye cream can be game-changing. Here, Marie Claire editors and Zeichner share the best eye creams for kicking dark circles to the curb.
1/24
RoC Retinol Correxion Eye Cream
The Dermatologist Pick
"Retinol in an eye cream does you so much good because it stimulates collagen production to strengthen the skin's foundation." —Zeichner, MD
2/24
Neutrogena Healthy Skin Eye Firming Cream
The Dermatologist Pick
"This is an anti-wrinkle cream with lots of antioxidants to help strengthen the skin and brighten hyperpigmentation." —Zeichner, MD
3/24
Biologique Recherche Creme Contour Des Yeux VIP O2
For Puffiness
"My favorite thing about this eye cream–besides its nourishing active ingredients–is the applicator. It's made of a cooling metal that not only applies the product beautifully under the eyes, but also helps reduce puffiness. In the morning, using this eye cream helps wake me up so I look revitalized for my 9 a.m. meetings." —Tatjana Freund, Beauty Assistant
4/24
La Mer Genaissance The Eye and Expression Cream
A Youthful Glow
"This highly concentrated cream rolls on like silk and immediately hydrates and illuminates my dry and sometimes fatigued undereyes. Yes, the price tag is steep but the beauty in this gem is that very little goes a long way. Plus, the super smooth finish serves as the perfect primer for my concealer." —Chelsea Hall, Assistant Fashion & Beauty Editor
5/24
Clarins Extra-Firming Eye
Most Firming
"The texture of this formula is what attracted me to it: a light, almost mousse-y dollop that practically sinks into my eyes, even when they're at their most dry and tired. The caffeine perks them right up, and helps hide the offending purple circles that tend to ruin a perfectly good cat eye." —Taylore
6/24
Clé de Peau Beauté Enhancing Eye Contour Cream Supreme
Best For Winter
"This rich formula is my secret weapon for plumping and locking in moisture around the orbital area. Cream Supreme comes with a small ballpoint tool that glides perfectly along the contour of my eyes for easy application. I mainly incorporate this heavy duty cream in my nighttime routine during the colder months so that I wake up looking hydrated and restored." —Chelsea
7/24
Drunk Elephant C-Tango™ Multivitamin Eye Cream
The Antioxidant Enriched Formula
"Not only does this eye cream feel super creamy and luxe when I apply it, but it's infused with vitamin C that brightens my undereye area and makes it look like I actually got eight hours of sleep. I use it day and night, and just don't feel awake in the morning without it." —Tatjana
8/24
Susanne Kaufmann Eye Cream Line A
For Nighttime
"I like to layer this formula on at nighttime—it's rich and sumptuous and makes puffiness and darkness under the eyes look instantly better. It's packed with goodness—hydrating silk proteins, plumping rosehip oil, as well as baobab and larch bark which are natural sources of alpha hydroxy acid (and what I suspect to be doing the heavy lifting on my dark circles). As someone with very young children, I am never not tired, and forever impressed by this results of this treatment." —Ying Chu, Contributing Beauty & Health Director
9/24
SkinCeuticals AOX+ Eye Gel
For a Light Finish
"While I love a goopy, cloud-like layer cream on my face once in a while, I'm partial to lighter textures when it comes to my eye area. This air-light formula meets that qualification and more. A one-two punch of Vitamin C and ferulic acid help neutralize free radicals that add years to your little bags, and caffeine minimizes puffiness and plumps the area to make circles less prominent. Level up and stick it in the fridge between boxes of past-its-prime takeout for a soothing cooling effect first thing in the morning."—Taylore Glynn, Associate Beauty & Health Editor
10/24
La Prairie White Caviar Eye Extraordinaire
The Luxury Pick
It's hard to rival the luxuriating effects of applying caviar on your eyes, which is an iconic signature ingredient of Swiss skincare brand La Prairie. I mean, just look at this product, sitting so pretty—its hefty price tag means its bound to over-deliver. The rich cream uses golden caviar and lumidose combined with shea butter, ginseng, and licorice root extracts to increase moisture, luminosity, and cellular regeneration, while smoothing fine lines and wrinkles, and decreasing puffiness. It's peak opulence and your eyes are worth it.—Maya Allen
11/24
Dr. Loretta Tightening Eye Gel
Most Refreshing
"This eye cream has the best gel texture that feels so refreshing in the morning. It's just as moisturizing as an eye cream, but it doesn't leave any oily residue that messes up my eye makeup. I always get the sense that any sleep-deprived eye bags shrink when I apply this." —Tatjana
12/24
alpyn beauty PlantGenius Line-Filling Eye Balm
A Plant Based Gem
"This eye cream is the most hydrating eye cream I've ever tried. It blends in easily without feeling greasy or uncomfortable. Best of all, it contains Bakuchiol, a retinol dupe that helps brighten and retexturize the under eyes without being too harsh."—Tatjana
13/24
TATCHA The Pearl
Most Illuminating
"I think of this product as a tinted primer for your undereyes—part eye cream, part primer, part highlighter. Light-refracting pearl pigments brighten, silk powders blur, and avocado oil and hyaluronic acid keep the area plump and hydrated. I'm using Softlight, the medium shade of the three offered. And while it doesn't mask like a concealer, it brightens and distracts and feels good going on. Plus, the cute violet orb looks great on my vanity." —Ying
14/24
Murad Vitamin C Dark Circle Correcting Eye Serum
For City Gals
"This eye serum is lightweight and it contains my all-time favorite skincare ingredient, Vitamin C. It really combats dark circles, de-puffs, and leaves my under-eye feeling nourished." —Chelsea
15/24
Origins GinZing Refreshing Eye Cream To Brighten and Depuff
Best Scent
"When I feel low, this girl brings me right back up. I understand that's a dramatic statement, but trust me, one use of this, and you'll understand. The refreshing orange scent that welcomes me and my skin in the morning makes me not want to snooze my alarm. Its formula of panax ginseng and coffee beans is the ultimate wake-up call for my dark circles and I. (I usually follow with the gel moisturizer from the same line for when I want my skin to feel extra perky, btw.)"—Bianca Rodriguez, Fellow
16/24
111SKIN Celestial Black Diamond Eye Cream
Most Transforming
"I know, the price gives me heart palpitations, too. But ever since I started using this potent cream, I've seen crazy results: the arbutin in the formula instantly brightens my undereyes so the purple circles fade away, and a peptide called argireline minimizes those baby wrinkles that make us look haggard in the morning. I barely even need to use concealer anymore, which is a game changer on no makeup days."—Taylore
17/24
Sunday Riley Auto Correct Brightening and Depuffing Eye Contour Cream
The Cult Favorite
"The name speaks for itself. Mere minutes after tapping this into my orbital area, I look like I've gotten another few hours of sleep, thanks to the formula's caffeine and ginseng. Whenever this comes through the MC beauty closet, someone usually drops it at my desk because they know I'm a devotee."—Taylore
18/24
DERMADoctor DD Eye Dermatologically Defining Eye Radiance Cream SPF 30
Best SPF Formula
"Do I think a person needs eye cream? I do not. But a person needs sun protection around their eye area, and it helps if that sun protection doesn't sting and comes in an illuminating formula that disguises under-eye shadows. Lately, Dermadoctor's DD Eye Dermatologically Defining Eye Radiance Cream SPF 30 ($28) has been checking all those boxes for me. I can't promise it will get rid of dark circles completely (you'd need hard-core skin brighteners, laser treatments, or sometimes even surgery, depending on the cause) but it'll definitely make you look less tired. Plus, it's got SPF 30, so it's preventing all the damage UV light causes. Gotta love that." —Jennifer Goldstein, Former Beauty & Health Director/Features Editor
19/24
Tata Harper Illuminating Dark Circle Eye Cream
The Diamond Pick
"I know eye cream with diamond dust sounds super extra, but hear me out: the diamond particles instantly illuminate and brighten the undereyes for a quick "eight hours of sleep" look. It's my go-to cheat product for mornings when I've missed my beauty sleep. And the medley of hyaluronic acid, palm kernel extract, and mango-seed butter does wonders for locking in moisture."—Hana Hong, Former Beauty Assistant
20/24
Olehenriksen Banana Bright Eye Crème
Most Brightening
Okay, honesty moment: I don't always wear eye cream. But when I wake up with post-martini puffiness from a lit night, and need some extra help waking up my sleepy eyes, I slather this stuff all over. I love that it's made with banana, which is rich with vitamin C, and we all know what that's the best at: brightening. It's also the perfect primer, and makes my concealer glow like crazy. —Maya
21/24
Nu Skin Intensive Eye Complex
Most Moisturizing
Since the skin on the eye area is the most delicate, dryness is the last thing I want. This super moisturizing blend full of botanical extracts, binds to your skin's natural ceramides to increase moisture barriers and brightness. The hydration lingers for hours on end. —Maya
22/24
Saturday Skin Wide Awake Brightening Eye Cream with Avocado
Best Packaging
"I love using this for my sensitive but flaky skin. It has a lightweight texture that brightens my dark under eye circles after a late night. I leave it in the fridge so that it de-puffs my eye bags, and makes me feel refreshed in the morning. Plus, the packaging is in my favorite color: baby pink—so, what's not to love?"—Nina Huang, Former Beauty Intern
23/24
Kiehl's Creamy Eye Treatment with Avocado
Most Soothing
"This eye cream saved my skin this winter. It's ultra creamy and moisturizing, and the light green color makes me feel like I'm slathering avocado right onto my under eye. Even though this cream is on the more expensive end, it's so thick that one jar lasts such a long time."—Emily Cavanagh, Former Beauty Intern
24/24
Baebody Eye Gel
Best Reviewed
This cult-loved eye cream has over 14,000 reviews on Amazon, and 8,000 of them (yep, almost half) are raving claims that this stuff is magic. It's almost half-off right now, so you better hop on this deal before it's too late. Reviewers swear that this cream miraculously erased dark circles, improves fine lines, crow's feet, the list goes on. How is it so good? Well, its killer anti-aging combo of vitamin E, hyaluronic acid, organic licorice, and Matrixyl 3000 has a lot to do with it. —the "People's Choice"
Maya Allen is the former Digital Beauty Editor at MarieClaire.com where she covered makeup, skincare, haircare, wellness, you name it! She has a 15-step skincare routine, owns over 200 red lipsticks, and enjoys testing the latest and greatest in beauty. On most weekends, you can find her at her happy place, which is her makeup vanity. There, she's usually blasting her speakers while singing along to lyrics at the top of her lungs, and making sure her highlighter is on point.