Editors handpick every product that we feature. We may earn commission from the links on this page.
The Best Body Washes for Every Skin Type and Price Point
Face-quality skincare products for below the neck.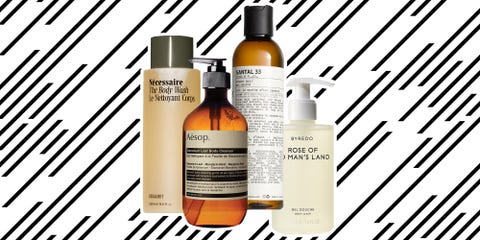 Design By Morgan McMullen
It's time to swap the same ol' body wash you've been using for as long as you can remember for something new. Stop shortchanging your shower experience! Your caddy can use a shiny new bottle ready to douse your skin in loads of hydration and leave you feeling softer than ever. Body wash isn't the sexiest skincare product, but it's certainly important to put thought behind the ingredients you're putting on your skin below the neck, which should not come secondary to the skin on your face BTW. A really good body wash goes beyond simple skin benefits; it can aid in your moment of self-care in the shower where you reflect, meditate, and think on all your best ideas (a scientifically proven fact!). Whether you're dealing with eczema, in need of a detoxifying treatment, or searching for a cleaner formula, I've rounded up the best of the best body washes at every single price point to indulge in. Your shower will never be the same.
This content is created and maintained by a third party, and imported onto this page to help users provide their email addresses. You may be able to find more information about this and similar content at piano.io