Editors handpick every product that we feature. We may earn commission from the links on this page.
The Best Glitter Nail Polishes for Adults
Because we'll never grow up.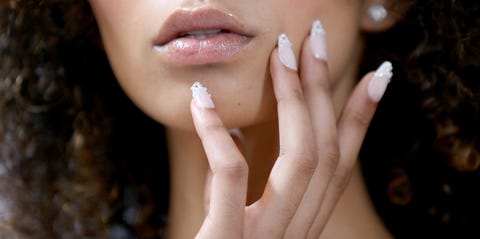 There was a time that, after a certain age, wearing glitter was considered improper: not fit for a the office, immature, a childish pastime. I am personally really, really glad that the year of our Lord 2020 is not that time. I, like many others in my age bracket, have fully embraced the idea of "adult glitter": a hint of sparkle somewhere on the body to elevate an otherwise elegant or respectable outfit. I've been known to throw on a chunky shimmery shadow or even full-blown, Ruby Slipper-style scarlet glitter on my lips. But I've found that the most versatile way to make glitter work as a woman in my late twenties is all in the fingers...the nails, to be exact.
And since we're all at home more often than we're used to—and not held to typical office dress codes—we've got some extra time to experiment with glittery manicures. If you're looking for something subtle, find a top coat with a hint of sparkle and apply it to a bare nail, or layer it over your go-to shade. Or if you're ready to fully lean in, grab a bottle with the chunkiest, most iridescent flecks you can find and add coat after coat until they cover every nail. Either way, it'll be the perfect gateway into a more glittery lifestyle. Here, we've rounded up our favorite shades for a flashy manicure upgrade, from champagne shimmers to rainbow-hued top coats...fit for all ages.
1
Nail Lacquer Polish in Fête
JINsoon
amazon.com
$20.00
Ah, parties—remember those? Well, we'll be layering on this formula for the very first soirée we're invited to. The magenta and purple pigments will look especially chic clutched around a martini glass.
2
Luxeffects Nail Color in Set In Stones
Consider this your own personal bottled disco ball. The round, chrome flecks in this top coat hit the light just right with every flick of the wrist.
3
Insta-Dri Fast-Dry Nail Color in Shooting Star
Sally Hansen
amazon.com
$4.20
This formula has major Barbie vibes. And if you need a last minute mani on your way out the door, just brush on one coat of this dreamy shade. It'll dry in 60 seconds flat.
Mixing metals is more in than ever. This polish doesn't make you choose between silver and gold, so it'll flatter any ring stack.
5
Nail Lacquer in Magical Pixie Dust
If diamonds are your thing, this polish looks like a light dusting of the precious stone.
6
Nail Polish in Birthday Suit
ILNP Cosmetics, Inc.
amazon.com
$10.00
The glitter suspended in this cashmere-pink shade is superfine, so it's subtle enough to flatter any outfit.
7
Peel-Off Glitter Nail Lacquer in Living Coral
butter LONDON
amazon.com
$12.00
Peel-off glitter sounds like a fourth grader's fever dream, but it's also the answer to a very adult craving for bold, glittery hands for a night.
8
Nail Lacquer in Dirty Baby
Smith & Cult
amazon.com
$18.00
Black feels very very rock 'n' roll, and this obsidian shade offers a shimmery but subdued option.
9
La Laque Couture in Bronze Fever
Yves Saint Laurent
yslbeautyus.com
$28.00
This bronze-y shade invokes major '70s vibes, and it looks dreamy on every skin tone.
10
Hello Kitty Nail Lacquer in Glitter All The Way
If you're going for gold, go big. Apply two thick coats of the round, gilded flakes to cover the whole nail in reflective sparkle.
This content is created and maintained by a third party, and imported onto this page to help users provide their email addresses. You may be able to find more information about this and similar content at piano.io