Editors handpick every product that we feature. We may earn commission from the links on this page.
The Best Glitter Nail Polishes for Adults
Because we'll never grow up.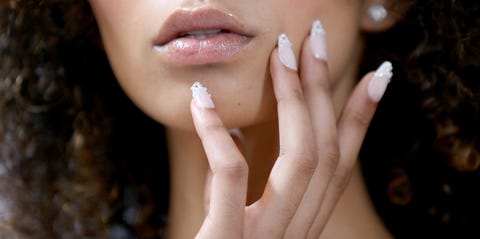 There was a time that, after a certain age, wearing glitter was considered improper: not fit for a the office, immature, a childish pastime. I am personally really, really glad that the year of our Lord 2020 is not that time. I, like many others in my age bracket, have fully embraced the idea of "adult glitter": a hint of sparkle somewhere on the body to elevate an otherwise elegant or respectable outfit. I've been known to throw on a chunky shimmery shadow or even full-blown, Ruby Slipper-style scarlet glitter on my lips. But I've found that the most versatile way to make glitter work as a woman in my late twenties is all in the fingers...the nails, to be exact.
And since we're all at home more often than we're used to—and not held to typical office dress codes—we've got some extra time to experiment with glittery manicures. If you're looking for something subtle, find a top coat with a hint of sparkle and apply it to a bare nail, or layer it over your go-to shade. Or if you're ready to fully lean in, grab a bottle with the chunkiest, most iridescent flecks you can find and add coat after coat until they cover every nail. Either way, it'll be the perfect gateway into a more glittery lifestyle. Here, we've rounded up our favorite shades for a flashy manicure upgrade, from champagne shimmers to rainbow-hued top coats...fit for all ages.
This content is created and maintained by a third party, and imported onto this page to help users provide their email addresses. You may be able to find more information about this and similar content at piano.io