The 14 Best Glitter Nail Polishes for a Little Extra Sparkle
Because we'll never grow up.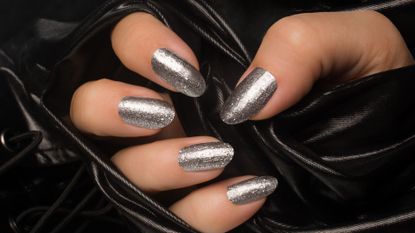 (Image credit: Courtesy of Getty)
I love a good Lincoln Park After Dark or Ballet Slippers as much as the next girl, but I'll always stand by the fact that nothing—and I mean nothing—is as fun or exciting as one of the best glitter nail polishes. Because whether you're going full-blown sparkle, adding a subtle topper, or doing a lil' accent nail, glitter flecks instantly elevate just about any manicure in one coat. And given that the holiday season is here, there's no better time to take a few shades for a test run. Whether you're in the market for a barely-there iridescent shimmer or you fall into the more-is-more category and want chunky sequins, I've got you covered. Here, I've taken the liberty of rounding up the best glitter nail polishes of all time. From disco ball-esque OPI colors to Essie top coats that'll give you some extra sparkle, scroll ahead to shop team Marie Claire's top picks.
What to Look For in Glitter Nail Polish
Size
When picking your player, the size of your glitter flecks is one of the most important factors—it has everything to do with the final outcome. "I really like mixed-sized glitter nail polishes," says nais artist Hang Nguyen. "Some big flecks with some small sizes together work really nicely." A combo of different sizes will give your final look more dimension and typically provides a more even coat.
Opacity
Glitter polish can range from a translucent topper to a full-density pigment—the one you choose is totally up to you, but you might want to keep a few things in mind. A full-coverage glitter is much less work to apply and will give you a sparklier finish. If a subtle topper is more your speed, you'll likely want to find a perfect match to your base coat. "I love putting color under glitter," says Nguyen. "It makes it pop more and also helps give it more coverage. For example, if you're using green glitter, find a green polish similar to the green glitter and apply that first.
Color
Let's be honest: You can't really go wrong with any color. Do a spin on Barbiecore with a hot pink shade, take a page out of Wednesday Addams' playbook and go for a glitzy black, or, follow Nguyen's advice and stick to the classics. "All colors are great, but it seems the timeless shades are always silver and gold," says. "But for the holidays, anything goes."
The Best Glitter Nail Polishes
The Best Winter White Glitter Nail Polish
Dazzle Dry Performance Polish in Ask the Wizard
If you notoriously struggle to paint your own nails, you're going to need to get your hands on a Dazzle Dry kit. The four-step system dries in minutes, gives a professional-looking shine, and, thanks to the small brush, is easy to polish. As for colors? This winter white is the perfect topper for the holiday season. You can build up opacity with a few coats or leave it on the sheer side.
The Best Holographic Glitter Nail Polish
Mooncat in Blame My Star Sign
"I really love mooncat glitters," says Nyugen. "One of my favorite glitter polish is Blame My Star Sign." The holographic pigment is a blend of charcoal and purple with hints of iridescent greens and oranges. It's a unique hue that will hands-down have people stopping you to ask what shade you're wearing.
The Best Glitter Press-Ons
OPI XPress/On Nail Art Press Ons in I Want It, I Got It
You don't have to be a nail artist to wear some serious nail art. At least not anymore. Thanks to OPI's line of press ons, you can stick on this holiday-approved sparkly French manicure without having to put in the work. No smudging, no chipping, and a full two weeks of wear. Sounds pretty good, right?
The Best Glitter Nail Polish for Winter
NAILS INC. Holler-Graphic in Get Out of My Space
Want your nails to catch the light at every turn? Allow us to introduce you to this gorgeous, holographic purple hue. It's reminiscent of outer space (peep the name) and serves as the perfect statement polish. It errs more on the shimmer side (there's no physical glitter pieces), but the sparkle factor still landed it on this list. It will have you right on trend with the chrome nail polish craze a la Hailey Bieber. Plus, it's super dense, so you can wear it solo.
The Best Green Glitter Nail Polish
Lights Lacquer Shimmer Polish in Hoping to Be Kissed
Deep green lovers, please rise! This dark hue is already popular on the runways this season, so what better way to embrace it than with glitter? You can go for a whole monochromatic look with your outfit to boot, or rock a little slice of the color trend. The emerald shade is cool year-round, but it's especially relevant for the holiday season. As for the wear? You can expect a formula that won't chip. OG Beauty YouTuber Kathleen Lights founded this brand, so you know it's the real deal.
The Best Holiday-Approved Glitter Nail Polish
Morgan Taylor Professional Nail Lacquer in Rare As Rubies
Dorothy should have matched her ruby red shoes to this equally vibrant and sparkly polish. Of course, that wasn't an option when Judy Garland was playing the iconic character, but that doesn't mean you can't. This baby is uber-pigmented (trust me, I've tried it), so you're honestly only going to need one coat for a glitzy finish. Because of the chunky glitter flecks, it does run on the thicker side, so make sure you only use an itty-bitty amount of polish. Remember: It's easier to add than to start fresh.
The Best Summer Glitter Nail Polish
People of Color Non-Toxic Nail Polish in Comida Frita
Picture this: You're chilling on a beach at a White Lotus hotel, you're sipping a mini umbrella cocktail of choice, your nails are perfectly manicured in this vibrant yellow, and all is well in the world. Sounds delightful, right? If you're jet setting off for a holiday vacation or simply want to bring a little sunshine to your snowy environment, there's nothing better than this delightfully cheery summer nail polish shade, which is infused with black glitter specks. Still not convinced? The hue is vegan and cruelty-free.
The Best Navy Glitter Nail Polish
Habit Cosmetics Shimmer Non Toxic Nail Polish in Space Cadet Blue
We know space is vast and wide, but so are the shimmer flecks in this deep space blue polish. The formula has a translucent base so the glitter is truly the center of this universe. That said, it's really easy to get a more opaque look. Just listen to Nguyen's advice and grab your favorite navy polish shade of all time (I personally love Essie's After School Boy Blazer) and put one coat of this glitzy baby on top. It creates a chic vibe that's anything but childish.
The Best Turquoise Glitter Nail Polish
Deborah Lippmann Gel Lab Pro Nail Polish in Mermaid's Dream
Embrace your inner child with this light blue shade that's reminiscent of The Little Mermaid. The name of the polish is spot-on, and in two coats you'll be channeling your inner child. The glitter flecks here are going to be on the smaller side, which is going to give you a more solid, iridescent finish as opposed to a top coat. Depending on the lighting and your skin tone, your nails are going to pick up more green or blue tones.
The Best Barbiecore-Inspired Glitter Nail Polish
Essie Metallics Nail Lacquer in A Cut Above
If this year taught it's anything, it's that pink is here to stay. Call it Barbie-core or chock it up to Elle Woods' long-lasting legacy, but a pop of pink has become a wardrobe staple. And personally, I couldn't be happier. While wearing a monochromatic hot pink outfit is one way to rock the trend, a quick swipe of glitter polish is a more subtle way to get on board with the cultural moment. There's nothing better to get the job done than this Essie hue, which is loaded with circular pink glitter flecks. It is pretty translucent, so I recommend layered a shade underneath.
The Best Silver Glitter Nail Polish
Olive and June Nail Polish in Exclamation Point
This is the epitome of a glitter nail polish. Its silver-rainbow holographic magic that gives you a glitzed out look in just two coats. It has versatility at its core and can serve as a topper, an accent nail, or be worn solo—there's truly no right or wrong. Glitz aside, the application process with this little guy couldn't be easier. You have to scoop up Olive and June The Poppy Tool (its attachment that gets secured to the jar's lid) and you'll have so much control over your polish strokes.
The Best Gold Glitter Nail Polish
Zoya Nail Lacquer in Nahla
'Tis the season for champagne—and we mean that *very* literally. Match your manicure to your champs with a sheer topcoat that will turn your regular nails into a red-carpet-ready set. This seems like a bit more sophisticated take on the glitter trend, but don't be afraid to have fun with the hue either. Because while you can 100 percent layer this on top of a nude polish, you also swipe it on top of a bright white, a navy, or even an emerald green.
The Best Pigmented Glitter Nail Polish
JINsoon Nail Lacquer Polish in Shake It
I fully plan on layering this formula on for every damn soirée I'm invited to this holiday season. The magenta, purple, silver, blue, and rose gold pigments not only look insanely chic when holding a martini glass, but they also give a crazy amount of dimension to your mani. Unlike other polishes that have uniform flecks, this guy has it all. The blue flecks take a dotty form, while the silver tones are more like sequins. Every single swipe will be fabulously unique.
The Best Chunky Glitter Nail Polish
Essie Luxeffects Nail Color in Set In Stones