Editors handpick every product that we feature. We may earn commission from the links on this page.
10 Non-Basic Rose Gold Nail Polishes That Are Perfect for a Holiday Party
Flashy nails are more fun.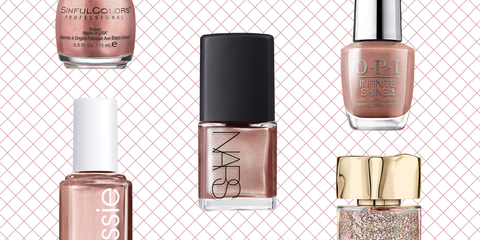 If you're in want of a nail color that will spark a deluge of compliments, add rose gold to your lineup. Think of rose gold as yellow gold's cool older sister—cut from the same cloth, but bolder and more sophisticated. Rose gold has a warm-toned base, which means the shade suits an array of skin tones. But warning: While rose gold goes with everything, it is a big step away from neutral and not a hue that will blend in (just in case understated nails are your thing). Even so, with holiday parties on your calendar, you have every reason to get a little extra with your nails. Plus, it's an extremely photogenic nail color so you'll want to Instagram it. Scroll through for metallic, holographic, and shimmery rose gold nail polishes that are party-ready.
Smith & Cult
Dermstore
$18.00
Rose gold + glitter = an amazingly extra combination. Bold chunks of glitter, with their high-shine factor, will make your nails pop. What's even better is that the long-wear formula promises you won't see a chip for a while.
On the shade spectrum, this hue is a bit deeper. The formula is made with argan oil and vitamins B5 and C, which will keep your nails hydrated and strong, AND it doesn't require a basecoat or topcoat in case the party you want to wear it to is...now.
Christian Louboutin
Sephora
$50.00
Before you get shook by the price of this polish, hear us out: Your nails deserve luxury, too. Especially if they'll have a glossy, chromed-out finish like this polish guarantees. Apparently one coat packs a lot of pigment, so your application time will be cut in half.
Essie consistently over-delivers when it comes to gorgeous shades...with equally amazing durability. This shimmery rose gold hue is no exception. Apply two coats to get this shade's light-reflecting effect.
If you're seeking a sophisticated shade you can confidently wear at the office and a party, "Pastorale" is for you. Leave it to NARS to create a less flashy, more low-key rose gold. Bonus: The long-lasting formula will look fresh for days.
Sinful Colors
Target
$1.99
This sparkly hue is a part of Sinful's vibrant line. The highly-pigmented shade means that with just one glide, this brush will give your nails a generous dose of color. Also, it's impossible to say no to a $2, high-quality nail polish.
Sally Hansen
Ulta
$100.00
When you can't find time on your calendar to make it to the salon, you gotta fake it 'til you make it. This polish was made for that. Offering a a base coat, keratin complex, and growth treatment in one formula, it will coat your nails in a gorgeous gold hue, while also strengthening and lengthening your nails over time.
Metallic "Champagne Pop" accurately describes this shade of this party in a bottle. It's super-clean formula is made without harsh chemicals, like formaldehyde, DBP, and toluene (watch out for those ingredients on labels if you're looking for an eco-friendly option). And its potent color pay-off will means you won't need many coats.

9
Made It to the Seventh Hill!
OPI polishes are widely loved for offering an extended wear without any streaking or chips. This light and rosy gold tone is on the subtle side, so you'll never get tired of it.
Deborah Lippmann
Sephora
$20.00
You might like the look of a gel manicure but you don't have time to sit in the salon for an hour. Same. This glossy formula is made to give your nails a gel-like finish in a few minutes.
This content is created and maintained by a third party, and imported onto this page to help users provide their email addresses. You may be able to find more information about this and similar content at piano.io