The 15 Best Korean Moisturizers of 2023
Intense hydration and sensitive skin-approved formulas, coming right up.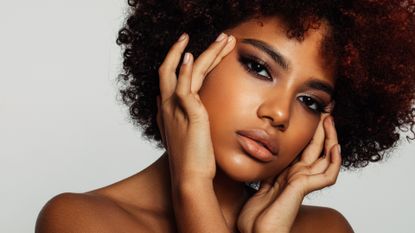 (Image credit: Getty)
By this point, you've probably know by heart the best Korean skincare brands and have stocked up on all the best Korean face and sheet masks and Korean sunscreens. Still, amid all the K-beauty products out there, one of the best remains the tried-and-true Korean moisturizer. Why? "The Korean philosophy for skincare is very hydration focused," explains Alicia Yoon, founder of K-beauty brand Peach & Lily.
Each and every moisturizer on this list is designed to repair the skin barrier, soothe skin, and provide a plumped-up appearance. From cult-favorite K-beauty brands like Lineage and Sulwhasoo to up-and-coming lines like Hanacure, allow us to present the best Korean moisturizers available Stateside to quench your skin with.
What to Look For
"Korean beauty moisturizers strive to ensure deep hydration regardless of texture or if the formula is oil-based or oil-free," says Yoon. So, whether you need a lightweight Korean moisturizer for oily skin or have dry skin and require a rich, peptide-packed formula, your favorite Korean moisturizer will have you covered.
This is largely personal preference, but texture is huge factor when selecting the best moisturizer for you. On this list, you'll find some gel and water creams, which are ideal for summer months or those with oilier skin types, as well as rich creams and emollients, which are great for dry skin types.
The Best Korean Moisturizers
The Best Korean Moisturizer Overall
Peach & Lily Matcha Pudding Antioxidant Cream
Sometimes our skin can freak out despite our best preventative efforts. Whenever you're having a really sensitive skin day, opt for this pudding cream from Peach & Lily. The matcha helps with any inflammation and doesn't add to the distress on my skin. Yoon says the matcha is "a rich antioxidant, that helps combat external stressors as well as visibly calms skin."
Pros: Great for sensitive skin; Anti-inflammatory
Cons: Can feel heavy
Customer Review: "I have oily/combo skin that errs on the oily side during warm weather and dry side during cold weather—this face lotion works for all seasons and has never broken me out! I can always trust and rely on it after a facial peel or when my skin feels extra sensitive. My skin looks visibly brighter and less dull after using this product for almost a year now." — Ulta
The Best Korean Moisturizer for Dry Skin
Be The Skin Botanical Nutrition Power Cream
Dry skin needs all the moisture it can get—not just a thick formula that slides off in the middle of the night, but one that locks in all the good pore-loving hydration. "I love the Be the Skin Botanical Nutrition Power Cream," says Yoon. "It's an award-winning icon as it hydrates deeply without irritating skin and delivers beautiful, time-tested Asian herbal extracts to nourish skin."
Pros: Great for dry skin; Won't clog pores; Redness reducing
Cons: On the thicker side
Customer Review: "This cream made my skin look and feel so skin. I felt like I was putting something nourishing on my face instead of a lot of chemicals. I would highly recommend this cream for people with dry and sensitive skin." — Peach & Lily
The Best Korean Moisturizer for Glow
Glow Recipe Plum Plump Hyaluronic Cream
For a glow that could very easily be mistaken for highlighter, lather on this K-beauty-inspired moisturizer every morning and night. It's packed with hydrating ingredients like hyaluronic acid and plum, as well as plumping polyglutamic acid. And don't even get us started on the texture—it's a whipped consistency that's out of this world.
Pros: Glassy finish; Instant plumping effect
Cons: A little bit o a sticky finish
Customer Review: "This moisturizer has a gel-like consistency and a little goes a long way- half a pea size amount gives my entire face a boost of deep hydration and a glow without feeling heavy. Works wonderfully under makeup and doesn't break me out. Wish you would get more product for the price but you don't have to use much." — Sephora
The Best Korean Moisturizer for Oily Skin
Belif The True Cream Aqua Bomb
Belif heard one too many cries of exhaust from the oily skin community who have been using countless greasy creams for way too long. A water-based lightweight moisturizer you can believe in, the Aqua Bomb is a cult favorite for a reason due to its cooling effect and lightweight feel that absorbs into the skin as quickly as it's applied.
Pros: Extremely lightweight texture
Cons: Some say it feels a little tacky
Customer Review: "This product is so soothing on my skin and leaves your skin with a beautiful, natural, and hydrated glow. It helped tone down my acne and prevented it from looking red and irritated. I will be using this product for the rest of my life!!" — Sephora
The Best Korean Moisturizer for Combination Skin
Laneige Water Bank Blue Hyaluronic Cream Moisturizer
Hyaluronic acid, squalane, and ceramides are the star ingredients in this newly-launched moisturizer. But don't let the "cream" label fool you—this product seeps into your skin like water and is great for even the oiliest skin types.
Pros: Great hydrating ingredients; Fast absorbing
Cons: Contains fragrance
Customer Review: "I've been using this product for the past two to three years now and it is absolutely astonishing. It has truly worked wonders for me! I am acne prone skin and my skin has never been better. It's extremely hydrating and always left my skin looking very hydrated." — Sephora
The Best Korean Exfoliator and Moisturizer Duo
Then I Met You the Renewing Duo
While you can purchase each of these products solo, the combo ensures some unbelievable skin brightening results. The former is going to gently exfoliate, while the latter will replenish your face with antioxidants and moisture. The star ingredient? Ginseng, a K-Beauty-loved ingredient that boosts hydration, plumps fine lines, and restores bounce.
Pros: Brightening; Exfoliating; Antioxidant-packed
Cons: Expensive
Customer Review: "As a big fan of the Oil cleansing balm I tried the Renewing Duo and whoa. I mean, after the rose mask I noticed all of the white heads on the sides of my nose and on my chin were pushed out of the pores. A first for me. The results are genuinely noticeable. Work great, smell great, and clearly made from high quality ingredients." — Soko Glam
The Best Korean Moisturizer for Makeup Prep
Jung Saem Mool Essential Mool Cream
Moisturizer is the key to celebrity Korean makeup artist Jung Saem Mool's signature "natural glowing skin" looks. So it's no wonder she's formulated an intensely hydrating moisturizer featuring fermented pearl extract. It features increased absorption and a long-lasting, dewy finish, not unlike the lustrous crystalline gem.
Pros: Leaves behind a glow; Long-lasting hydration
Cons: Heavily fragranced
Customer Review: "The first thing noticed when applying it is the pleasant light floral scent. It's described as a cream but is more of a liquid that goes on light and effortlessly. It doesn't take much and leaves the skin feeling smooth, not oily or weighted down." — Amazon
The Best Korean Moisturizer With Green Tea
Innisfree Intensive Hydrating Cream with Green Tea Seed
"As someone with combination skin, I've found it difficult, at times, to find a moisturizer that suits all my needs—particularly as my skin changes depending on the weather, my routine, my stress levels, and my menstrual cycle. Innisfree's green tea moisturizer is one of those rare gems that's able to moisturize my skin without breaking me out, no matter what external factors are affecting my complexion. Suitable for all skin types, it stays true to its promise of evening out skin tone. Plus, it makes my skin unbelievably soft to the touch." — Gabrielle Ulubay, E-Commerce Writer
Pros: Deeply hydrating; Builds back moisture barrier
Cons: Some report irritation
Customer Review: "It's creamy and light weight but makes my skin feel incredibly hydrated. I love using it under my makeup with a dewy highlighter base because it gives my face the natural "lit from within" look. Loved using it in France in the cold. My face gets really dry when temperatures drop and this made my skin feel hydrated all day!" — Sephora
The Best Anti Aging Korean Moisturizer
CosRx Advanced Snail 92 All In One Cream
Snail extract is the star ingredient here, and while that may sound a little, well, interesting, it's actually a very powerful skincare ingredient. It's responsible for brightening and hydrating your complexion, while simultaneously repairing a broken barrier. Add hyaluronic acid to the mix, and your skin will have an added plumpness that reduces the appearance of fine lines.
Pros: Radiance-boosting; Fast absorbing; Anti-aging
Cons: Some say it's drying
Customer Review: "This product is fantastic. Lightweight but moisturizes well, has minimal to no smell, and extended use has made my skin more firm and bouncy. Works great as an AM moisturizer and PM moisturizer, and can be layered with an occlusive on top for even more hydration." — Ulta
The Best Korean Moisturizer for Uneven Skin Tone
Hanacure Nano Emulsion Moisturizer
If you're dealing with uneven skin tone, hyperpigmentation, or rough patches here and there, you genuinely can't go wrong with this moisturizer. It's packed with loads of hydrating ingredients (normal stuff), as well as ruby of the forest mushroom extract to create a consistent tone.
Pros: Fragrance-free; Good for sensitive skin
Cons: On the expensive side
Customer Review: "I really like this lotion, I have very sensitive skin with discoloration. As I'm getting older it's been hard to find products that actually improve my skin but I found this lotion, with the face masks, and cleanser have given me unexpectedly wonderful results. It's lightweight, and a little bit goes a long way." — Hanacure