What 'Marie Claire' Beauty Editors Are Giving Their Friends and Family This Year
Hand-selected by the pros who know.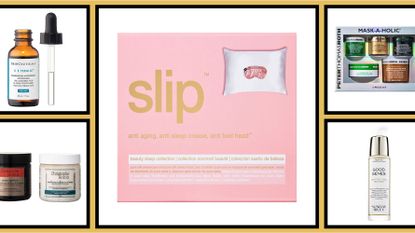 (Image credit: Future)
If you aren't sure where to start with your holiday shopping list this year, consider beauty gifts. Deluxe skincare and hair care are crowd pleasers, and there's no better beauty gift stamp of approval than being on an actual beauty editor's shopping list. Once your list is in order, head over to Dermstore, an authorized retailer for expert-curated beauty essentials—no wonder it's where pros go to do their own shopping.
Below, a few of Marie Claire's editors give us a peek at some of the items on their coveted gift lists.
1/6
Christophe Robin Dermstore Exclusive Purify & Regenerate Set (2 piece)
Christophe Robin's Purify & Regenerate Set is going to my sister-in-law. The genius sea salt and sweet almond oil scrub came out of a treatment Robin did for his color clients at his Parisian atelier. It's perfect for gently and naturally deep cleaning the scalp and hair after chemical treatments (and any time you need an extra refresh; I don't color but like to use it twice a month in the winter, and weekly during summer months). The scrub is also a great excuse to give yourself a head massage. To follow, the nourishing prickly pear hair mask beautifully softens and glosses strands, even ones battered by heat and chemicals. The ultimate French-girl hair heroes, right here. —Ying Chu, Beauty Director
2/6
SkinCeuticals C E Ferulic
For my mom, I'm picking up SkinCeuticals C E Ferulic. It's a cult favorite skincare product for a very good reason: it's incredibly effective! My mom is not nearly as obsessed with skincare as I am, but I want her to experience its wonderful anti-aging and brightening effects. —Tatjana Freund, Acting Beauty Assistant
3/6
Dermstore Daily Mineral Sunscreen SPF 40
If there's one piece of knowledge I'd like to impart on everyone, it's that sunscreen is not optional. For my friends who don't use SPF daily, a little gift of some luxe, mineral sunscreen is the perfect reminder to protect their skin from harmful UVA and UVB rays. This one helps blur imperfections and won't leave a white cast.—Tatjana Freund, Acting Beauty Assistant
4/6
Slip Beauty Sleep Collection (2 piece)
The eye mask blocks out light pollution, and the pillowcase helps to protect my face from acne-causing bacteria–not to mention eliminating bedhead. My boyfriend has seen me go to sleep with my silk eye mask and pillowcase, and it's time he get to enjoy its benefits, too! Plus, if I give him one and then misplace my eye mask, I can always borrow his. —Tatjana Freund, Acting Beauty Assistant
5/6
Sunday Riley Good Genes Glycolic Acid Treatment
If I had to think of one product in my arsenal that has saved my skin this year it would have to be Sunday Riley's Good Genes All-in-One Glycolic Acid Treatment. This exfoliating yet hydrating powerhouse serum is like liquid gold in a bottle and has done wonders for my complexion. I would gift this skincare hero to my best friend of 15+ years because she happens to be just as obsessed with this jewel as I am. If I can step in and gift radiant skin this holiday season so she doesn't have to pay for her next re-up, I believe my job here is complete. You're welcome, Ashley! —Chelsea Hall, Assistant Fashion & Beauty Editor
6/6
Peter Thomas Roth Mask-A-Holic® 5-Piece Set (1 kit)
Gifting skincare may seem intimidating when you're unsure of someone's skin concerns, but thankfully, Peter Thomas Roth provides an assortment of luxury to cut out the guessing game. The Mask-a-Holic edit includes a 5-piece facial and eye kit complete with the brand's top tier detoxifying, exfoliating, hydrating, soothing, and anti-aging mask offerings. I would gift this gem to my self-care obsessed mother as an addition to her growing collection of at-home spa essentials. —Chelsea Hall, Assistant Fashion & Beauty Editor
I'm the Beauty Director at HearstMade.