18 Winter Makeup Trends Worth Trying This Season
They'll have you feeling 0 to 100 real quick.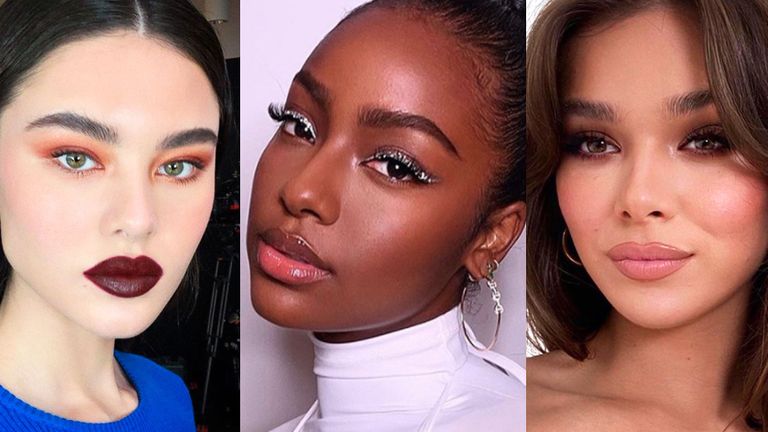 (Image credit: Instagram)
The colder months promise the opportunity to wear an obscene amount of comfy sweaters, break out the parkas hidden under your bed, drink peppermint mochas galore (the supreme holiday drink), and listen to an unhealthy amount of Christmas music. It also means borderline-Sahara-desert dry skin, wintery nail polish, and a whole new list of makeup trends. Yes, despite the fact we may not be seeing each other IRL much these days, the beauty gods have still blessed us with some new ideas we're itching to replicate.
The thought of sitting in front of your mirror with your old faithful products may seem daunting—especially this year—but the best thing about beauty is its ability to make you go from 0 to 100 in a matter of seconds (okay, maybe minutes). Call me vain, but there's something about a bold lip or an out-there eyeliner that just makes me feel a certain way!
While we still have fan favorites like glossy red lips and rosy cheeks to look forward to this winter, there's a whole bunch of new styles to behold. Ahead, check out our favorite winter 2020 beauty trends and products to help you get going.
Sharp Flicks
Forget the typical cat liner, and extend those lines as far as can go. There's no need to continue the liner all the way to the inner corner. By keeping the liner towards the outer edges of the eye, that dramatic lifted look is amplified.
Monochromatic Looks
This season is all about matchy-matchy. The good news is that your lips will never clash with your eyes. A warm lip with warm eyes and rosy cheeks is the look you won't stop seeing. As an added bonus, it means you need fewer palettes!
Strobe Highlights
Subtle is so last year. Forget a natural glow, it's time to up the ante. Get a bold highlight–bonus points if it's in an unnatural shade–and watch the light bounce off your cheekbones.
Gilded Lids
Gold is a wintertime beauty staple that never gets old. For a subtle glam look, swap out warm browns for a beautiful gold shade. Nothing says "holiday season" like matching your jewelry to your face.
Bold Brows
Brows can never really go out of style. If you want to go minimal for your winter look, give those babies some extra love. Fill them in, brush them out, and definitely put those tweezers away.
Bedroom Eyes
Since our eyes are getting a lot more attention this season, why not make them a statement point? Turn up the sultriness with some gorgeous '60s makeup. Stick to matte shadows and smokey liner to turn up the heat.
Shocking Silver
Silver has been so underrated, but we're changing that this season. A hint of glam transforms a traditional eye look into something worthy of 1,000 selfies. Simply trade your wing with a silver liner and watch the compliments roll in.
Vote Blue
We've seen purples, yellows, and reds make their way onto our eyelids, but why not switch it up with some blue? Your look will look stunning, and you only need a single shade to make some waves.
'60s-Inspired Eyeliner
Winged eyeliner is slowly becoming a thing of the past as more people have started to stretch their eyeliner beyond their waterlines. Feel free to leave the inside blank when replicating yours, but your long-forgotten metallic eyeshadow hues deserve to have some fun, too.
Less Powder, More Dew
There's no such thing as too much moisture, especially when it comes to battling the high and lows of wintery weather. Switch out your finishing powder for a mist, and your skin will seriously thank you.
A Strong Red Lip
Is it winter without a red lip? The darker the shade, the better—take a dab on your finger and pop it on your apples to add some much-needed color to your cheeks.
Statement Eyeliner
If this year taught us anything in beauty, it's that the bolder the eyeliner, the better, which is why the look is sticking around in the winter months. Shades of glitter, neon, even cow print rocked Instagram feeds, because it looks just so damn good on every kind of eye shape.
Lip Liner
Using a handy-dandy lip pencil, line outer rims of your lips then fill in using a similar shade of lipstick. It creates fuller lips in no time and looks so chic.
Spider Eyelashes
The side effect of applying too many coats of mascara is cool again, and we really don't hate it. The trick is to wet your eyelashes before applying mascara so that the formula will adhere to groups rather than individual lashes.
Glittery Lids
The holidays to glitter are like peanut butter to jelly: They would be lost without each other. Call it holiday spirit or the fact that you really want new episodes of Euphoria, but glitter eyeshadow just adds something special.
Soap Brows
The viral Tiktok hack turned IRL beauty trend shapes your brows and sets them all day long. The secret: Soap contains a fat known as glycerin that coats your hairs' surface and keeps them in place—and costs next to nothing.
Disco Hues
Smoky eye who? Back away from your black and grey eyeshadows and pick up a shiny purple or blue instead. It's still committing to the idea of dramatic eyeshadows, but doing so with a vibrant palette.
Rosy Cheeks
You could stand outside in a seriously bad wind storm with below freezing wind temps. Or you could apply some red blush for the same effect. Whether you're missing your summer glow or just want some color, a deep red or pink is always a good idea.
Bianca Rodriguez is the Commerce Editor/Writer at Hearst Magazines Digital Media, where she covers fashion, beauty, home, and more. She likes long walks through shopping malls, a good book, and thinks a closet without platform sneakers is a travesty.