6 Products That Will Get Rid of Your Razor Bumps in No Time
An ouch-free guide to easing the burns and bumps of swim season.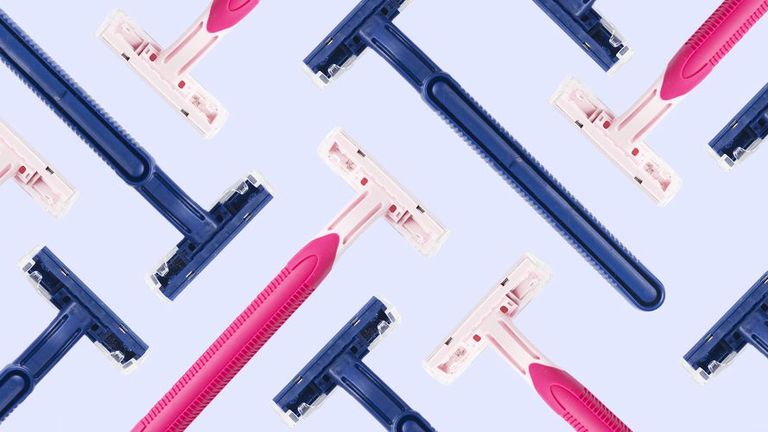 (Image credit: Design by Katja Cho)
Blame it on the patriarchy, but the fact is that summer (or Limb Emancipation Season) usually calls for more time spent removing body hair. Whatever your method of choice—sugaring, shaving, or waxing—one of the worst unintended side effects of baby-smooth skin are the razor bumps that crop up around ingrown hairs. Since bacteria can build around the hair beneath the skin, these bumps are often itchy, inflamed, and can leave skin with discoloration: three things no one wants to worry about when laying out in a bathing suit.
Experts suggest that people wait at least a day between shaves and avoid revisiting the same area of skin in one wax session to stop the dreaded skin swelling, but when all else fails, look to these products to save you the discomfort.
The Classic Skin Solution
Tend has been around the block a few times (since the early aughts), but this OG formula has never really gone out of style among those who routinely experience razor bumps. It has multiple uses as a skin soother plus a deodorant (!) and as an added plus, it's carried at most drugstores if you need assistance ASAP.
Tend Skin Razor Bump Skin Care Solution, $20; ulta.com.
A Travel-Friendly Cooldown
Packed with both cooling and soothing effects, this formula gently exfoliates to remove dirt and oil trapped under the skin. This little guy's also primed to be packed on your next trip, and comes in handy for those once-in-a-blue-moon spot treatments.
Travel Size The Cool Fix, $12;ulta.com.
A Before-And-After Remedy
If you're seriously prone to razor bumps, look to this soothing remedy that contains tea tree oil, a common salve for razor bumps. Instead of going straight to a tea tree oil bottle, a moisturizing shea butter formula like this will both prime skin pre-shave and heal irritated skin.
Shea Moisture Tea Tree After Shave & Bump Preventer, $9; amazon.com
The Moisturizing Mousse
Yes, most people already know that aloe vera works as a healing ointment for sunburns. But what you may not know is how useful the plant extract can be as a salve against razor burn and post-wax bumps, as well. This gentle gel formula contains both aloe vera and salicylic acid (one of our best acne fighters) to decrease the appearance of bumps.
Kerah Lane Organic Razor Bump & Ingrown Hair Formula, $18; amazon.com.
The Sensitive Skin Salve
Treating razor bumps around your sensitive bikini area is risky business, so aim to avoid harsh liquids or gels that can easily cause infections. Instead, look for a medicated gel like this one that works to relieve redness and dries quickly so it doesn't migrate to unintended areas.

Bikini Zone Medicated After Shave Gel for Bikini Area, $8; ulta.com.
The Magic Eraser
People consider PFB's skin-brightening formula a miracle for treating the discoloration and scarring that can follow razor bumps. Plan to add this one to your summer battle plan for getting rid of skin splotches.
PFB Vanish & Chromabright, $22; amazon.com.