The 9 Best Shaving Creams for Women in 2023
Say goodbye to nicks and ingrown hairs.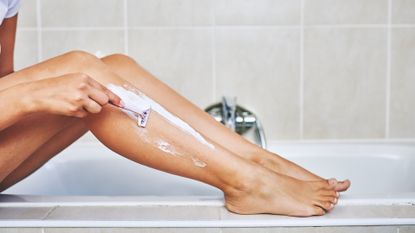 (Image credit: Getty Images )
Marie Claire Newsletter
Celebrity news, beauty, fashion advice, and fascinating features, delivered straight to your inbox!
Thank you for signing up to Marie Claire. You will receive a verification email shortly.
There was a problem. Please refresh the page and try again.
For many people who shave, a shaving cream seems like an unnecessary add-on to your shower routine. However, the right shaving cream can actually make your legs, underarms, or anywhere else you choose to shave feel smoother and more hydrated long after you finish shaving. We turned to dermatologist Dr. Heather D. Rogers for her thoughts on the best shaving cream for women, from the ingredients that she looks out for to a few of her favorites. So, whether you're just trying to upkeep your look in between laser hair removal appointments or are just in need of a quick fix, let this list of shaving creams, shaving gels, and shaving bars help you find your next favorite.
Let me be the first to say that shaving your legs or shaving your bikini line is by no means a necessary task. But if you do choose to shave your body hair, no matter where it is, make sure that you're using the best and safest products to do so. That means finding the best razors, the best bikini trimmers, and so on—and stocking up on the best tools includes finding the best shaving cream formula for you. (P.S.: The editors at Marie Claire wrote the definitive guide on how to shave your legs as well as a guide to the best bikini trimmers if you're a newbie looking for some tips.)
Do I Need to Use a Shaving Cream?
Dr. Heather D. Rogers, the founder and CEO, Doctor Rogers Skin Care and co-founder of Modern Dermatology, notes that while shaving creams aren't actually necessary to get the closest shave, you do need to use a product in your shave routine that will "limit the friction between your leg skin and the razor." This can be a creamy body wash, a body lotion, or a body oil. Why? Less friction or tug on your skin equals fewer nicks and bumps as you go, and guarantees that your skin looks and feels its best after you're done shaving.
What To Look For in Shaving Cream
Turns out, the best shaving creams aren't always your classic whipped shaving foam. Shower bars, shaving gels, and more are popular and safe, options. However, everyone has different shaving needs, and different formulations suit different preferences.
The beauty team at Marie Claire selected the products on this list because they fit a diverse array of needs: My personal favorite from Dollar Shave Club comes in a handy squeeze tube, for example, and is great for dry winter skin. Marie Claire's Beauty Director Deena Campbell prefers a gel formula from SUGARCOAT because its scent lingers on the skin and because the formula is moisturizing enough to use in the winter yet lightweight enough to use in the spring and summer. Shave bars, like the one from Joanna Vargas on this list that Dr. Rogers specifically recommends, come with less packaging than the ones you find in canisters at the drugstore. However, some of the shaving creams on this list are fragrance-free, if that's important to you when shopping.
"As a dermatologist, I have to say fragrance does nothing good for skin so I avoid it and advise my patients to avoid it also," says Dr. Rogers. Plus, she recommends looking for a product that can pull double-duty in your shower: "I want something I can use as my body wash and to shave; that is cream-based and will not dry out my skin; something that is safe for me to cover my body in as well as safe to go down the drain."
The Best Shaving Creams
The products on this list have been vetted by Marie Claire's Commerce Editor, Julia Marzovilla (aka yours truly) and Marie Claire's Beauty Director, Deena Campbell; or have been hand-selected by a board-certified dermatologist. While the *best* shaving cream for you will vary based on personal preference, you truly can't go wrong with one of the items on this list. For a more personalized recommendation or if you have any concerns, check with your board-certified dermatologist.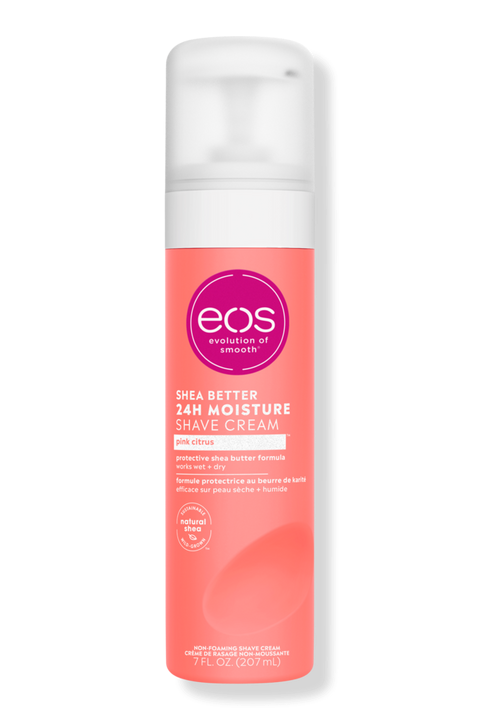 Best Affordable Shaving Cream
Eos Shea Better 24HR Moisture Shave Cream
At just $6, this affordable shaving cream by EOS is formulated with good-for-skin ingredients like shea oil, shea butter, and aloe that promises 24-hour lasting hydration. TLDR: Your skin will look glowy in no time. This shaving cream is available in four scents to suit your mood including Lavendar, Vanilla, and Pomegranate, and has racked up over 4,200 five-star reviews on Ulta's site. Reviewers say that it makes their skin feel hydrated, that the formula doesn't clog up their razors, and that razor bumps are no longer a problem after they finish.
Pros: Over 4,000 five-star reviews; comes in several scents; Formula is paraben-free; Formula is gluten-free; Formula is hypoallergenic.
Cons: Some reviewers say the smell is too strong.
Customer Review: "I've been using this since I started shaving and I love it. I've tried plenty of other shaving creams but I always find myself coming back to this one. Never had an issue with razor bumps or getting a close enough shave either. I have pretty sensitive skin and this doesn't bother it and the fragrance is nice and light. It's a cheap, effective, and reliable option. Def recommend!" — Ulta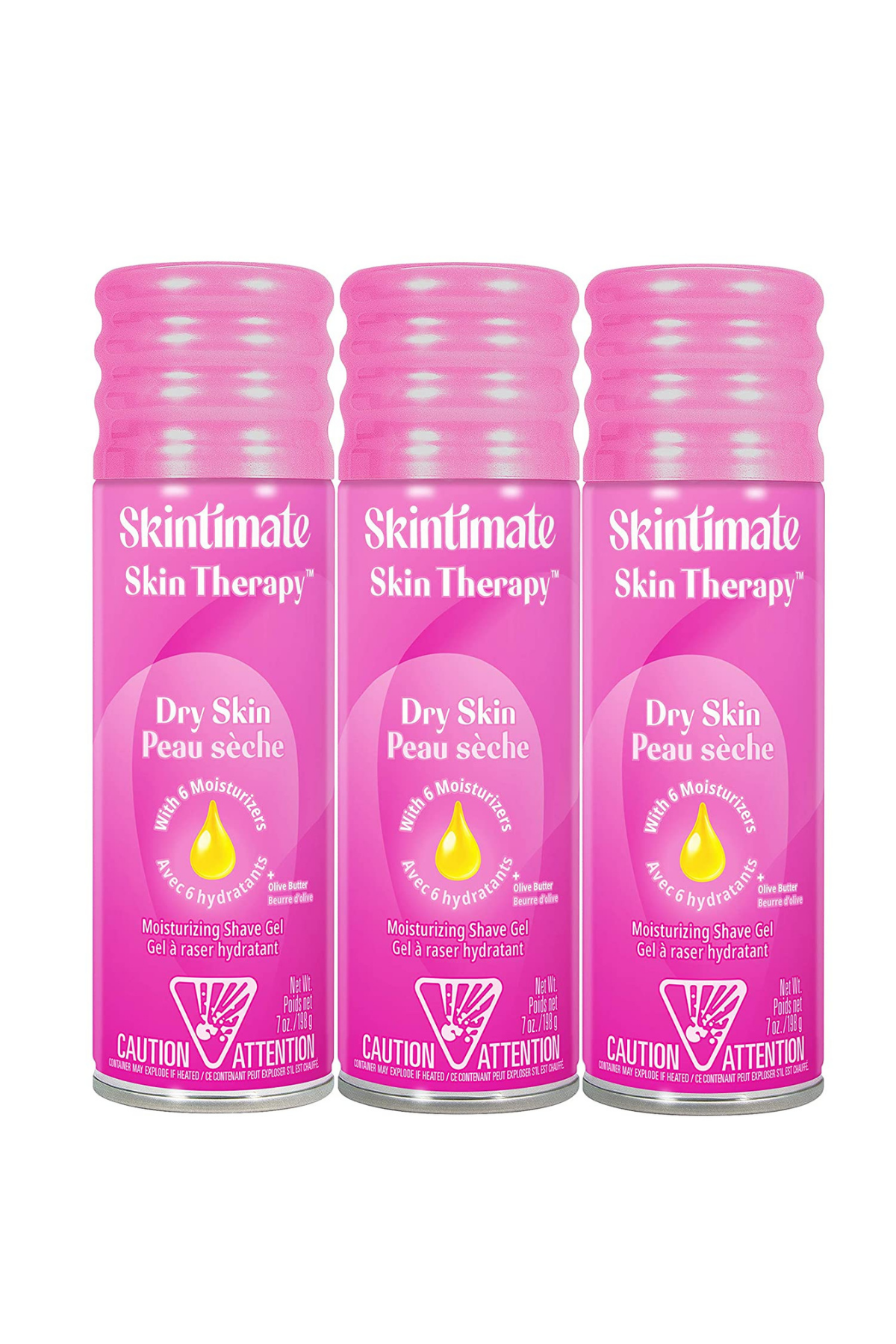 Best Three-Pack of Shaving Cream
Skintimate Skin Therapy Dry Skin Women's Shave Gel - 7oz
You won't find a more highly-rated shaving cream at this price, we promise. This one from Skintimate comes in one scent—Strawberry—and promises long-lasting moisture even after you get out of the shower. It's formulated with Vitamin E and lanolin to keep skin looking and feeling its best post-shave, and has racked up over 200 five-star reviews on Target's site. Reviewers say it's great value for money, that they still get a close shave while using it, and that it helps with their dry skin.
Pros: Great value for money; Top-rated; Formula contains vitamin E; Formula contains lanolin.
Cons: Some reviewers said the smell was too strong;.
Customer Review: "This is a simple can but it just delivers every time. The bottle works great, the smell is great and the shaving cream is perfect. Skip the expensive, more boujee stuff and just stick to this!" — Target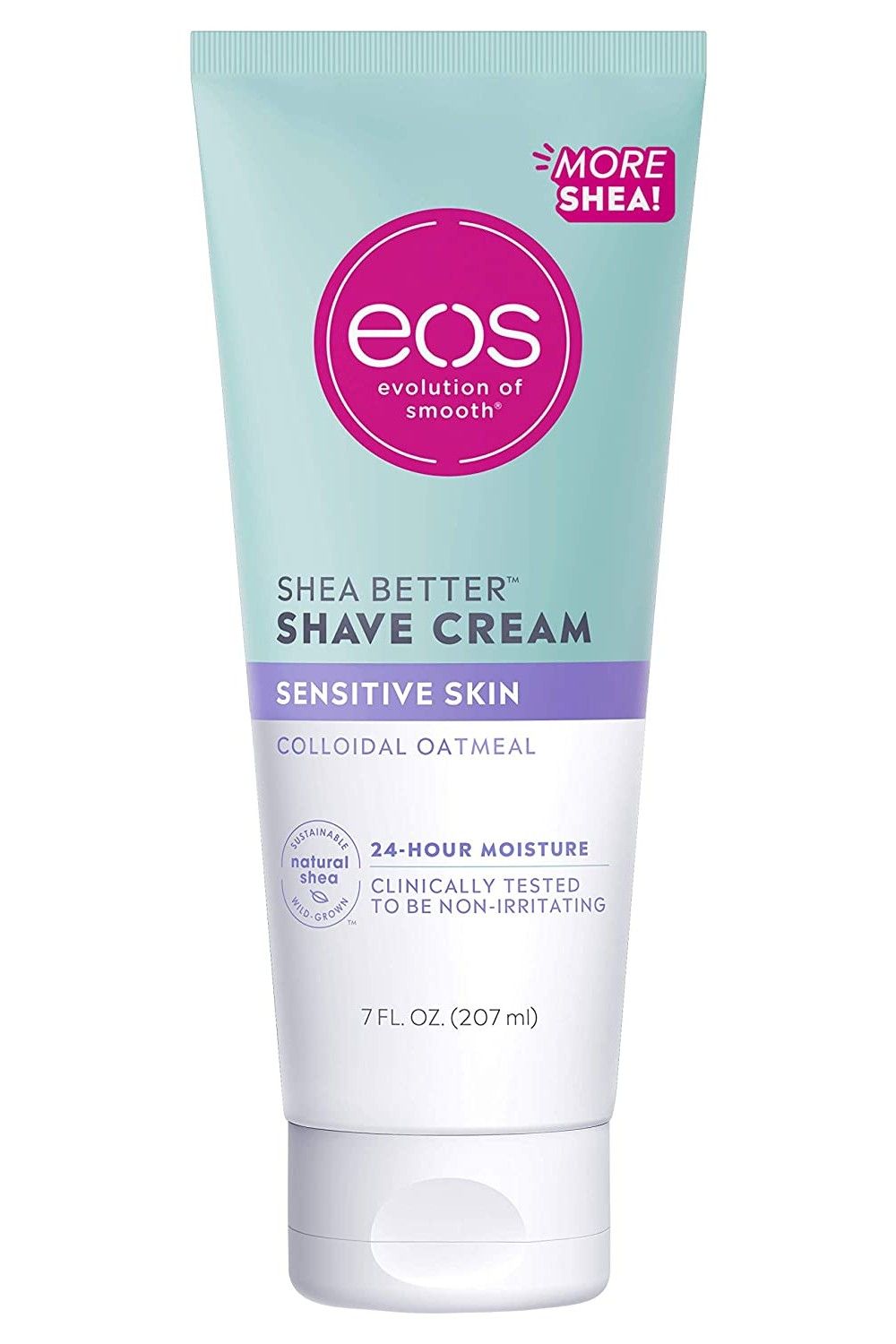 Best Shaving Cream For Your BIkini Line & Underarms
eos Sensitive Skin Shaving Cream for Women
You already know that the skin around your bikini line and in your under-arm arm area is super sensitive. Take care of both areas—and your legs, too!—with this unscented and clinically-tested shaving cream from eos that contains soothing ingredients like colloidal oatmeal. Plus, it has garnered over 2,500 five-star rave reviews on Target's site, and retails for just shy of $6. Reviewers who claim to have sensitive skin also find that it doesn't cause their skin to become irritated after using it.
Pros: Formula is paraben-free; Formula is cruelty-free; Top-rated on Amazon; Formula is hypoallergenic; Unscented.
Cons: Some reviewers didn't find it hydrating enough.
Customer Review: "I love this shave cream. Doesn't make my skin irritated and really helps the shaver glide on my skin. I only have to go over my underarms once with this shave cream. Highly recommend." — Target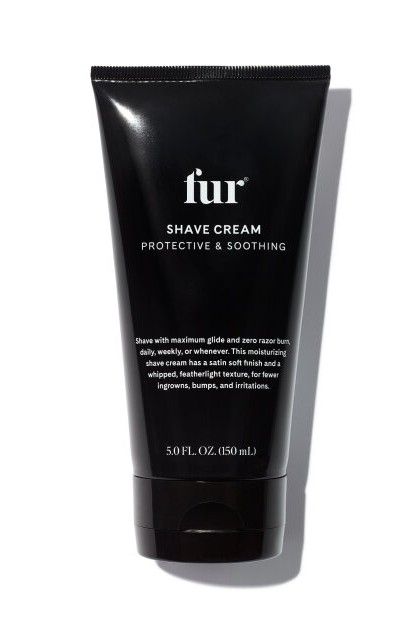 Dr. Rogers recommends this luxe shaving cream from FUR "because it's free of phthalates, parabens, silicones, and artificial colors or fragrances." Moreover, it's made with other calming ingredients like aloe and marshmallow root extract for softer, more supple skin. It also claims to fight ingrown hairs and irritation, so it's a good choice if you tend to struggle with either condition during your shaving process. Plus, it's designed to be used all over the body, including sensitive areas like your bikini line.
Pros: Can be used all over the body; Formula contains aloe; Fragrance-free; Formula is paraben-free; Formula is silicone-free; Dermatologist-recommended.
Cons: Costs over $30.
Customer Review: "I wasn't sure if I wrote a review on the product so I decided to do so. I absolutely love this shaving cream. The texture of the cream is not a gel or a regular cream it is like the cross of the two in a good way. it smells clean which is probably why it is a unisex item. Shaving is simple I never have to over shave the same area because it shaves smooth...helping me from getting razor burns. You don't even need much to shave each time and the packaging is very edgy. Nice product highly recommend for sensitive skin people." — Dermstore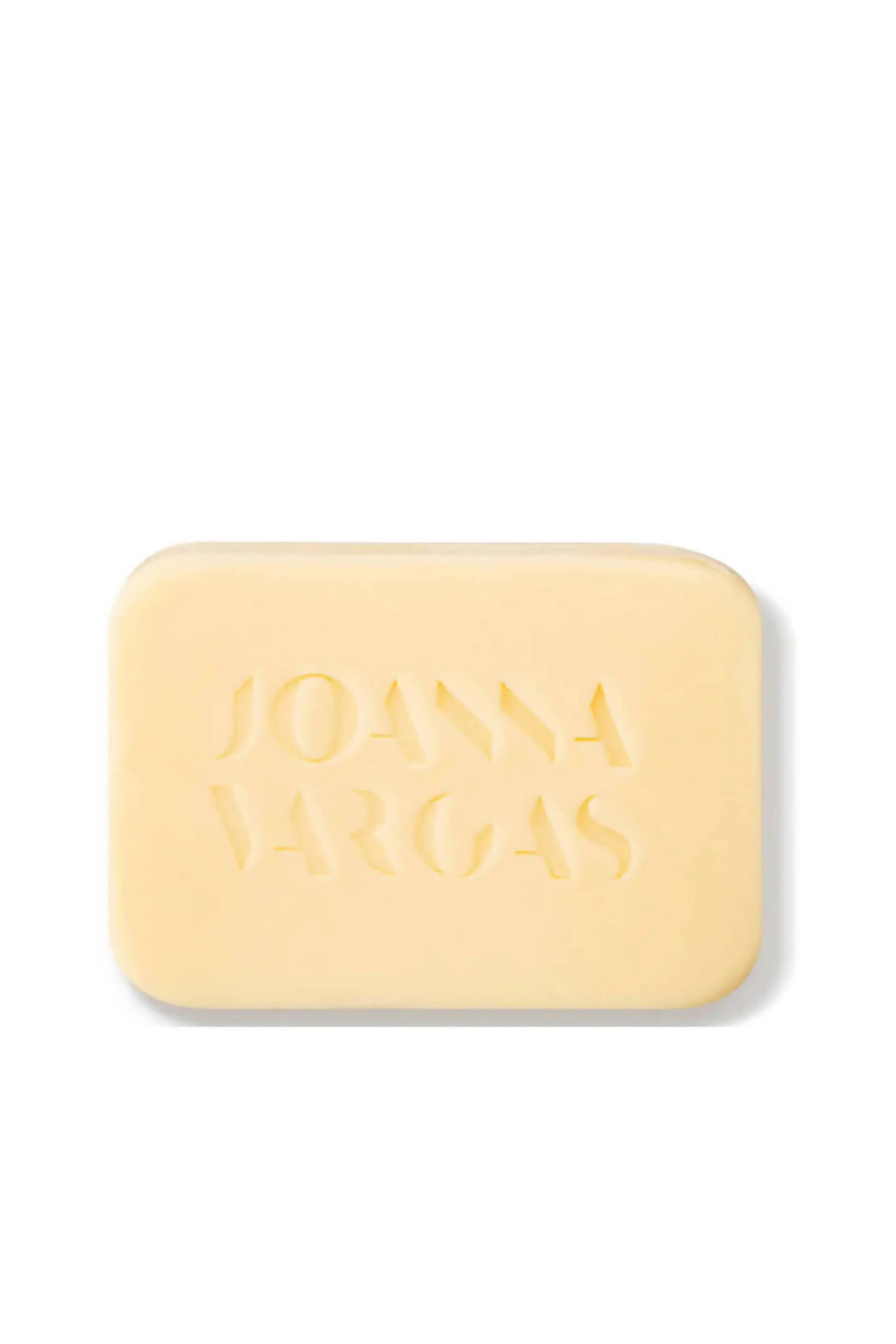 Best Shaving Cream Bar
Dr. Rogers says that this Cloud Bar — which is technically a cleanser—from Joanna Vargas is great for shaving because it "foams well with nourishing ingredients like glycerin and shea butter to help hydrate dry skin." The formula includes ingredients such as shea butter to reduce inflammation and 100% vegetable glycerin to protect and restore damaged skin. All you have to do is suds the product in your hands before applying it to the area you want to shave. It's also designed with sensitive skin in mind!
Pros: Can be used as a face cleanser; Contains shea butter.; Dermatologist-recommended.
Cons: Doesn't coat the skin like a traditional shaving cream.
Customer Review: "I love this bar so much that I just start using it on my entire body every time I'm in the shower. I originally bought it just as a face bar, but it's just too good not to use everywhere. It has definitely taken my face wash routine to new levels. I have dry skin but this doesn't dry me out and I feel so clean afterwards. My skin has cleared since starting to use this bar. I'll never go back." — Joana Vargas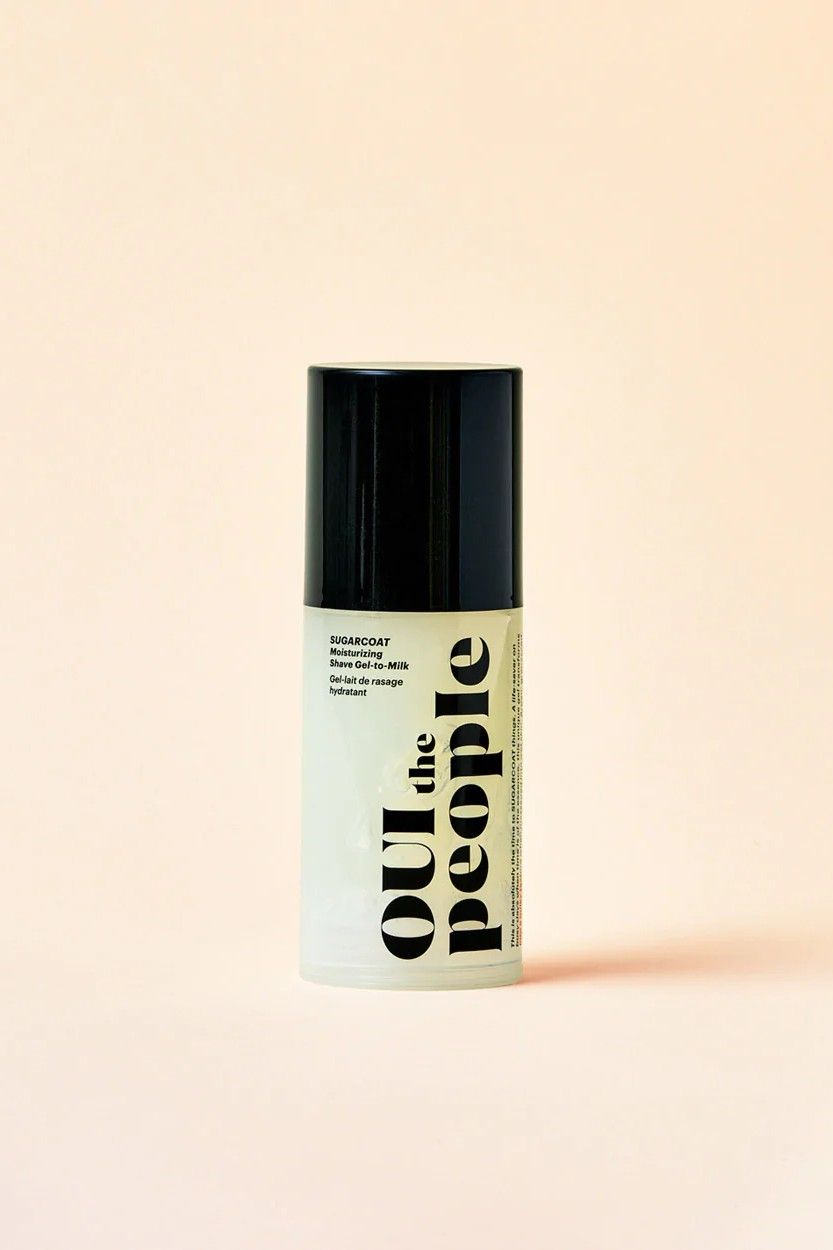 The Beauty Director's Best Shaving Cream
SUGARCOAT Moisturizing Shave Gel-to-Milk
"Anyone who loves a lightweight, gel-to-milky texture needs this shave gel in their rotation. It's built for summer days when a lotion or cream texture feels too heavy, but honestly, it's perfect for any time of the year when you need your razor to glide along your skin. The ingredients are equally thoughtful, with hints of dandelion root extract and botanical oils that soothe and condition all skin types."—Deena Campbell, Beauty Director
Pros: Editor-recommended; Contains vitamin C; Contains aloe vera.
Cons: Some reviewers say it works better with a safety razor.
Customer Review: "This smells great and works great! You don't need much, it's not like shaving cream at all, it's much lighter and feels really great on the skin, even after a shave and a rinse. A dot or two the size of a pea works great for one of my lower legs. I get a great shave and my skin is just so freaking soft. I do like the scent, too, it's neither girly nor masculine, it just smells like some amazing, earthy spa." — Oui The People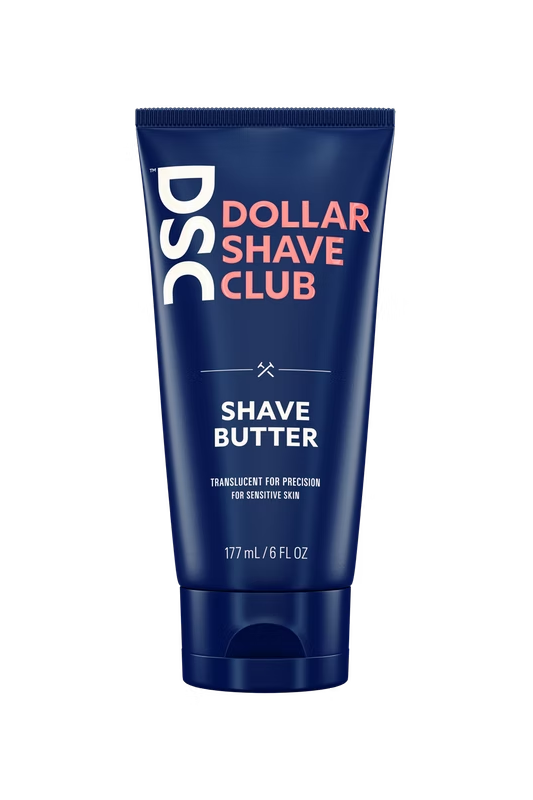 Best Shave Butter
Dollar Shave Club Shave Butter
"I steal this from my boyfriend constantly, that's how amazing it is. It feels like a thick body butter and leaves my skin feeling so soft and smooth that I (almost) don't need to apply body lotion after! Plus, you can sign up for a subscription so that you never have to run out."—Julia Marzovilla, E-Commerce Editor
Pros: Editor-recommended; Comes in two sizes for travel; Not tested on animals; Can be used on the face; Formula contains vitamin E; Formula contains vitamin C; Formula contains vitamin A; Good for sensitive skin.
Cons: Some reviewers say the texture isn't thick enough.
Customer Review: "I love this shave butter! It is about the consistency of a loose body lotion and doesn't get stuck between my razor blades. My razor now glides across my skin. There is a light to nonexistent scent which helps my sensitive skin from becoming irritated by any fragrance. I have been shaving my legs, bikini area, and arms for about a couple months and I probably still have a couple months to go, so it's a pretty good size bottle. It does not take a lot of product for it to be effective and leaves my skin feeling softer than most shaving products. Highly recommend." — Target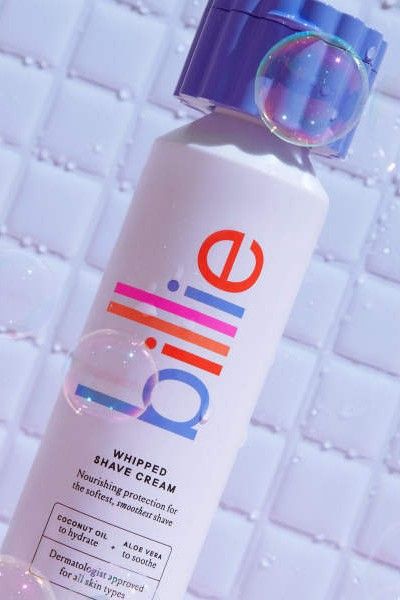 Best Whipped Shaving Cream
Bille Whipped Shaving Cream
This fan-favorite shaving cream from Billie is only $8, comes in two scents (a combination of lavender and bergamot and a grapefruit option), and has the most luscious texture that evenly coats your skin in an creamy layer of hydration to protect it from your razor—no matter where you shave. Hero ingredients include aloe and coconut oil, both known for their soothing and hydrating properties. Plus, it contains shea butter to keep skin looking its best and comes in a non-aerosol container. Better yet, it's racked up thousands of glowing reviews on Billie's site.
Pros: Has a lightweight feel; Formula contains aloe; Formula contains shea butter; Has a hydrating formula; Formula is paraben-free; Formula is vegan; Formula is cruelty-free.
Cons: Some reviewers say it's difficult to get the product out of the bottle.
Customer Review: "I've tried a lot of shave creams, and this one is the best. It doesn't dry out my skin, like so many other "moisturizing " shave creams. In fact, my skin doesn't even itch until long after the hair has started to grow back. That is a huge plus for me." — Billie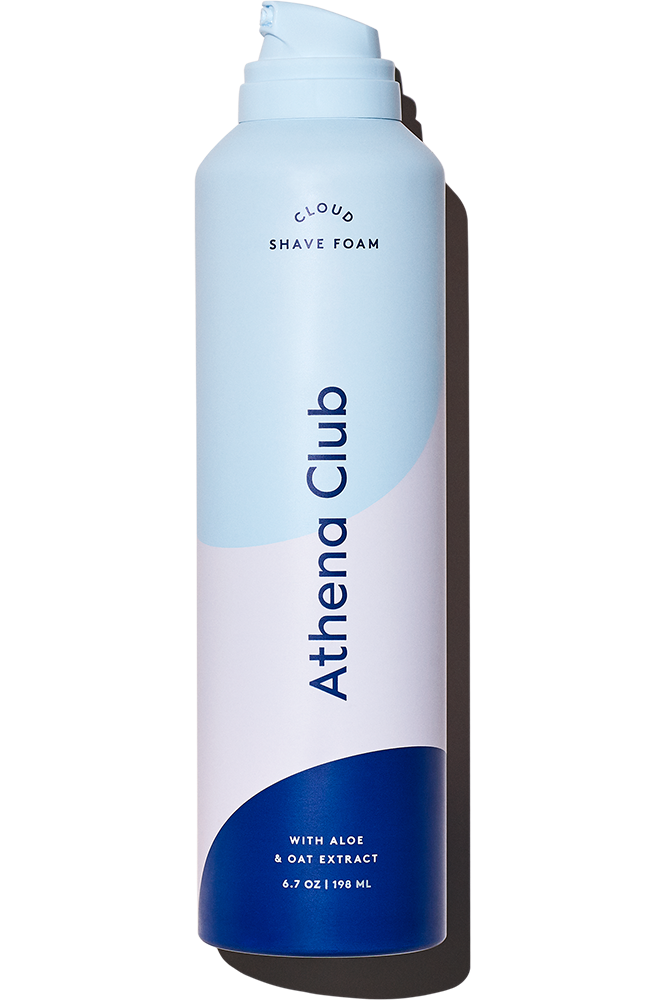 "I love this Athena Club Shave Foam because the consistency is downright heavenly. It's thick on the skin and covers it in one easy layer. it leaves the skin on my legs feeling so, so soft and has majorly helped me to not miss any areas when I'm shaving. It's one of the only products that I actually keep backups of in my bathroom. Not that I even need to re-purchase it—a little goes such a long way! Plus, you can set up a delivery schedule so you never ever run out of it in a pinch." — Julia Marzovilla, E-Commerce Editor
Pros: Editor-approved; Formula is cruelty-free; Formula contains aloe; Top-rated; Good for sensitive skin.
Cons: Some reviewers said the scent was too strong.
Customer Review: "With this shaving cream, a little goes a long way. You also get a super smooth shave with hardly any knicks." — Athena Club
Meet the Expert
Dr. Heather D. Rogers, MD, founder of Doctor Rogers Skin Care, sees patients full time at her dermatology practice, Modern Dermatology in Seattle, Washington. Known as "the doctor who can stop time," Dr. Rogers' years-long waitlist is due to her outstanding results—but also a result of her dedication to helping her patients truly understand the nature of their skin. Having treated tens of thousands of patients with skin in every state of health, Dr. Rogers knows how to help every person reach their skin goals, all while supporting—rather than hindering—our skin's natural adaptive capabilities. Empowering people with the knowledge to see what their skin needs in each moment and providing the high-quality products to meet those needs has been the basis of her successful practice—and is now the basis of Doctor Rogers Skin Care.
Celebrity news, beauty, fashion advice, and fascinating features, delivered straight to your inbox!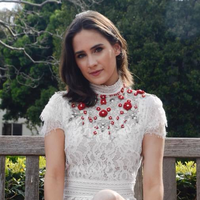 Julia Marzovilla is the E-Commerce Editor at Marie Claire, where she covers everything from the latest beauty and fashion launches and sales to celebrity outfits and news. She also creates shopping guides that span every vertical on the site. Prior to joining the Marie Claire team, she contributed similar shopping stories to sites such as Bustle, InStyle, The Zoe Report, Who What Wear, and STYLECASTER. In her spare time, Julia can be found creating shopping guides for all of her friends, spending too much money on yet another pair of black boots, and cooking in her far-too-small kitchen.