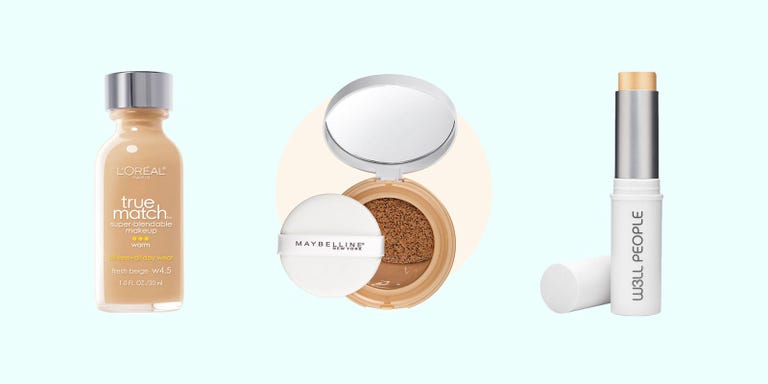 Even though they're more affordable than your average brand, drugstore foundations are still diiime-a-dozen. It's tough wading through them to find the Goldilocks fit for your skin tone and skin type, and it all adds up. Here, a primer on the best drugstore foundations that are definitely worth that $10 bill, plus recommendations on which to choose based on your skin woes.
Let's face it: is there anything more low-maintenance than a foundation in stick form? Call us crazy but we think not. The packaging on this roll-up, purse-friendly stick is great but the product is even better. W3LL PEOPLE prides itself on creating more natural and organic ingredients, so it's a safe bet for those with hyper-reactive skin: dewy, light coverage without the excess oil.
W3LL PEOPLE Narcissist Foundation Stick, $10
BUY IT: ulta.com.
2
The "No-Makeup Makeup" Powder
For powder devotees, it's not often that you get a mineral compact that's full of non-comodegenic (AKA non-pore clogging) ingredients and doesn't make you look like you're wearing stage makeup. But the right sheer product *does* exist and this one has a luminous effect for someone who wants a lighter, more natural look.
Neutrogena Mineral Sheers Powder Foundation, $13
BUY IT: ulta.com.
E.L.F's skin-clearing foundation is a godsend if you need a lightweight formula that goes easy on sensitive skin and helps to clear and conceal blemishes. It's crafted with ingredients that target acne, like salicylic acid, witch hazel, tea tree, and aloe.
E.L.F. Acne Fighting Foundation, $6
BUY IT: target.com.
4
The Best for On-the-Go Touchups
If you're one of those that can put on a full face of makeup on a crowded subway train, you know it's preferable to opt for all-in-one products that don't involve spills or messy applications. This liquid foundation compact takes all the hard work out of beauty blending your foundation through a cushion that just takes a dab or two to cover any imperfections.
Maybelline Dream Cushion Fresh Face Liquid Foundation, $15
BUY IT: ulta.com.
Laverne Cox and Chrissy Teigen's makeup artists gravitate towards this super affordable makeup line Black Opal for its range of deep hues that cater to women of color. This one's hypoallergenic and enriched with vitamins A and E to help prime skin without an ashy finish.
Black Opal Even True Flawless Liquid Foundation, $12
BUY IT: blackopalbeauty.com.
No one ever wants to advertise to other people when they're wearing foundation, but somehow dry skin always gives it away. This creamy option easily blends into skin without giving any flake-y or cake-y cues.
Revlon ColorStay Whipped Creme Makeup, $10
BUY IT: amazon.com.
Because we never shy away from multi-tasking beauty products, we're all about combatting crow's feet while we perfect our face beat. This anti-aging formula comes with retinol and SPF20, so it's especially primed to protect your skin before you head out the door.
Neutrogena Healthy Skin Anti-Aging Perfector, $15
BUY IT: walgreens.com.
8
The Biggest Range of Shades
Blurring acne scars and large pores comes easy with this weightless foundation that makeup artists love for its easy coverage. Plus the sheer range of color swatches (24 in all!) is a major plus for those who struggle to find the right match for their skin tone.
Maybelline New York Fit Me Matte Plus Poreless Foundation Makeup, $8
BUY IT: ulta.com.
9
The Moisturizing Powder Compact
Matte blends are sometimes synonymous with the word "drying," but not with a powder foundation like this one that covers up without feeling too heavy. Many people consider it a dupe for M.A.C's powder compact so give it a try if you're looking to save some $$$.
NYX Stay Matte Powder Foundation, $10
BUY IT: ulta.com.
Better suited for dry or combination skin types, this foundation blends to a dewy, soft complexion without clinging to dry patches and is one-of-a-kind for blending to your skin tone. It's lacking in perfumes or fillers, too, if you have especially reactive skin.
L'oréal True Match Super Blendable Makeup, $8
BUY IT: walmart.com.
When oily skin leaves you with a shiny face no matter what, look into a mattifying solution like this long-wear foundation. It helps to conceal and cover imperfections, without cracking under heat.
L'Oréal Paris Infallible Pro-Matte Foundation, $9
BUY IT: amazon.com.
12
The Best for Darker Tones
Women of color rave about this new Covergirl Queen Collection Foundation that's formulated to fit darker skin tones without gray undertones. It's a concealer, powder, *and* liquid all in one so it's hitting all your bases for enviably pristine face coverage.
CoverGirl Queen Collection All Day Flawless Foundation, $12
BUY IT: walgreens.com.