Editors handpick every product that we feature. We may earn commission from the links on this page.
The 12 Best Drugstore Blush Dupes for Faking a Gorgeous Flush
For the pop of color your face is craving.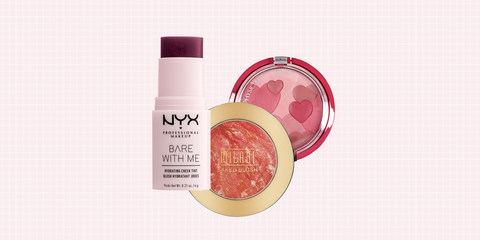 Believe it or not, there was a time in my life where I never wore blush. I breezed right by that section at the beauty store without giving it a second thought. Finally, when a kind employee cornered me and applied some to my pale, lifeless cheeks, I understood. Blush doesn't have to look clown-y, or overdone, or any of those negative things I associated with it. A sweep of color will make your skin look healthier, more alive, and glowier than ever before. I get it—that bright pink pigment looks pretty intimidating in the pan. But trust me when I say that no look is complete without a kiss of color. It makes you look alive, and just gives that extra oomph you've been missing. Whether you're going for rosy and light or vampy and intense, here are our top drugstore blush picks to achieve the ultimate #blushgoals.
This content is created and maintained by a third party, and imported onto this page to help users provide their email addresses. You may be able to find more information about this and similar content at piano.io