The 29 Prettiest Hair Colors for Winter 2022-2023
Shades so good, you'll swear off hats.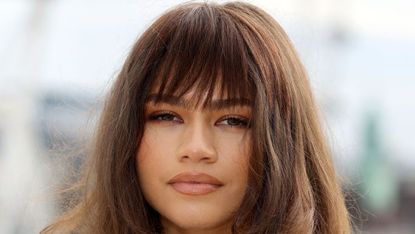 (Image credit: Tim P. Whitby)
Every winter, as we live life from beneath 15 layers of wool, we rely on exceptionally great hair color to elevate our just-rolled-out-of-a-snow-bank look. Hey, it's often the only part of us that's visible. But in 2022, a cold-weather makeover can be more transformative than ever, because nothing says, "I survived another year of this mess" like a fresh look. As for specific shades, the palette is looking distinctly lighter, according to AJ Lordet, colorist at New York City's Frederic Fekkai Soho. "Rich, neutral browns or coppery gold will be long-lasting. Bright highlights and funky fashion tones such as blues, purples, and bright reds are also happening, but I suggest that my clients leave things more natural at the root and focus mid-length to ends," she says. This will help for an easier grow-out.
Bianca Hiller, colorist for Nomad Model Management and Olaplex Ambassador agrees, saying of the rise of warmer chocolate shades: "Whether it be a suede-like brunette or a golden glossy blonde, I am seeing gold lights flashing."If you're still rocking the colorful hair vibe, Hiller is all for it, saying pops of color are a great way to introduce fun hues. "Something that can be hidden a look a little more conservative—but when you're ready to party and let the hair-free you can see the fun side popping through. Grunge lives on!"
Now that you know the winter hair trends for 2021-2022, it's time to cozy up and find your signature winter shade. Here, the prettiest of them all.
1/29
Deep Cedar Waves
Brunettes also have a lot of fun, y'all, we promise. For cooler undertones, opt for an equally cool chestnut shade that fades out in a subtle ombré. And if you're also all of a sudden thinking about getting bangs like Zendaya, we fully support that decision.
2/29
Icy Blonde
We have to give blondes some love too during the wintertime. What better way to say "I'm semi-ready for the cold" like a platinum blonde hue that's as edgy and sharp as the dropping temperatures? Phoebe Bridgers' root-to-tip bleach-blonde is actual goals, and I'll be bringing this photo to my hairdresser.
3/29
Auburn Dream
The next time you make your hair appointment or are going trip to the beauty supply store, grab that red hair dye that you've been eyeing for weeks. Winter calls for protective styles, so why not add some color while you're at it?
4/29
Subtle Low-lights
Is anyone else as entranced by Ciara's side-eye stare as I am? Beautiful stare aside, her curly updo is a mix of lightly touched blonde strands and dark roots. Even if you're rocking old low-lights, you can still make a statement.
5/29
Thick Roots
The curse of going blonde is always the upkeep. Not everyone has the time or expertise to touch up dark roots every few weeks. But as Florence Pugh shows, you should let your hair grow and embrace the roots, especially when wearing a sleek topknot.
6/29
Colorblock Pony
Make a statement this season with color-blocking. The best part of hair is that it grows back, but if you don't want a permanent choice, the INSERT NAME HERE Jordynn Pony ($49) can be manipulated, dyed, and cut to fit whatever hair look you're going for.
7/29
Espresso Grind
Deep, dark brown shades are always a good choice during the wintertime. A rich coffee shade is perfect for embracing the cold weather.
8/29
Multi-Toned Curls
Beyoncé is doing it, so I feel like that's a good enough reason to try to emulate these layered shades.
9/29
Creamy Blonde
A hint of warmth makes this shade feel accessible.
10/29
Jet Black
Glossy dark locks never go out of style.
11/29
Amber Tips
Two-toned ends like Gemma Chan's make for a bold statement—and will look super chic sticking out from a beanie.
12/29
Gingerbread
If you're nervous about going red, shoot for a more subtle, warm iteration like Emma Stone.
13/29
Caramel
Pretty, painted panels of highlights can warm up straightforward brown strands.
14/29
The Raven
If there was ever a time to go full Black Swan, it's now. With the cold weather comes the opportunity to go darker than ever.
15/29
Sunset Bronde
Indecisive minds, listen up: get the best of both worlds and blend blonde and brunette together to create the "bronde" shade you've always wanted. Do as Hadid did and let your dark roots gradually get lighter to achieve a reverse ombré effect. Both deep and warm, this sunset blonde shade is timeless.
16/29
Chocolate
The darker the hair, the sweeter the shade. If you want to look as enticing as Dunn, you need to rock a hue as sultry as this. This milky chocolate color will work with every item in your wardrobe, and won't require a lot of salon upkeep. Go easy on yourself with a color as effortless as this.
17/29
Rich Red
Just because the weather is cold doesn't mean your hair can't be hot (sorry, had to). Fire up your hair with a rich red because YOLO. Stop being scared of this scarlet shade—you know you've been daydreaming about trying a daring color for the longest. If worst comes to worse and you hate it, you can stay inside and shield yourself from the cold anyways.
18/29
Icy Lavender
Euphoria breakout star Hunter Schafer shows exactly how to switch up spring's supreme shade of pretty pastels for colder temperatures to come. Her topknot transitions from an icy lavender to a cool blonde on the perimeters, mastered by celebrity colorist Matt Rez using Redken products. This style proves that two-toned hues on the cooler side suit every season.
19/29
Caramel Ombré
It's official: The ombré is here to stay. But unlike the dip-dye look of your high school years, this style is all about using complementary colors versus contrasting hues. For dark brunettes, we're loving a seamless bronze melt from the mid-lengths to ends.
20/29
Chestnut Brown
While your first instinct may be to go darker and cooler for winter, try layers of chestnut brown instead, which help to add a warmer tone to your skin. And come spring, it's a perfect transition shade/base color for highlights.
21/29
Honey Blonde
Honey-blonde hair is the ultimate in-between shade for brunettes and blondes who want a minor change without looking too severe. J.Lo amped her brown hair up a few notches to an autumnal bronde (brown and blonde—you're welcome), proving the color is just as adaptable for winter as it was for fall.
22/29
Ash Blonde
Remember that one time when JLaw dyed her hair every possible shade of blonde? Our favorite of the hues is her recent ash blonde with platinum, face-framing highlights, which, honestly, is wearable every single day of the year.
23/29
Barely There Balayage
Let's be real: Gorgeous, low-maintenance color is #goals when the weather outside is constantly terrible, which is why we're so in love with going Joan Smalls' grow-out friendly route with touches of balayage on the mid-lengths and ends. If you're a brunette, try soft waves caramel, and if you're blonde, try a teensy-bit blonder.
24/29
Cold-Brew
It's not just for coffee: The newest hair trend is multidimensional brunette locks, dark with different shades of brown tossed throughout the hair color. You'll want your highlights to frame the face, using chestnut and gold highlights as opposed to mahogany lowlights.
25/29
Dark Mahogany
If you have your heart set on going darker, try this slightly subversive shade of ultra-dark mahogany. The plum undertones add a quiet vibrancy that suits winter's moodier vibes.
26/29
Snow White
Cynthia Erivo's hair will have you running to the hair salon for a double-process, because a platinum look is always perfect for winter. The color isn't the definition of 'low-maintenance', but is it chic? Most certainly.
27/29
Unfiltered Rosé Pink
Pink so natural it looks like it grew out of your head is all the rage this season, and is entirely attainable. For blondes, bleaching combined with a shadow-root technique will make the color softer and not-quite-so out there, will give you a worn-in but standout look. For brunettes, dark pink lowlights in the hair will create extreme dimension.
28/29
Red Velvet
Sure, this one seems only attainable of you already have red hair, but fun fact: Julianne Hough's natural hair color is actually blonde. With the right colorist—please, never try to get red hair at home; you'll almost always end up with some peachy-pink disaster—you can try a single-process copper hue for winter that won't be at risk of fading in the summer sun.
29/29
Toasted Coconut
It looks as delicious as it sounds: the hair is a rich, dark color at the roots, blending, almost melting into a much light blonde color at the ends. The transition is seamless, and the dark roots make the blonde look just a tad brighter. It's perfect for those with both warm and cool-toned hair, and the multi-tonal hair looks different depending on the light. Lauren Conrad goes for a more traditional ombré look, but highlights blended in with dark roots, like Suki Waterhouse's, look great too.
Celebrity news, beauty, fashion advice, and fascinating features, delivered straight to your inbox!
Alexis Gaskin is a Freelance Beauty Writer for Marie Claire who can often be found painting her nails to match every outfit. She covers beauty, skincare, and fat fashion and will get distracted by any and all Halsey-related content or anything glittery.