Worth It: GHD Duet Style 2-in-1 Hot Air Styler
Go from wet hair to sleek and straightened in just a few passes.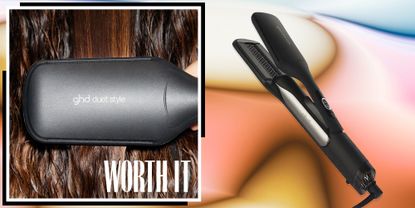 (Image credit: Future)
Marie Claire Newsletter
Celebrity news, beauty, fashion advice, and fascinating features, delivered straight to your inbox!
Thank you for signing up to Marie Claire. You will receive a verification email shortly.
There was a problem. Please refresh the page and try again.
Welcome back to Worth It, our weekly seal of approval on noteworthy launches and bespoke collaborations in the worlds of beauty and fashion. If it's featured here, consider these investments worthwhile.
The Promise
Imagine this: You take your wet hair straight to a flat iron. Cue the sizzling, the singeing, and the oddly familiar smell of burnt hair that's permanently etched into our collective memory thanks to poor, middle school-era decisions. Skipping the whole hair dryer and round brush chapter is a disaster waiting to happen—and a years-long pipe dream. But GHD's latest product launch? It makes said pipe dream a reality. Freshly washed, towel-dried hair can be fed straight into a flat iron sans damage—and be bestowed with unmatched shine.
The big question remains: How does it work when normal hair health logic has seemingly been thrown out the window? The answer lies in next generation (and in my opinion, revolutionary) AIRFLOW technology. I'm not going to get too science-y with you, but basically the engineers and scientists over at GHD were able to create an internal airflow system that generates gusts of air and heat, at the optimal temperature. Pair that with expertly angled vents and smart styling plates, and the result is a blow dryer, volumizer, and straightening tool all in one. Just drag the plates along a one-inch hair strand and be amazed; you'll go from wet to dry hair in just a few passes.
There's also a "Shine Shot" functionality that, for lack of a better phrase, seals the deal. It's a little button that pauses airflow and amps up the heat factor to add shine and smoothness. All in all, this innovation sounds too good to be true. But is it?
Why I'm Obsessed
I have vivid memories frying my damp hair with a 450 degree flat iron—time and time again. I was young, stupid, and I paid the freakin' price. Damaged hair was my status quo for years and yes, it was all kinds of traumatic and horrible. Fast forward to today, and I've learned to keep heat under 400 degrees and embrace the whole blow drying thing. But that doesn't mean the temptation to go straight for my hot tool went poof and disappeared.
Then, a few months back I found myself sitting in a top secret room with the GHD team and celebrity hairstylist Justine Marjan. They whipped out the GHD Duet Style 2-in-1 Hot Air Styler, which at first glance looks like a run of the mill straightener. Once the demo started though, I found my jaw on the floor. Marjan explained how it all worked (peep above), but this wet-to-styled situation was one of those see-it-to-believe-it type of situations. A hair innovation this big hasn't happened since, say, the Dyson AirWrap.
Me, my disbelief, and my wet hair sat in Justine's chair and continued to be amazed. The device is relatively silent for something that works like a blow dryer. I was able to have a conversation at normal volume as we tag-teamed my hair. The key, I learned, was to drag the device down small-sized pieces (about as big as the plates) slowly. I only needed about three passes for a full dry, which was wildly efficient. Because of the way the vents are placed (they blow air upwards), my roots even got some volume. As we continued layer by layer, my excitement grew. The tool genuinely styled my hair—it's not a hap-hazard blow dry. My ends were sealed and smooth, everything looked sleek and shiny, and I had the control I'm accustomed to with a flat iron. Then came the "Shine Shot" button. Don't get me wrong, you don't *need* to use it to get a polished look. But it certainly takes everything to a whole other level of reflective, mirror-like hair. The best part? The entire shebang took no more than 15 minutes—start to finish.
The GHD Duet Style 2-in-1 Hot Air Styler is *finally* available (it was the hardest secret ever to keep) and I proudly have mine on display in my bathroom. I've gotten a little experimental with it—attempting to do bends and loose waves. I've relied on the "Shine Shot" for day two refreshes. It's become my go-to, I'm-in-a-rush styling tool. The convenience is unmatched, my hair health is at an all time high, and every time I use it, I can't help but think how my middle school self seriously missed out.
Celebrity news, beauty, fashion advice, and fascinating features, delivered straight to your inbox!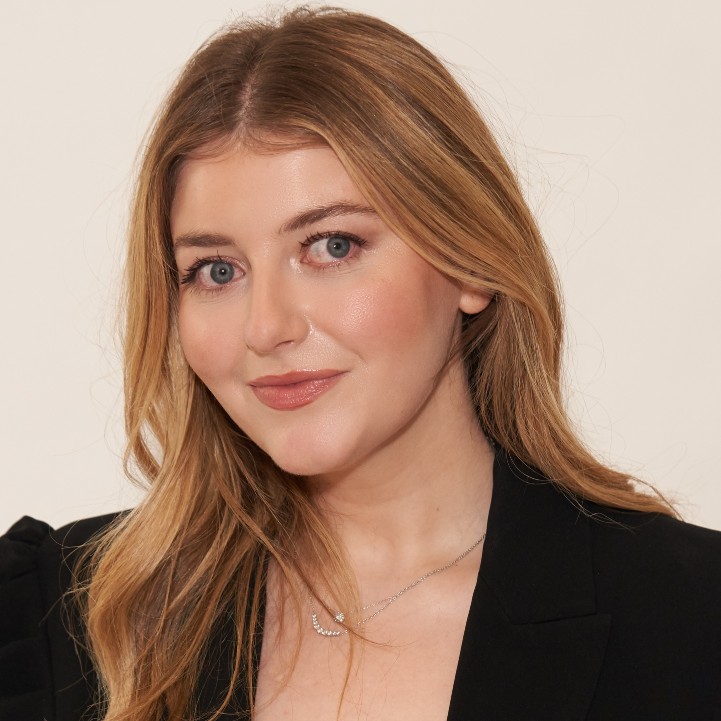 Samantha Holender is the Beauty Editor at Marie Claire, where she reports on the best new launches, dives into the science behind skincare, and keeps up with the latest trends in the beauty space. She has previously written for Us Weekly, Popsugar, Makeup.com, Skincare.com, and Philadelphia Wedding. Follow her on Instagram @samholender.