Tracee Ellis Ross' New Haircare Line Is What the Beauty Industry Has Been Missing
"Meet your hair, heart, self, and soul exactly where you are, and care for it."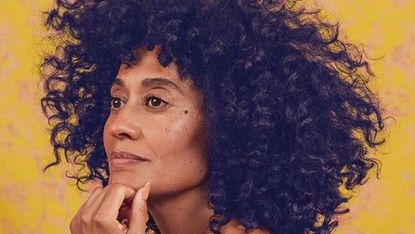 (Image credit: Pattern Beauty)
It's hard to describe the joy I feel when Tracee Ellis Ross opens her arms to embrace me. As I approach the leather-padded double doors of the TriBeCa penthouse where I'm meeting Ross, I'm sweating through my pin-stripe suit, anticipating what my time will be like with the three-time Emmy-nominated actress. But the sound of her infectious laugh a few feet away puts me at ease. It's the same laugh you hear in the Instagram videos she enchants her 7 million followers with. It's the same laugh you remember from Joan, her iconic role on Girlfriends. And it's the same laugh you hear every Tuesday night on the ABC comedy series Black-ish. Today she's laughing because it's a celebration of Pattern (opens in new tab): her new line of haircare products for natural, textured hair with 3b to 4c curl types (opens in new tab).
"Patten was 10 years in the making," Ross tells me. "I wrote my first brand pitch in 2008 when Girlfriends finished. It's taken me that long because the gatekeepers and decision-makers of the beauty world did not understand the magnitude, importance, beauty, breath, and consumer dollars of the curl community. They wondered why anyone would want products from me. The pitch and hair products I wanted to create then are the same now. The difference is now I apparently have credibility," the 46-year-old says fervidly. "This is made from the heart of a woman who is honored to be a part of this community. This is 20 years of dreaming, digging in my hair, and thinking about what I was longing for."

The collection—which includes jumbo and travel-size conditioners, shampoos, oils, detangling tools, and more—embraces every bend and twist of tightly-textured curls, looking to change this beauty industry blind spot. For instance, typically, a product's effectiveness is determined by testing it on straight, white hair, as Ross found out during the development process. "Lots of learning had to occur for me to communicate this issue to chemists, particularly before I had the help of a product development person and chemist of color," she explains. But Ross believes everyone deserves access to their most beautiful self in their own bathroom. "You should be able to get products that work, are not toxic, and actually care for, nourish, and hydrate your hair at a price point that's accessible," she says. "It was important for me not to design some high-end line that was $85 for a product you could co-wash your hair with twice."
Be One of the First to Shop Pattern Beauty Products
Ross was fortunate to have positive role modeling of curls from an early age. Her mother, the legendary Diana Ross, always wore her glorious curls proudly. But even that didn't shield her from society's stereotypical standards of beauty. "I was rolling my eyes at what my mom thought was cool," Ross says, laughing. "That was not what I was determining as the cool factor when it came to my hair. Instead, I was looking at the wallpaper of my life: TV, music, magazines, and the media. In the late '80s and early '90s there were so few people that were wearing their hair naturally." She thought that she needed to have "bouncy, behaved, easy-breezy hair" to be beautiful.
Because of this, while in grade school, she began relaxing and texturizing her hair. "We would go to the salon every Saturday," she recalls. "I would get a wet set with big rollers, sit under the dryer for an hour-and-a-half, and then wait in line to get a press-out. I didn't wrap my hair, but my sisters and I would sleep in sponge rollers. Sometimes, my mom would put an iron right on the stove and do my edges. By the time Thursday or Friday occurs, my hair was slicked back into a ponytail so tight that I swear to God it gave me a headache."
Try Tracee Ellis Ross' New Curl Collection
Ross is describing a process many women of color know so well—a process of altering ourselves to feel accepted. "I am a part of a community of women who are still working through these things on a regular basis," she acknowledges. "We are still pushing up against cultural norms thinking that we have to have 'this' hair or 'that' hair." The shift for Ross happened when she moved to Europe in 8th grade for boarding school, which was too far from a black hair salon to get her hair done every week. She was left to straighten her hair on her own. "By the time I came home in 10th grade, my hair was beaten to a pulp," she says. "All those things I tried to do for my hair to look easy-breezy, bouncy, and behaved had the complete reverse effect."
After years of trial and error, she discovered a regimen that helped maintain her curls, but she wasn't fully satisfied with the products on the market. And even once she became famous, caring for her hair was a struggle. On set of Girlfriends, there was no hairstylist that could do her hair. "Most haircare professionals, even if they were a person of color, only knew how to put heat on my hair," Ross says. "I would wake up early before set, and in the first two seasons I did my own hair.
Ross believes that embracing your beauty is a form of activism—it's about developing and blossoming in your own sense of selfhood. "Beauty does not come from looking like other people or being like other people, which is especially true for Black women," she says. "True beauty is a manifestation of your becoming, and the space that you take up. It's about knowing yourself, loving yourself, understanding yourself, and nourishing yourself, which is the message of the brand: Meet your hair, heart, self, and soul exactly where you are."
Moments later, I join Ross and a room full of fellow beauty editors in...a shower. Ross greets us in a bathrobe and leads us into a massive, steamy bathroom so that we—and her followers tuned in on Instagram Live—can see her products in action. In a nude bathing suit she washes and conditions her hair, walking us through how she uses each Pattern product, step-by-step, to achieve her best curls.
Lots more laughs are shared; the same, familiar laugh I heard when I first arrived. Playfulness aside, I leave with a deeper understanding of the actress's intentions behind Pattern. "This brand is not a manipulation of me," she tells me as our time comes to a close. Pointing to her crown of curls she says, "This is my heart in all of its bareness and rawness. This is my authentic self."
Pattern is available today on Patternbeauty.com (opens in new tab) and at Ulta.com on 9/22.
For more stories like this, including celebrity news, beauty and fashion advice, savvy political commentary, and fascinating features, sign up for the Marie Claire newsletter.
RELATED STORIES
Maya Allen is the former Digital Beauty Editor at MarieClaire.com where she covered makeup, skincare, haircare, wellness, you name it! She has a 15-step skincare routine, owns over 200 red lipsticks, and enjoys testing the latest and greatest in beauty. On most weekends, you can find her at her happy place, which is her makeup vanity. There, she's usually blasting her speakers while singing along to lyrics at the top of her lungs, and making sure her highlighter is on point.