Would You Chop Off Your Long Hair?
After years of her signature long locks, fashion designer Aimee Cho gets a grown-up crop. What do you think?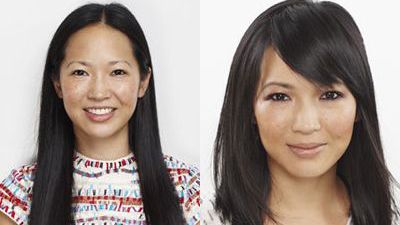 (Image credit: Perry Hagopian)
Marie Claire Newsletter
Celebrity news, beauty, fashion advice, and fascinating features, delivered straight to your inbox!
Thank you for signing up to Marie Claire. You will receive a verification email shortly.
There was a problem. Please refresh the page and try again.
At 34, I'm an adult in every aspect of my life: I'm married, thinking about having kids, and own my own company, Gryphon (I have employees!). But somehow, because of my girlish hair, I've never felt like a real grown-up. Looking youthful should be an asset, but being mistaken for a fresh-faced 16-year-old can be a job liability—especially when you're dealing with slick garment-industry types. After 10 years of the same long style, I've outgrown my hair. I need a major change. Besides, when I start a family, I don't want to be mistaken for a pregnant teen! But when I tell my husband, Tom, he threatens to divorce me if I chop it all off, even though I had a boy-cut when we met. Thankfully, stylist Harry Josh (John Frieda creative consultant and Gisele Bündchen's mane man) doesn't have a drastic crop in mind for me.
"There's a ton you can do besides a super-short bob," he assures me. "You're a busy young designer. You need a cut that you don't have to style." Sounds good. But I'm skeptical about the heavy '60s fringe Harry suggests. My mom has had bangs (and a blunt bob) my entire life. When I express my hesitation, Harry laughs. "Let me guess—her hair is like a China doll's? This will be soft and wispy. It'll look completely different."
With the first snip, more than a foot of hair falls to the floor. There's no going back now. Surprisingly, I don't feel traumatized over the length; I feel relieved. As I leave the salon, the thick fringe tickles my eyes, but I like the way it brings them out.
Two weeks later, I start to adjust to the new cut. I love the shoulder length because it's still long enough to twist up into a bun. While I used to put my hair up 99 percent of the time, now it's more 50/50. I've gotten comments ranging from "glamorous" to "cute" and even "Xanadu." My mom thinks this is her dream cut for me (of course), and my employees are very positive, but I wonder if it's because I sign their paychecks. My husband and close friends tell me the bangs make me look like a kid, which isn't the point, so I'm going to grow them out a little.
With the new cut (and some extra eyeliner), I feel more mature now, but sometimes I miss my long hair. When I used to wear it down, it's what people noticed about my appearance; it was my statement accessory. Now I don't have my hair to hide behind and must rethink my wardrobe and makeup routine. But I guess that's all a part of growing up.
Celebrity news, beauty, fashion advice, and fascinating features, delivered straight to your inbox!