The 13 Best Curling Irons for Every Hair Type
Waves and ringlets and texture, oh my!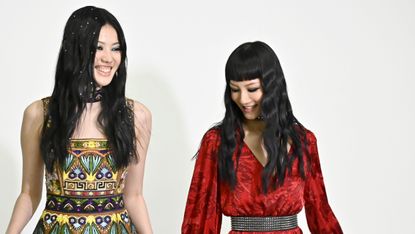 (Image credit: Astrid Stawiarz)
Is the curling iron the first hair tool you ever tried? If not, allow me to speak for myself. My mother's was about 400 pounds, had a convenient three-inch cord, heated up to an approximate 900 degrees, and was outfitted with a rigid, rusting clamp that creaked angrily with each twist. The resulting looks were breathtaking in the fullest sense of the word. I'd emerge from the bathroom with stiff minuscule ringlets (opens in new tab), a cloud of eau de singed strands trailing behind me, and a few telltale burns simmering along my forearms. Suffice to say, curling iron (opens in new tab) technology—and my own skillset—have both come a long way.

What should you look for when you're in the market for a curling iron? A few things, really. Most models these days are tourmaline or ceramic coated, which just means they heat up more evenly than old-school aluminum. Depending on how intricate the looks you're hoping to create are, you could also evaluate the heat settings and options, although a single, finely tuned temperature can also be effective. It's also important to consider if you're more comfortable with a clamping model or a freestanding wand, and if you'd benefit from extra features like auto shut-off, extended cords, and tapered barrels.
Thankfully, the hot tools of today are more tech-y and primed than ever to save us the trouble, and the burns. Here, our picks in every price category for the hair curlers that are doing the most for the least amount of effort.
1/13
T3 SinglePass Curl Professional Ceramic Curling Iron
For Less Damage
I'm going to call this unit the White Stallion, and I'm not apologizing. What's amazing is the internal smart microchip, which monitors the overall temperature of the barrel, making minute adjustments to keep the heat steady. The result? Your hair curls and coils quicker, and with less damage. Also, points for a lightweight body and an adjustable range from 260-410°F.
2/13
Conair Tourmaline Ceramic Curling Wand
For Beginners
At its most basic, this clamp-free ceramic curler is all you need if you're only styling your hair every so often. The tapered end means it's easy to manage for people who aren't used to grip-less wands and it heats up in thirty seconds to one of five pre-set temperatures for a perfect curl every time.
3/13
CHI Ceramic Curling Iron
For Damaged Hair
If your hair is prone to breakage—albeit due to dryness, fineness, or existing damage—this ultra-smooth barrel might be your best bet. It's formulated with *volcanic lava* and ceramic, which is said to straighten and glide over strands with less heat, snagging, and tangling.
4/13
Drybar The 3-Day Bender Digital Curling Iron
For Stiff Arms
Curling iron carpal tunnel could be a thing of the past with Drybar's automatic rotating clamp that does the swiveling for you. The LCD heat system is another nice touch that helps you monitor the temperature so you don't do serious damage to your hair.
5/13
ghd Soft Curl Iron
For Heat Control
While this understated device might look like every other styler on this page, it's actually a little different. With six unique heat sensors along the barrel, the iron curls your strands evenly to the perfect 365°F, no more or less. It also got points for the springy, ergonomic handle, which makes using a clamping iron fun not frustrating.
6/13
Hot Tools Spring Iron
For Small Coils
There's something about the no-nonsense effectiveness of this 24-karat gold-plated barrel that makes it a staple in so many celebrity stylists' kits. It's also the smallest wand of the bunch, meaning it creates the tightest coils.
7/13
BaBylissPRO Nano Titanium Spring Curling Iron
For Versatility
There's something about the no-nonsense effectiveness of this 24-karat gold-plated barrel that makes it a staple in so many celebrity stylists' kits. It's also the smallest wand of the bunch, meaning it creates the tightest coils.
8/13
Bed Head Ceramic Tapered Styling Iron
For Everyday Use
Once you've got the hang of it, this Bed Head iron is ideal for everyday use and gives you more bang for your buck than your average low-end iron. The tapered barrel makes it easy to create corkscrew curls and loose beachy waves without switching irons. NB: Comes with a handy heat protective glove.
9/13
Remington Pearl Ceramic Conical Curling Wand with Soft Touch Finish
For High Heat
What do you get for under $20? A ceramic curling iron infused with crushed pearls, which distribute an even and consistent heat. Adjust anywhere up to 410°F—a lock allows you to set the barrel at the ideal heat for you—and get get get get your curl on.
10/13
Revlon Copper Ceramic Curling Iron
For Thicker Hair
Because the spring clamp on this styler is relatively small, it's very easy to press and operate—which makes it an ideal choice for someone with a lot of hair. A copper and ceramic barrel is ultra-hot—reaching temperatures of 425° F, one of the highest in the group—meaning it's also ideal for stubborn, slippery strands that tend to resist curls or crimps.
11/13
Bio Ionic Oval Curling Iron One Pass
For Beachy Waves
Look closely: This futuristic device isn't a perfect circle. The oval-shaped barrel means you can avoid pageant-curls in favor of irregular (and more natural-looking) waves. Grippy silicone strips line the edges of the wand, so won't be creating obvious crease-treads in your hair.
12/13
Luxy Signature Curler
For Long Hair
Long haired ladies: here's your new favorite curling wand. Luxy Hair's 7.5" barrel—a full two inches longer than most—means you can style a long strand in one-go instead of double wrapping. Other perks are the cool tip that prevents accidental burns (the worst). Plus, the ceramic wands emits negative ions that are said to banish frizz and add some extra shine to your strands.
13/13
Lunata Belisa Cordless Curling Wand
For Travel
Curling irons: Not just plug-in devices anymore. This cute version is powered with rechargeable lithium-ion batteries that hold a charge for 35-50 minute, meaning it's a smart option for on-the-go touch-ups and styling sessions. Charge it fully in about two hours, then get on your merry curly way.
Hannah Morrill is a writer and editor based in Portland, Maine. She's an avid reader, an indifferent face-washer and a sunscreen/retinol evangelist.