Act Fast: The Dyson Airwrap Is *Finally* Back in Stock
Here's where you can buy the legendary hot tool before it sells out again.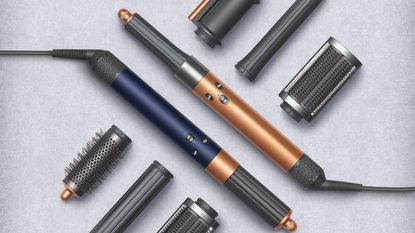 (Image credit: Courtesy of Dyson)
I'll cut right to the chase: The Dyson Airwrap is back in stock. There's no telling how long the tool is going to be available (one colorway is already sold out), so it's probably in your hair's best interest to act fast. It comes at a pretty hefty price tag ($600, to be exact), but I can confidently say that it's highly coveted for good reason—and worth every penny. It makes blowouts foolproof, maintains hair health, and is essentially three hair tools in one.
The newest iteration of the Airwrap, which originally launched last June, was reengineered to be more efficient and effective. Think: 2.0. Here, I'm laying out the biggest differences between the new version and the original Dyson Airwrap. From ease and efficiency to attachments that make styling more versatile, I promise you'll want to scoop up your first Airwrap—or give your existing one an upgrade—while you can.
Better Airflow
I'm not trashing the OG iteration—it quite literally revolutionized hair styling. But the newer edition did improve a lot of the pre-existing pain points. For example, you previously had to swap barrels in order to change the direction of your curl. Now? Just switch the knob at the top.
Longer Barrels
If you have medium to long hair, listen up. I can't even put into words how transformative the extra long barrel is. It grabs the entirety of your strand in one pass, which means you can work on larger chunks at a time and style your whole head at a quicker rate. Plus, your curl has the ability to start higher up on your head.
Flyaway Attachment
The Airwrap is no longer *just* a styling tool. It's also a blow dryer and flyaway smoother. The Coanda Smoothing Dryer is dual function. It allows you to give sopping wet hair a rough dry ahead of styling and tame flyaways once your hair is styled. It's not a hoax either—I'm living proof that it works.
Better for All Hair Types
The Dyson Airwrap Multi Styler also comes with two additional attachments: The Firm Smoothing Brush and the Soft Smoothing Brush, which were designed for frizzy, coarse hair and fine, flat hair respectively. They give the user increased control to either create a silky finish or create volume by manipulating airflow and tension.
Samantha Holender is the Beauty Editor at Marie Claire, where she reports on the best new launches, dives into the science behind skincare, and keeps up with the latest trends in the beauty space. She has previously written for Us Weekly, Popsugar, Makeup.com, Skincare.com, and Philadelphia Wedding. Follow her on Instagram @samholender.