Editors handpick every product that we feature. We may earn commission from the links on this page.
If You've Never Used an Overnight Hair Mask, You're About to Witness a Miracle
Or at least a really, really excellent hair day.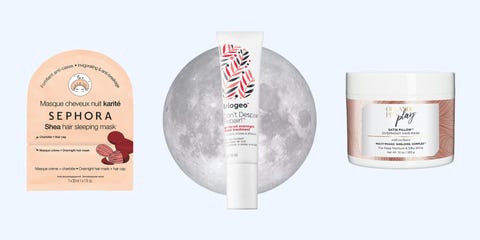 When your hair is insanely dehydrated, frizzy, and damaged, you've got two at-home options: deep conditioners, which require you spend an extra 10 minutes in the shower, twiddling your thumbs and dodging the water, or dry-hair treatments, which involve you, a sink, and a whole bunch of patience, trying to massage a gloopy mess into your hair without mucking up your bathroom.
[contentlinks align='left' textonly='false' numbered='false' headline='Related%20Stories' customtitles='The%20Khlo%C3%A9%20Kardashian%20Hair%20Lookbook%7CThe%20Celebrity%20Guide%20to%20Getting%20Highlights' customimages='|' content='gallery.4930|gallery.2734'] But now, there's a third option on the market, and it comes with a choir of singing angels. Meet overnight hair masks, a super-potent treatment that penetrates your hair cuticles while you sleep, so you can wake up with smoother, softer, and ridiculously shinier hair.
Just comb one through your dry hair before bed, slap on a hair wrap or shower cap, and go to sleep. Yeah, it's weirdly that easy, and you'll see a difference after just one night. Keep reading to pick one (or all) from our favorite newbies.
This content is created and maintained by a third party, and imported onto this page to help users provide their email addresses. You may be able to find more information about this and similar content at piano.io