The Cheater's Guide to Getting Beach Ready
It's Hail Mary time! Here's how to look great in a bathing suit, even if you haven't made it to the gym all winter.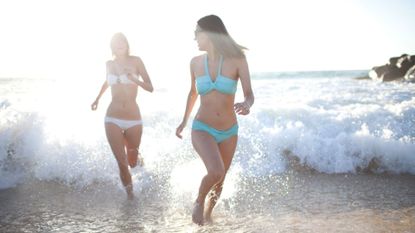 (Image credit: Marie Claire)
We know you had the best of intentions when you swore up and down that 2013 would be different—this year you would schedule barre class three times a week and eat meals that came from a kitchen instead of a takeout bag so you could look slammin' at the beach. Now, suddenly, it's shorts weather. Stay calm. Our cheater's guide will show you how to scrub, tan, and detox your way to a svelte, smooth body you can rock all summer long.
BAN STRETCH MARKS Even the trimmest of figures can be plagued by these lines due to adolescent growth spurts, pregnancy, or any rapid weight gain or loss, explains NYC dermatologist Dr. Jody Levine. Microdermabrasion helps by removing the superficial layer of skin (making it appear more even-toned), but scheduling an appointment for the procedure weeks in advance is hardly conducive to a same-day beach BBQ emergency. Levine likes the at-home device Riiviva Microderm, $299; it comes with a medical-grade diamond tip designed for stretch marks (specialty tips cost $45 for two) and results can be seen after one treatment. "It exfoliates more deeply than scrubs to improve the appearance of stretch marks, and over time—thanks to the device's suction function—it should stimulate the dermis, causing a remodeling process in the skin to occur," Levine says. Translation: smoother-looking skin on your butt and stomach.
INSTA-TONE French women are way ahead of us when it comes to skin-firming. Many rely on a body-toning massage called le palpé roulé (the palpated roll) to get the figures they desire. Daphne Coulmance, spa aesthetician at the Caudalíe Vinothérapie Spa in New York City, recommends the massage to clear bulge-inducing blockages so blood can circulate more freely. Massage your stomach in a counterclockwise circle, then move on to your legs and backside. "Think of how you knead bread," says Coulmance. "The more force you use, the better the results." (Pair with a lotion designed to make skin appear firmer, like SkinCeuticals Body Tightening Concentrate.)
SLIM WITHOUT THE GYM You might not have time for bikini boot camp, but there are other ways to see results. Research shows that taking a combination of amino acid supplements (like those in SeroVital-hgh, 120 capsules for $99) can raise human growth hormone (HGH) levels. And because one of the reasons muscles get flabbier and weight creeps up with age is lower levels of HGH, boosting your levels bodes well for your beach body. Another option: DermaDoctor Shrinking Beauty lotion. It was inspired by lobsters (!), which have a hormone that allows them to shrink so they can wiggle out of their shells when they molt. Most firming creams use caffeine to temporarily decrease fluid in cells, but "the botanicals in Shrinking Beauty mimic the lobster hormone to shrink fat cells," says dermatologist Dr. Audrey Kunin, who created the product.
SMOOTH CELLULITE There's no such thing as a cellulite cure, but if you're diligent about daily application, a new generation of products can help smooth lumpy skin. Check out Clarins Body Lift Cellulite Control, which contains botanicals shown to stimulate collagen produc- tion in fatty areas so cells stay in their place and don't become dimples. It can reduce the appearance of cellulite when applied daily using the com- pany's "self-massage body contouring method." (Learn how to do it at youtube.com/clarins.) While the benefits accumulate, get instant gratification with Bliss FatGirlSlim Lean Machine, an at-home device that vacuum-massages cellulite into temporary submission.
BEAT THE BLOAT "Excessive sodium can create 'false fat,' making you look bloated and up to 9 pounds heavier than your actual weight," says nutritionist and author of The Beauty Detox Foods Kimberly Snyder. If multiple margarita happy hours have left you feeling like one big tortilla chip, try Snyder's secret weapon: unsweetened cranberry concentrate. "It acts as a diuretic to flush out excess sodium," she says. Mix 1 to 2 table- spoons in 16 ounces of water, and sip—if it tastes too tart, mix in some stevia. Avoid false fat altogether by nixing salty processed foods, and pass over sugary, bloat-inducing tropical cocktails for a simple vodka and soda water or a glass of wine. Another easy trick is to add raw apple cider vinegar to your diet. "A tablespoon a day can help prevent bloating; just use in place of regular vinegar in salad dressing," says Snyder.
FIGHT THE FUZZ So you never got around to using that Groupon for laser hair removal and there's just no time for a wax. Hit up Veet Spray On Cream Hair Remover, which dissolves hair close to the root in three minutes. If you're more of a razor girl, get the job done with the new Gillette Venus & Olay Sugarberry Razor; its moisture bar releases a light lather, so there's no need for shaving cream. After hair removal, treat areas prone to ingrowns, like your bikini line, with Bikini Zone Medicated After Shave Spray.
SOFTEN ROUGH SKIN With fewer bumps and rough patches, skin reflects light evenly—and you look better. Try brown-sugar-based Caudalíe Divine Scrub (previous page) in the shower to slough away dead skin, followed by Caudalíe Divine Oil, $49, which gives legs a sexy sheen. If body breakouts are your foe, swap your loofah for the Earth Therapeutics Exfoliating Hydro Towel infused with medicinal charcoal (used for centuries to draw impurities out of skin). And those stubborn bumps on your upper arms, thighs, and butt? The "chicken skin" is likely keratosis pilaris, an overproduction of the protein keratin that builds up around hair follicles. Kunin recommends exfoliation and glycolic acid to smooth it out. We like the Glytone KP Kit, $64, for its one, two punch: an exfoliating body wash followed by a glycolic acid body lotion.
FAKE A TAN Self-tanning is a beauty gift that just keeps giving. In addition to making visible veins, bruises, and cellulite less noticeable, going darker makes you look more toned—especially if you get crafty with at-home contouring that fakes muscle definition. After exfoliating, "do one layer of self-tanner all over, and then add another layer underneath your butt and down the sides of your thighs and stomach," suggests St. Tropez Skin Finishing Expert Sophie Evans. Try Jergens Natural Glow Foaming Daily Moisturizer, followed by St. Tropez Self Tan Bronzing Mousse, $42, to contour.
LOOK LEANER IN SECONDS You may not have Charlize Theron's bone structure, but you could learn a thing or two from her regal stance, no doubt left over from a youth spent in the ballet studio. "Great posture always makes you look taller and thinner," says Mary Helen Bowers, founder of fitness method Ballet Beautiful. "Neck long, shoulders down, chest open, and abs pulled in and up to flatten your stomach—it makes an immediate visual impact." Exactly what you're after.
Celebrity news, beauty, fashion advice, and fascinating features, delivered straight to your inbox!