Worth It: Joey Healy Face Renovation Device
This is the closest I'll ever come to a brow lift.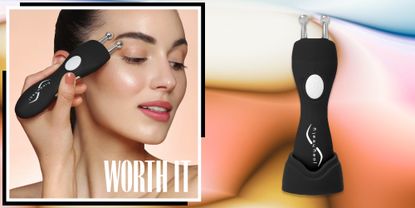 (Image credit: Future)
Welcome back to Worth It, our weekly seal of approval on noteworthy launches and bespoke collaborations in the worlds of beauty and fashion. If it's featured here, consider these investments worthwhile.
Joey Healy Face Renovation Device
The Promise
Skincare gadgets make me indescribably happy. I kid you not, nothing puts a smile on my face quite like a new techy tool. So without further ado, let's talk about the latest and greatest, which has been brought to the forefront by Joey Healy. He's an eyebrow magician with over a decade of experience plucking, shaping, and tinting. His namesake brand, which up to this point has been complete with brow gels, pencils, serums, and grooming tools, is loved by editors and industry insiders. Despite the consumer love, Healy hasn't released a new product in years.
Enter: The Face Renovation Device, a brand-spanking-new microcurrent tool which launched at the top of the month. "Microcurrent therapy uses low-level electric voltage to stimulate the muscles in the face," board-certified dermatologist Dr. Karen Lal previously told us. "This therapy stimulates this system, causing the muscles to perk up."
Microcurrent facial devices are nothing new. In fact, there are dozens of phenomenal devices out there. What sets Healy's shiny new tool apart is its brow-friendly design. The shape is catered to the narrow eyebrow area and was designed to fit perfectly along the brow contour. The tool has a more slender design than most, which supposedly makes it easier to maneuver. That all said, does it actually add something special to the market? My honest thoughts, ahead.
Why I'm Obsessed
My face has been the testing ground for the TheraFace, the Foreo, the NuFace, the Ziip—to name a few. I know what works, what doesn't, and what's meh in execution. My familiarity with such highly rated tools is in part why I couldn't believe how impressed I was with Joey Healy's Face Renovation Device. Don't get me wrong: I had very little doubt that this tool, which is created with the arch of the brow bone in mind, wouldn't impress. I trust Healy implicitly for anything and everything related to my eyebrows. But, I'm a don't-believe-it-till-you-see-it type of girl, so off to my testing I went.
My initial assessment was as follows: Every single one of my current microcurrent devices is a palm-sized, oblong shape—except this one. It's longer than most, which completely changes the grip and control function. The microcurrent prongs themself are also longer—and smaller—than I've seen in the past. In theory, the design is supposed to be more intuitive along the brow area and jaw.
Now, let's get to it, shall we? I applied the conductive gel to one side of my face, turned the device all the way up to level five, and brought the tool to my brow. And wow—this current is strong. Really, really, really strong. I consider myself an experienced microcurrent-er and I needed to scale back to level two. With that *slight* adjustment, I started again. The power was still intense (peep the incontrollable eye twitching in the video below), but it was very bearable.
I focused just above my eyebrow, gliding the tool in an upward motion and holding each movement for three seconds. I moved onto the temple and glided the prongs below my eyebrow, pushing up all the while. I noticed two *very* important distinctions during the process: First and foremost, the long handle allowed me to actually see what I was doing and where the microcurrent was being directed. Secondly, the extra small prongs allowed me to be extra targeted in my approach. They nestled perfectly along the brow bone, which is a stark contrast to some of the bulkier competitors.
Fast forward through around five minutes and I took a step back to see the comparison between the treated and untreated brow area. I kid you not, my right brow was a solid two centimeters higher. My hooded lid had perked up—and no, I did not use the microcurrent tool directly on my eye (please, don't do that). The entire upper quadrant of my face simply looked wide-eyed and perked up. Think: Brow lift sans the needles.
I'm not saying that the Joey Healy Facial Renovation Device trumps every other microcurrent tool on the face of the planet. Plenty do the lifting job perfectly well. But...if you're looking for some extra TLC around your eyebrows, nothing else is going to lift, arch, and tighten well as this guy.
Marie Claire email subscribers get intel on fashion and beauty trends, hot-off-the-press celebrity news, and more. Sign up here.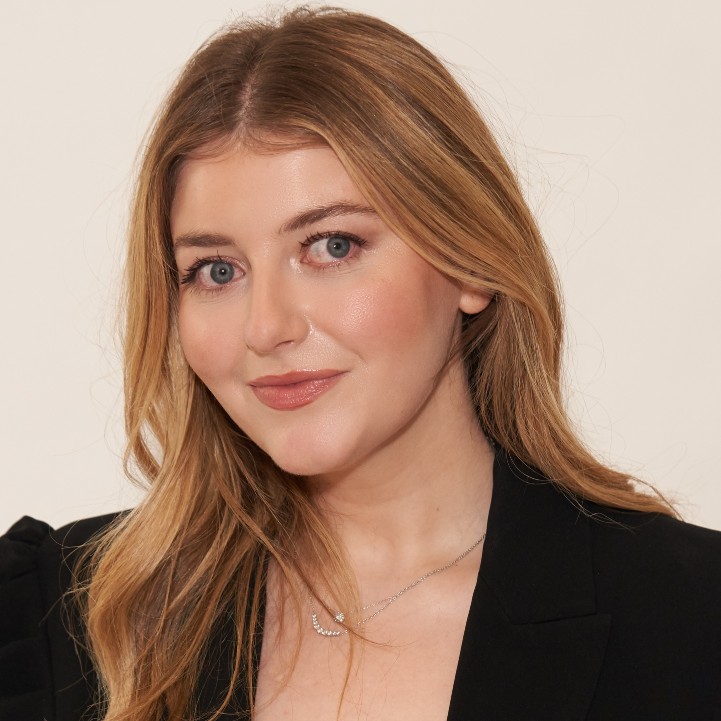 Samantha Holender is the Beauty Editor at Marie Claire, where she reports on the best new launches, dives into the science behind skincare, and keeps up with the latest trends in the beauty space. She has previously written for Us Weekly, Popsugar, Makeup.com, Skincare.com, and Philadelphia Wedding. Follow her on Instagram @samholender.