Extreme Makeover
Gradually, and then suddenly, we've noticed makeup has shifted. Color, texture, and techniques are going in a bold new direction. Our beauty editors grin and share it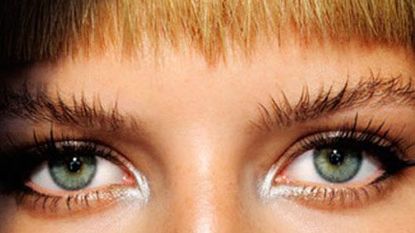 (Image credit: Greg Delves)
HIGHBROW BEAT
Uber-stylized arches, which give you that high-minded look, can be had by sweeping brows upward with an eyebrow brush dipped in hair gel (not brow gel, which has less hold). Tyron Machhausen, the makeup artist who created the looks here, also suggests highlighting the inner corners of your eyes with a silver liner to open them up and give them a bit of sparkle. TRY: Sephora Iridescent All Over Color in 108 I.
DEPP-SET EYES
Johnny Depp's kohl-rimmed eyes in Pirates of the Caribbean continue to haunt dreams and spark trends. "If you're not used to strong eye looks, choose pearl and shimmer shadows over mattes," says Machhausen. (Make that "black pearl...")
TRY: L'Oreal HIP High Intensity Pigments Shocking Shadow Pigments in Tenacious and Kevyn Aucoin Eyeshadow Brush or DuWop Smoke Shadow Liner in Olive Branch.
GET YOUR STREAK ON
Clip-in hairpieces were used on our model, but a professional colorist (or you, with a home- home highlighting kit) can achieve the look with color highlighting that's either five shades darker or lighter (for optimum contrast) than your natural hue. Place streaks or pieces underneath the top layers of your hair so that when it moves, they peek out.
TRY: HairUWear POP Put On Pieces and Clairol Born Blonde Highlights.
SHE'S A VERY CHEEKY GIRL
Even if you didn't get enough sleep last night, your skin doesn't have to give you away. "Nothing wakes up a face like bright cheekcolor," says Victoria Jackson, founder of Lola Cosmetics. Consider a cream blush with red or pink overtones (after your tan's gone, brown or beige can look muddy). Blend into the apples of your cheeks and set with loose powder. Finish by outlining and filling in your mouth with a complementary lip pencil.
TRY: L'Oreal HIP High Intensity Pigments Blushing Creme in Elated and NARS Velvet Matte Lip Pencil in Dragon Girl or NARS Creme Blush in Gueule de Nuit and NARS Velvet Matte Lip Pencil in Red Square.
NOW NAIL IT
Polishes that pack this much punch look chic on short, slightly rounded nails, says Jan Arnold, cofounder of Creative Nail Design. (On long nails, it's a tad trashy.) TRY: OPI Nail Lacquer in Nicole Alert! or Creative Nail Design Enamel in Vitality.
ABOUT A POUT
Play up your pout--it reminds people you're no pushover--with a deep, dramatic lipstick (think Paloma Picasso's signature crimson or Scarlett Johansson's ubiquitous kisser). Use your finger for a personally stamped finish. Want a fuller effect? Highlight the area above your bow with a little brush of gold eyeshadow. TRY: Giorgio Armani ArmaniSilk High Color Cream Lipstick #12.
Celebrity news, beauty, fashion advice, and fascinating features, delivered straight to your inbox!