The Buzziest Beauty Microtrends of Summer 2019
Plus shopping picks so you can get in on the action.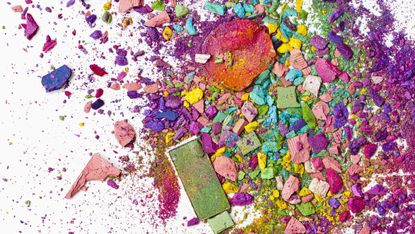 (Image credit: Getty Images)
Whether you're getting ready for a night out or prepping for vacation, summer's relaxed nature makes it the perfect time to experiment with the most double-tap worthy beauty trends. Be bold, get a little crazy: This is the season to not play it safe.
Plus, the buzziest microtrends are simple and affordable. Nothing requires a major investment in time or money—it's as simple as swapping out your neutral eyeshadow for something brighter or stepping outside the mani-box when picking your color (hint: more is better).
Bring your "saved" folder on Instagram to life with the below influencer-led trends. See which speak to you, then shop them with products you can find in Walmart's impressively stocked beauty department.
1. Green Eyeshadow
This surprise shadow shade has become essential for summer 2019. The color family happens to suit skin tones across the board (hence the trend factor), but it's important to choose the right shade to avoid looking like you're ready for Halloween early.
Try starting with a deep green, like dark emerald, or something with a bit of brown, like olive. If that's a cinch, go even bolder with your pigment and use a true grassy green for maximum impact. Plan on going fairly minimal with the rest of your makeup so that the color isn't overpowered.
2. Graphic Liner
Branch out from the lash-line—this summer, you have full permission to get graphic with your eyeliner. Get artsy: A thick strip up top can be contrasted with a central dot of color on the bottom. Or, use a liquid liner to outline your entire lid, keeping the pen in the crease rather than on the lash-line, and create a geometric look that pops.

You can go with black (which means you can still work the liner in your day-to-day makeup routine) or if you're feeling particularly bold, try an electric blue or amethyst.
3.Multicolored Manis
You know those five indecisive minutes you spend at the nail salon trying to pick between a handful of colors in front of you? You can officially take back that time this summer. Nix the battle of narrowing it down and go with your favorite five (or 10) shades instead.
Our feed is flooded with variations of the multi-colored mani. You can go gradient with five similar shades to create an ombré effect on your nails, or channel those bright summer vibes with an assortment of rainbow colors.
4. Opposite Shades of Eye Color
In the mood to make a statement with your makeup? Try using two opposing eye colors. Apply one to the top lid and one to the bottom—the trend works whether you opt for a precisely drawn line or a messier smudge.
While Instagram's going wild for color pairs that sit nearly opposite each other on the spectrum wheel, the look works with similar hues too. Double up on microtrends and try green here: Use a rich malachite on the upper lid and a subtle lime under.
To make all that brightness really pop, finish with an ink-black cat eye.
5. Breezy Bob
Hassle-free hair for summer? Check. A buzzy cut seen on celebs everywhere? Yes, please.
This summer's bob is cool, literally and figuratively, and makes for simple styling. Before you reach for your straightener for those beachy waves, spray SGX NYC The Bodyguard from your roots to your ends. The lightweight, texture-enhancing spray will protect your cut from heat damage and help tame the summer frizz.
Maya McDowell is an Assistant Editor at HearstMade.