Chanel Wants You to Try French-Girl Pink Makeup
Very pretty, a little punk, and nothing bubble gum about it.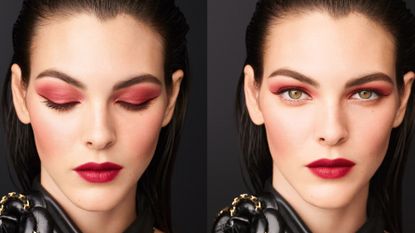 (Image credit: CHANEL)
Eternally cool makeup artist Lucia Pica (opens in new tab), who hails from Naples, Italy, and is the global creative makeup and color designer for Chanel (opens in new tab), wants you to forget everything you know (or think you know) about pink makeup. For the French house's fall makeup collection (out August 17th), she eschewed the saccharine stereotype around pink and fashioned a vibe that is strong, slightly punk, and naturally, very cool.
Over Zoom, we talked about the merits of perfect skin with imperfect makeup and putting on blush during the pandemic. She also shared a few new rules of engagement for wearing makeup—both with and without a mask.
PICA'S CASE FOR PINK
"I am hoping people will experiment more with color, be more playful with it. With my first Chanel collection focused on red, people did. It wasn't that shocking to me because red really brings out people's eyes. But in the beginning, I had to do a lot of explaining because it wasn't something that people were used to. I really had to convince people to try it. And then, when they did, they were happily surprised. For this fall, I was concentrating on femininity in general. Something we all have is that strong power, and the strong power of using our vulnerabilities to accept and express ourselves. To me, these colors represent strength, sensuality, authenticity: Blushing is creating a pink or red on your face. Crying, and the eyes getting a little red. Smiling and flushing."
ALWAYS START WITH GLOWY SKIN
"I keep it really natural. My go-to foundation is Les Beiges Water Fresh Tint (opens in new tab), applied with a brush. It's the most beautiful texture, so transparent but it really does the job so you're still looking at skin, not foundation. And it has very good stay-on power and doesn't transfer. It's actually really good for when you wear a mask. You only need a little bit of concealer on top if you have any blemishes or redness."
PAIR PERFECT SKIN WITH IMPERFECT MAKEUP
"When you keep your skin fresh, you can really be bold with the rest. I like to use one of the colors from the Eye Quads blended around my eyes. Or I use a darker color close to the lash line and then gradually go lighter in a round shape, so it's got this kind of like blooming gradation effect. And then I add Baume Essentiel in Rosée on top because I like that feeling of the makeup being lived in. Don't start with a lot of eye shadow—just a hint of it. Otherwise, it becomes quite messy. When I'm working on a photo set, I put a lot on. When I put it on myself, I just put a little bit with the fingertip on and it's enough. I tend to mix textures. It works with lips too: I'll put a dark lipstick on, and then add a brighter liquid lipstick on top for depth.
NOT CONVINCED? TAKE BABY STEPS WITH PINK
"Pink doesn't only have to be used in a very bold way. It can be used as an eyeliner, you can use just two colors from the eye quads. The reason I design eyeshadow quads in the same color family is because I want them to be mixable together, so you can graduate the intensity. For me, that's a more modern way of using the full colors."
GOT 30 SECONDS? TRY A SINGLE-PRODUCT GLOW
"Baume Essentiel (opens in new tab) works everywhere: I always use the transparent one on my lips and my cheeks and my eyes. Or the golden one for a bronzy look all over—I was using it on my eyelids, all over my cheeks, and my cheekbones, and then on my lips. And that's all I was using. For deep skin tones, I like the transparent or Golden Baume."
GOT 3 MINUTES? MASTER A SUN-KISSED VACATION VIBE
"I love Les Beiges Healthy Glow Bronzing Cream (opens in new tab). It's super transparent and not heavy. And you can really build it up. I use it on girls at work and on myself to create that idea of having been in the sun for a couple of days. Using an angled contour brush (opens in new tab), I go across the bridge of the nose, on the cheekbones, and then add a little high on the side of the forehead, just like the sun has hit you a bit. It's very easy and the brush gives you an even, sophisticated finish. Over that, you can add a touch of the clear or golden Baume, maybe higher on the cheekbone, pulling it across the temples. You look even more glowy and the brush application ensures the finish never looks greasy."
GET THE LOOK
MAKEUP AND MASKS CAN MIX, SERIOUSLY
"The mouth is normally the expressive part so now we have to engage the eyes and the hands more. People will concentrate more on the eyes and maybe on the nails. But I don't know that we are going to let go of lipstick completely. I'm personally wearing it even though, yes, it does transfer a little on the mask, but I still have some left so that's fine. And I still always use blush—a cream one from the palette. You only see your eyes with the mask on, but you can have that feeling of freshness coming through. I put my blusher quite high, on the apple of the cheeks. To make the eyes bigger and more expressive, put a darker eyeliner close to the lash line, and then a medium color in the socket, and then a light color right above the crease. And then a little mid-tone shadow underneath. It's like the technique used in classical painting."