MC Cheatsheet: Caroline Giuliani Shoplifts & What Beauty Products You'd Steal
Plus, check out what other sites and stories we've been clicking on today.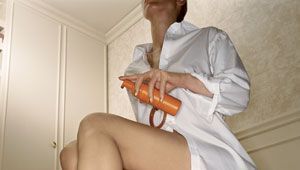 (Image credit: Karin Catt)
Kate: "Caroline Giuliani (Rudy's 20-year-old daughter) was busted for shoplifting more than a hundred bucks worth of cosmetics from a New York City Sephora. She allegedly pocketed Dior Flash Skin Primer and a Bliss cream (good taste!). Not that we're getting any ideas, but what would you have grabbed on the go?" New York Post (opens in new tab)
Sophia: "As a future sure-to-be fan of the Real Housewives of D.C., (premiering tonight on Bravo!), I'm fully enjoying this budding feud between Whoopi Goldberg and Michaele Salahi." Jezebel (opens in new tab)
Katie: "Can't a girl chop her hair off without being compared to Carey Mulligan? Emma Watson works the pixie cut." Crushable (opens in new tab)
Jihan: "Apparently, there's science behind the booty call." Salon (opens in new tab)
Koryn: "What's that, Avril? You're addicted to black eyeliner? This is shocking, shocking news. Next thing, you'll be saying you like wearing boy's ties and undershirts." StyleList (opens in new tab)
Anna: "Can someone please get Sarah Palin a nice notebook or something?" Huffington Post (opens in new tab)
Tell Marie Claire: What are you obsessed with today? Share your faves in the Comments section below!