Beauty Samples of the Month Club = Rad!
Birchbox delivers the most fun box of goodies right to your door.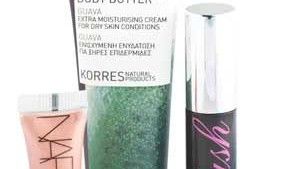 (Image credit: Marie Claire)
I live for deluxe beauty samples. Why?
a) They're awesome to travel with, and

b) The decent sizes mean I can try products for a few days before committing to full size. (Seriously — what is even the point of those lame foil packets?)
So when I heard about the new club Birchbox, I thought, "Now that's a great idea."
Birchbox is a new membership club that delivers an assortment of deluxe beauty samples — from Marie Claire-fave brands like Lipstick Queen, Korres, and Nars — to your door every month. Based on your profile, they'll tailor the makeup, hair, and skincare samples to your own little custom box. Then you can go to their website to learn more about the goods, get makeup tips, purchase full-size products, and rate your samples. Buying and rating earn you points, which you can redeem toward future purchases. Love!
Birchbox ships out the first samples on Sept. 2, so head on over to birchbox.com to get signed up. Membership costs $10 per month, which isn't much considering all the products you get plus the shipping. Won't it be fun to get a box of beauty samples at your door? I think so.