No More Tears, No More Wrinkles?
Why products for the very young could be the ultimate antiagers.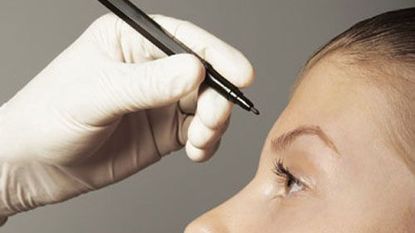 (Image credit: marie claire )
For years, the shower was my haven, a place to hide out and gear up for the day. Under a scalding stream of water, I'd lather up with Frédéric Fekkai shampoo and lapse into a daze, dreaming up creative business plans and working through personal issues. Then, five years ago, I had twins. Now, my morning routine is more Speed Racer than spa goddess: I often shave one leg days before the other, and I've left conditioner in my hair for 24 hours because I didn't have a second to rinse. Restocking my own shampoo is an unheard-of luxury, so when I recently found myself in the shower shaking an empty bottle, I reached in desperation for a pale yellow tub of oat milk calendula shampoo and body wash — my kids' two-in-one bath soap. I braced myself for something sugary sweet and sticky.
But the formula, supple and thin, slid onto my palm seductively, and once I loofah-ed up, it rinsed off minus a sudsy film. The ingredients list read like a purifying juice cleanse: aloe vera leaf juice, water, watercress extract. When I found my hair was shinier and softer than usual that day, I adopted the organic kids' shampoo into my routine, plus the line's conditioning spray and body lotion, raving to friends about how the latter left my skin — normally dry and tight — smooth and dewy. Subtle wafts of lavender and vanilla trailed me everywhere, a nice change from the medicinal-smelling adult organic products I'd tried and chucked. But my shower routine, while convenient, was now identical to my 5-year-olds'. Wasn't I missing some essential "grown-up" ingredient? And was using my kids' body wash the ultimate proof I'd given up on any identity other than Mom?
Feeling sheepish, I consult dermatologist Dr. Ellen Marmur, a caretaker of some of New York City's most expensive faces. Baby creams, shampoos, and conditioners "are huge with my patients," high-powered professionals and regulars on Manhattan's social circuit, she tells me. Many of her clients come in for help with cosmeceutical dermatitis — skin brutalized by overtreatment — like the recent victim of an at-home glycolic acid peel who ended up with purple burn lines on her cheeks and forehead. "Free radicals, stress, and inflammation cause aging," Marmur explains. "Using too many products strips the skin of its natural oils, causing breaks, cracks, and infections. The look is wrinkled, rougher, swollen, and beaten up." The "detox" provided by gentle kids' products made from natural plant-based ingredients is a reprieve, she says, and a godsend for the sleep-deprived, whose skin is especially vulnerable.
Marmur herself cops to using her 7-year-old daughter's Babo Botanicals hair detangling spray, plus Costco baby wipes for taking off eye makeup, and cites another patient who dabs Triple Paste — a diaper cream with a cultlike following for its ability to heal open sores — on a small red rash around her nose. PH-balanced to respect the skin's protective barrier, baby products are fantastically soothing and moisturize well, the oft-overlooked key to looking younger. "If the surface of your skin is healthy and intact," says Marmur, "the body can focus on rebuilding the inside; clearing out old, damaged collagen; filling in wrinkles; and preserving elasticity."
A recent explosion in skincare products for kids and new moms, with brands like Mustela marketing to women who are already obsessed with their skin, has only buoyed the trend. In an informal poll among my beauty-minded friends from Denver to Tokyo, baby goods like body wash and lotion, sunscreen, detangler, wipes, eczema cream, and lip balm were mentioned rapturously. Busy non-moms are believers, too. Melissa Hodges, a 27-year-old sales representative in Knoxville, Tennessee, experimented unsuccessfully with adult brands on her chronically dry skin before switching exclusively to baby products. "Moisturizing is my priority, and these seem to keep my skin hydrated," she says.
Chemical-free formulas are another big selling point for health-conscious consumers. "It doesn't make sense to add toxins to our bodies after a certain age," says Lisa Blau, a New York City — based Internet entrepreneur, whose baby-brand arsenal includes Weleda Calendula Natural Baby Cream. "Everything in my bathroom used to contain [potentially hormone-disrupting chemicals] parabens, phthalates, and triclosan. But pure and simple is all I want on my skin." She now checks every product she buys against the Environmental Working Group Skin Deep Cosmetics Database, which ranks baby products and ingredients on a hazard scale of 0 to 10.
Dr. Joshua Zeichner, director of cosmetic and clinical research for the department of dermatology at Mount Sinai Medical Center in New York, recommends baby sunscreens to all his patients, lauding their physical blockers like zinc oxide, which provide superior protection and have less-irritating properties than traditional UV-blocking chemicals. To delay or sidestep entirely the myriad skin inflammations that encourage fine lines and wrinkles, he advocates adopting a dye- and perfume-free clothes detergent like Dreft, gentle baby wipes for removing makeup, and even Desitin diaper cream on friction points between clothes and skin to keep skin from chafing. Because these gentle formulas have just a few ingredients, many of them do double duty, like the Johnson & Johnson baby wash that a friend swears by for hand-washing her cashmere sweaters as well as her skin. My motivation is simpler. Adult products often feel clinical, like they've sprung out of a lab complete with special tools for applications and confusing instructions. I just want products that work — ones that won't coat me with chemicals. Kids' stuff does the trick. Now, I just need the time to rinse.
Marie Claire email subscribers get intel on fashion and beauty trends, hot-off-the-press celebrity news, and more. Sign up here.