The Reason Why Your Skin Sucks Right Now
And how to fix it!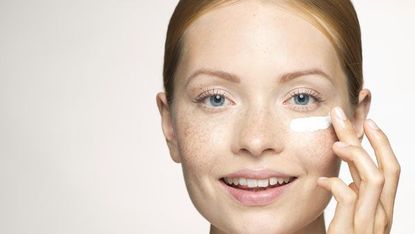 (Image credit: Archives)
We're stuck in that crazy phase where winter is almost over, but it's not quite spring. It's kind of like when Britney Spears was not a girl, not yet a woman. One day it's sunny, and the next day it's snowing. One week it's 60 degrees, the next week it's polar vortex status, and the frequent changes absolutely wreak havoc on our skin. Sigh.
To help us navigate through all things transitional skincare, we enlisted the advice of skincare expert Jan Marini, CEO of Jan Marini Skin Research:
If your skin is dry and dull: No matter how much the temperature drops, your skin still needs a boost in cell turnover.
Rule #1: Don't stop resurfacing. I don't mean abrasive scrubs—the appropriate and consistent "resurfacing" products will keep your skin looking dewy, hydrated, smooth, and glowing without creating microscopic tears and abrasions. Think retinoids and acid combinations such as glycolic, salicylic, and azaleic acids. If the weather is really cold, then dial down on frequency or strength, but do not stop resurfacing. I also recommend using a proteolytic enzyme once or twice weekly. Proteolytic enzymes are "smart exfoliators" since they only digest dead or diseased cells and cannot disturb healthy, newer cells. Even very sensitive skin types can tolerate proteolytic enzymes.
Rule #2: Adjust your hydration. Oftentimes, individuals simply trade up from a lighter moisturizer to one that is heavier. Think layers—when you layer clothing, instead of just one heavy outer garment, you stay warmer because more heat is trapped between the layers. Likewise, when you layer hydrators you trap more moisture, prevent moisture loss, and provide a more effective barrier against the elements. Try a lighter serum or cream that is packed with peptides and anti-inflammatories under a heavier barrier cream, topped by sunscreen.
If your skin is oily: The typical conundrum here is that the skin is oily, but actually looks dull and surface dry, primarily due to wind and colder temperatures. You're not necessarily producing less oil, but it's getting trapped in the dead surface layer and your skin appears duller and even your pores are more noticeable.
Rule #1: Exfoliate. Here again, the key is resurfacing. A resurfacing product, with the right combination of acids, will remove the dead surface skin without abrasion and keep your pores unblocked and looking smaller and more refined.
Rule #2: Do not abandon your acne meds. If you have breakouts, select a product that is non-drying and treats acne and aging at the same time. Once or twice a week an enzyme mask or a Retinol mask will provide further skin refinement and help make skin look dewy and luminous instead of simply oily.
If your skin has redness: Stop aggravating, start soothing!
Rule #1: Anti-inflame. Skin that has persistent periods of redness and little red capillaries may be experiencing mild to moderate rosacea. The causative factors in rosacea are varied and complex. However, it is believed that individuals with this tendency produce more of a type of inflammatory protein. The key here is to use products with lots of anti-inflammatory properties such as green tea, red tea, and ascorbyl palmitate.
Rule #2: Be gentle. Your skin also needs lots of barrier protection to prevent moisture loss and enable your skin to more effectively defend itself from transitional elements. Select products according to how dry or oily your skin is. Remember to lay lighter serums under more protective creams.
Rule #3: Sunscreen is an absolute must! The sun's rays can still penetrate, even on the gloomiest day and UV rays equal inflammation, which sets up conditions that cause and exacerbate rosacea type tendencies.
Celebrity news, beauty, fashion advice, and fascinating features, delivered straight to your inbox!
Hallie has worked in beauty editorial for ten years and has been editorial director at Byrdie since 2021. Previously, she was a senior editor at Byrdie since 2016. During her time at Byrdie, she's written hundreds of high-performing stories on skincare, wellness (including fitness, diet, mental health, body image, et al) makeup, and hair. She's a regular on set, helping to source inspiration for makeup and hair looks, as well as interviewing celebrities, models, and other notable women and men in the beauty space.
Before that, Hallie ran Marie Claire's social media and wrote beauty and culture stories for the site, and helped launch Time Inc.'s digital-only beauty brand, MIMI. After college, she contributed to Time Out New York's Shopping & Style section before landing her first beauty editor gig at Hearst's Real Beauty. Hallie's writing has also appeared in ELLE, Cosmopolitan, and InStyle. Hallie graduated with a BA in Communication Arts from the University of Wisconsin-Madison.